Aging in Place Laundry Room
Designing a laundry room for aging in place is to apply principles of Universal Design. This aims to make all living spaces accessible to and usable by people of all ages, abilities, and disabilities.
It used to be that homes were designed to appeal to young adults. This was the market. But, when you come to think about it, if you make a space like a laundry room easier to use by older people and people with disabilities, you are actually making it easier for everyone.
However, applying this principle to making a small space like the laundry room accessible, convenient, and safe is a tricky task and full of compromises.
Laundry room location
The first priority is to place the laundry room in its optimal location
If you are building a new home or if your remodeling project allows, put the laundry room on the main living level, along with the bedroom and kitchen. If you have a two-story home, consider a laundry chute, so you don't have to carry a laundry hamper down flights of stairs. This can be dangerous for an elderly person.
Locating the laundry room next to or close to the master bedroom generally cuts down the most on the distance you need to carry or roll laundry loads. After all, it is the bedroom that is the source of the most dirty laundry. So, ideally, the bedroom or master bathroom should accommodate a laundry hamper on wheels, so that actually carrying the laundry is unnecessary.
If you can't put the laundry room close to the bedroom, make sure that the route from the bedroom to the laundry room is as unobstructed as possible.
Choosing laundry room appliances
The central feature of the laundry room is the washer and dryer. This is literally where all the heavy lifting occurs. Wet laundry can be quite heavy. So we need to make it as easy to handle as possible. We do this by considering some ergonomics and selecting appliances that take the least effort and strain to operate.
The best appliances from this point of view are front loading. These are much easier to load and unload than top-loading machines. In addition, they should be on storage pedestals. These are often built-in to the units themselves. Otherwise, mount the machines 12 to 15 inches above the floor on drawer cabinets. This reduces bending and back strain. It also maximizes storage capacity.
Here is a good example of a front-loading washer/dryer pair.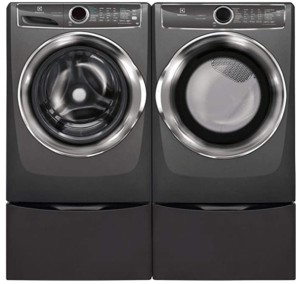 When choosing your washer and dryer, make sure that the controls are as easy to read, reach, and operate as possible. Buttons are easier for older hands to use than knobs.
In addition, they should have pull-out rather than top-loading soap and softener dispensers. This will allow you to install cabinets more closely above these appliances and in easier reach.
Laundry room layout and working area
Layout the laundry room in such a way that it may need to be accessible to someone in a wheelchair or using a walker. This means that you might have to modify the entry door.  Also, there should be sitting knee space below the working countertops.
Make sure that everything is within easy reach. This means that the countertops should be close to the appliances for easy transfer.
There should be a minimum 48 inches of clearance in front of the front-loading washer and dryer.
And see if you can make space alongside the washer to park your rolling laundry hamper so that loading the machine is easier.
By the same token, place the ironing board next to the dryer. This makes for economies of handling since you can then iron clothes as they come out of the dryer.
Laundry room sink
If you have the space, a laundry room utility sink is a useful feature. The sink should preferably be wall mounted to be accessible to someone in a wheelchair.
Utility sinks generally range from 10 inches to 25 inches deep. Get a shallow one for easier use from a wheelchair. And the faucet should be touchless or at least lever-operated.
By the way, for safety, set your water heater temperature no higher than 120 degrees Fahrenheit.
Laundry room storage and cabinetry
Functionality and accessibility are key with cabinetry and shelving in the laundry room. Here are some things to consider.
Organize storage in such a way that the most frequently used laundry room items, like detergents and softeners, are closest to the point of use and at comfortable shoulder height.
If you have selected front-loading appliances, you have the opportunity to install cabinets above them. You just need to leave enough room to operate the soap and softener dispensers. This arrangement allows you to bring the cabinets within easy reach.
If space is tight and the opportunity to install cabinetry is limited, the most convenient place for cabinetry and countertops is right next to the washer and dryer.
Again, if space is limited, consider fold-down shelves.
Open and roll-out shelving is easier to access if they are not behind cabinet doors.
All drawers and doors should have easy-to-grip pulls rather than knobs.
Maximize cabinet storage by using Lazy Susans in corner locations..
Make sure there is sufficient countertop space for pre-wash prep, such as stain removal.
Laundry room electrical and lighting
The lighting environment for seniors is an essential consideration in a laundry room. It's important to be able to see what you are doing in detail and with precision. However, the problem with aging is that the more we age, the more light we need to see properly.
Here are some lighting tips:
Install a motion sensor switch so the main ambient lights in the laundry room come on when you enter the room. This hands-free feature allows you to use both hands to carry something, without having to juggle it to operate a light switch.
Install bright task lighting over work areas. These should be on rocker switches.
If possible include natural light from a window in the laundry room. It provides a better working environment.
Install wall outlets above working areas to power small appliances like irons and steamers.
Laundry room mechanical
Laundry appliances generate humidity and heat. It almost goes without saying that the dryer will be vented to the outside. But also make sure there is an extraction/ventilation fan in the ceiling for moisture control. This would be similar to the one you would find in a bathroom. And this too should be vented to the outside. The exhaust fan capacity should be 50 cfm (cubic feet per minute).
It is true that the dryer itself does provide for some of this ventilation. But, if your dryer uses gas for heat, you should definitely have a supplemental way to exhaust the CO it generates.
Providing good air quality in this way makes the laundry room a more comfortable working environment.
If possible install a floor drain in case of plumbing leaks.
Laundry room accessories
Rolling hamper
A rolling hamper is an essential laundry room accessory. It makes handling laundry so much easier. Get a sectional one with cloth bags and a lid that can double as a folding station. You can throw the bags in with the wash from time to time. Very handy.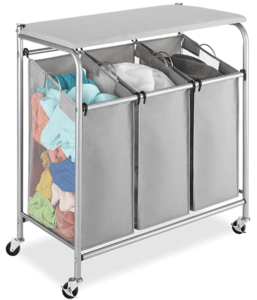 Ironing board
Do not use a traditional collapsible ironing board. They are heavy and setting them up can be difficult for people who are mobility impaired.
Instead, include an adjustable fold-away ironing board that can be used sitting down. Install it in a wall-mounted cabinet that can also accommodate your iron and other supplies. Make sure that when folded down it can be used from a sitting position. And don't forget to position an electrical outlet nearby.
Here's an example.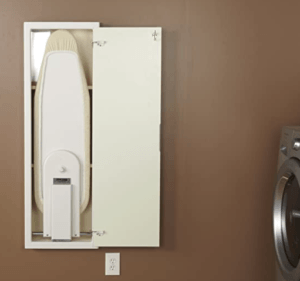 The iron
Look for an iron that would be the iron for seniors. Consider these features.
It should be light, preferably less than 3 lbs
It should be simple to use. Seniors don't like having to deal with fancy settings.
Auto shut-off. This is a safety feature in case the iron gets left on by mistake or it tips over.
Long (7 foot plus) power cord with anti-twist swivel.
Stainless steel or ceramic sole plate for best reliability.
Variable steam setting
Here's a good one: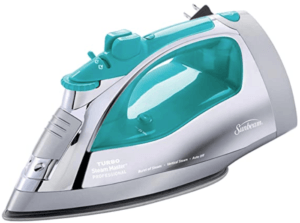 Clothes hanging
A retractable clothesline, hooks, and rods are useful laundry room additions for hanging and airing clothes. Install them in such a way that the clothes cannot touch the ground.
Laundry room flooring
Do not use carpet. It is hard to keep clean and the laundry room is a place that is prone to spills. Plus worn carpet is a trip hazard.
Use non-absorbent materials like tile, vinyl, or rubber. Rubber is best. It is easy to maintain, easier on the feet, and provides the most cushioning in the event of a fall. It is the more expensive option. However, the laundry room is a relatively small area. This makes the additional cost more affordable. Take a look at the SmartCells flooring product.
Do not use mats or rugs. These are trip hazards. Also, they can make the operation of a wheeled laundry hamper, wheelchair, or walker tricky. Anything that is tricky for a senior to handle is potentially hazardous.
Other laundry room tips
Provide visual clues for possible vision impairment. For example, put colored accent strips on countertop edges.
Use large labels to identify the things you use. Color coding can help. Or consider labeling with tactile materials that will help you identify them by touch.
Make sure there are no sharp corners to bump into when maneuvering around the laundry room with your hands full.
Conclusion
If you follow some of the tips included here, you will be sure to make the laundry room easier to use, even if you are not a senior. But if you are planning for seniors these measures can not only make life easier for them. They will help keep them safe.