We at Natural Health and Healing are not psychologists or psychiatrists, and we don't pretend to be. Rather, we are advocates of natural ways to make us feel better. This includes feeling better when we suffer from symptoms related to stress, anxiety, and depression.
Let's take a brief look at these conditions.
Stress, anxiety, and depression
Stress
According to the National Institute of Mental Health stress is something we all experience, sometimes on a daily basis. A great deal depends on the type of life we live. 
Stress is how we respond both physically and emotionally to a challenging situation. Any external event can cause us stress. It can be any number of things, such as the pressures of the school day, having to meet a deadline, or losing a job.
And not all stress is bad. An external event, such as a threat, can trigger our "fight or flee" response. If we did not have this instinctive response to a stressful situation, the human race would long have been extinct!
Anxiety
According to the Anxiety and Depression Association of America, Anxiety is how we react to stress. 
Stress can trigger anxiety. For example, a panic attack is not a sign of stress. It is a sign of anxiety.
Anxiety has been characterized as a "persistent feeling of apprehension or dread." And it can manifest itself in such things as anxiety in social settings. So anxiety is somehow an inability to shrug off the daily stresses that are part of our lives.
Anxiety has been classified into various disorders, such as obsessive-compulsive, post-traumatic stress disorder, various phobias, and panic disorder
Disorders related to anxiety are classified in a variety of ways. These include generalized anxiety, panic disorder, phobias, social anxiety, obsessive-compulsive disorder, and post-traumatic stress disorder 
Depression
Depression and anxiety are different disorders but can share many of the same symptoms. These can include irritability, nervousness, inability to concentrate, and problems sleeping.
Now stress, anxiety, and depression all have their clinical definitions and we would never discourage anyone from seeking professional help from a psychiatrist or psychologist. But at the same time, we would point out that the use of aromatherapy in the management of psychological disorder is receiving serious attention from the mainline professions.
But we do encourage people to seek out natural ways in which they can help themselves through feelings of stress, anxiety, and depression. And, hopefully, if possible, avoid having to take a sedative or antidepressant drugs.
Natural ways to combat stress, anxiety, and depression
Before we get to aromatherapy and natural oils, here are 10 other natural ways to deal with the effect of stress, anxiety, and depression: 1) Regular exercise; 2) Avoid alcohol; 3) Don't smoke; 4) Avoid caffeine; 5) Get sleep; 6) Meditate; 7) Eat healthily; 8) Deep breathing exercises; 9) Yoga.
How does aromatherapy relieve stress?
Aromatherapy relieves stress in ways that are still not fully understood. But at root, it appears that aromatherapy has a way of prompting the brain via the olfactory system to release serotonin and dopamine. These are our "feel good" neurotransmitters.
It is simply a fact of human existence and experience that a scent has an effect beyond just being noticed in passing by our sense of smell.
A smell can have an effect ranging from a fleeting fragrance to an actual mood changer. It can leave us feeling calmed or energized or even a bit of a combination of the two. 
It can affect not only our mood but also our hormonal system, metabolism, and even libido. It can even trigger happy memories of grandma's cooking,
just for example.
The mechanisms of the sense of smell and its effect on the hypothalamus are still being understood. But here is a fascinating illustration from one study on the physiology of olfaction.
Aromatherapy validated by experience
We really don't need modern scientific explanations as to why aromatherapy works. In fact, there is no science that we are aware of that tells us that it doesn't work or can't work. We just know that it does work. 
And we have thousands of years of human history to back us up. Furthermore, our human experience tells us what types of aromatherapy work best – especially for stress and anxiety, which is our focus here.
So we'll just wait for the science to catch up to us. And there are signs that it is. This study concluded that aromatherapy shows promise as a viable therapeutic option for the relief of depressive symptoms.
And here is a review article describing the worldwide use of aromatherapy in the management of pain, depression, and stress-related disorders, 
Aromatherapy oils for stress and anxiety
There are several methods for delivering therapy from essential oils. 
Through the air by using diffusers or steam

Rubbing the oils into the skin, via general massage or more precise application to acupuncture points.

Applying the oils to pillows, bedding, or cushions

Mixing the oils in soaps, lotions, or bath salts
One method you should never use is ingestion. Some of these oils are poisonous if taken internally.
How to use aromatherapy oils
Our own preferred method of experiencing the benefits of these essential aromatherapy oils is directly through the air. This is because direct inhalation just seems to be the most effective.
We personally like using diffusers (like those below) and, as a special experience, we love aromatherapy in conjunction with a sauna or steam shower.
Suffice it to say, direct, airborne aromatherapy is our focus here.
This essential oil diffuser is the number one best seller on Amazon. It's hard to argue with that, although our personal preference is for the wood grain look.
However, this Innogear unit is compact, very inexpensive, comes equipped with 7 color lights to suit your mood, and an automatic shut off.
We like the wood grained look of this Pure Care diffuser. It uses an atomizing diffusion technology and has 7 ambient light modes.
It comes with a bundle of essential oils, including lavender, chamomile, eucalyptus, tea tree, lemongrass, orange, jasmine, clove and nutmeg.
You can control this beauty from any smartphone or by using Alexa.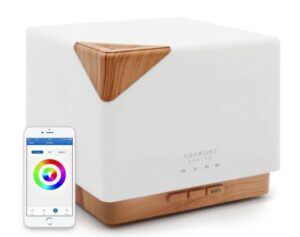 It has a large 700ml reservoir that can work through the night. And it has an automatic shut off. The 7-color LED mood diffuser light can be dimmed or brightened at will.
Plus – this will act as a humidifier as well.
Top Aromatherapy oils for stress and anxiety 
We have listed below those aromatherapy oils for stress and anxiety that appear to be the most effective in relieving the symptoms of those conditions. Many of these are recommended by the American College of Healthcare Sciences.
This list is mainly based on tradition and the received experience of our fellow humans over the centuries. However, we have included links to modern studies that support their use. Click on the red underlined headings links to find these essential oils on Amazon.
Holy Basil or Tulsi – Ocimum sanctum – is related to sweet basil,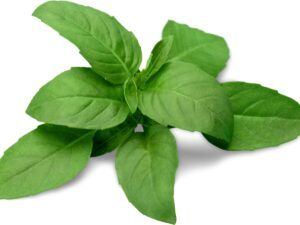 the herb we use in our cooking. In aromatherapy, its essential oil has a calming effect and traditionally aids in the relief of stress and anxiety. It is widely used in the ancient Indian Ayurveda natural healing tradition. It is called "holy" because of its high regard in Indian tradition.
Holy Basil contains eugenol. This is a compound that provides its minty and spicy aroma. According to 2014 research, holy basil is an adaptogenic herb that has shown promise in treating physical and mental stress.
A 2015 Iranian study of the sedative effects of a related essential oil in mice verified the calming effect and concluded that this effect could be attributed to the phenol and terpenoid components of the oil.
The Bergamot orange – Citrus bergamia – is a hybrid of bitter orange and lemon. It is native to the Calabria region of Italy. Bergamot Essential Oil (BEO) comes from the bergamot orange via cold-pressing the orange rind. It is used in foods, perfumes, and cosmetics.
Bergamot is used in Earl Gray tea and eau de cologne.
It has also been found to have antimicrobial and antiseptic properties. And studies also indicate that aromatherapy treatment with BEO can be helpful in reducing the effects of stress and anxiety.
So here again we have modern science pretty much reinforce what the ancients have always known
And here is further reinforcement. According to a 2015 review, bergamot essential oil inhalation reduces anxiety in rats. Also, a 2013 study found that aromatherapy with bergamot orange essential oil lessened anxiety in people waiting for minor surgery.
Chamomile oil is derived from the flowers of two varieties of the chamomile plant. These are Roman chamomile (Chamaemelum nobile or Anthemis nobilis) and German chamomile (Matricaria recutita or Chamomilla Recutita). Chamomile is related to daisies, and it in fact resembles a daisy.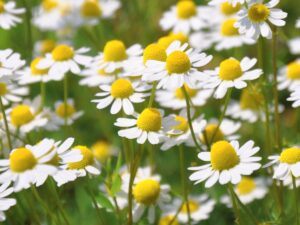 The sweet, fruity smelling essential  oil is extracted from the Chamomile flowers by steam distillation. 
Aside from tradition, there is considerable modern support for the calming effect of chamomile. It is just as often used in a tea as in aromatherapy.
An 8-week  2017 study found a reduction in anxiety symptoms in almost 60% of the people studied who had been using chamomile extract.
A small 2018 study found that therapy with chamomile was helpful in increasing morning cortisol levels and  reducing anxiety symptoms.
Low morning levels of a hormone called cortisol have been linked with anxiety disorders. 
The National Cancer Institute describes a 2-week clinical trial to investigate the effects Roman chamomile oil massage has on people with cancer. The study found that this massage with chamomile oil helped relieve anxiety more than a massage without oil.
Clary sage – Salvia sclarea – is a close relative of the common garden herb sage. Clary sage is a medicinal herb with a strong reputation of having properties that relieve anxiety.
The calming effect of clary sage essential oil has long been known in the practice of aromatherapy. But science is now starting to confirm it. 
Clary sage essential oil has been found to effective in relaxing patients during dental procedures. And Clary sage oil aromatherapy has also been shown to have antidepressant-like effects.
A study from 2013 explored the effects of essential oil in 34 females with urinary incontinence. The study found that compared with those who inhaled lavender and almond essential oils, those who inhaled clary sage oil experienced noticeable decreases in respiratory rate and blood pressure. A related result of this research was that clary sage oil helped people relax while having a bladder exam.
Geranium – Geraniaceae – essential oil has been used to treat health conditions for centuries. There is scientific evidence suggesting that Geranium essential oil is helpful with depression, anxiety, and pain management. It also appears to have an antibacterial, antioxidant and anti-inflammatory effect.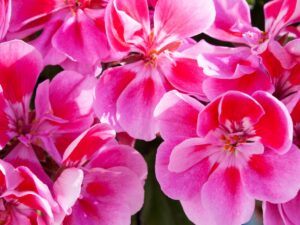 Geranium essential oil is an extract from the entire plant. It has a long history and was used in ancient Egypt as a beautifying agent.  
The inhalation of the aroma of Geranium essential oil supports the emotions by the creation of a grounding and calming effect. The overall effect is to  reduce feelings of stress and calm nerves. 
Lavender – Lavandula angustifolia – is a fragrant flowering purple plant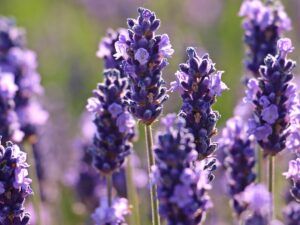 There have been many studies of the well-known relaxing effects of Lavender essential oil. Lavender has been found to be anti-inflammatory, to relax muscles, and to relieve anxiety. 
One study found that aromatherapy with lavender essential oil lowered blood pressure, reduced heart rate, lowered skin temperature, and also changed brain waves to a more relaxed state. This was combined with an overall calming of the nervous system.
Aromatherapists believe that the lavender essential oil has properties that will relax muscles, relieve stress and are also anti-inflammatory.
According to a 2017 review, there is evidence from clinical trials that aromatherapy with lavender oil can reduce anxiety in advance of surgery and cosmetic procedures. It also helps reduce anxiety among people in intensive care units.
Lemon – Citrus Limonum – The essential oil extracted from lemon rind or leaves has a rich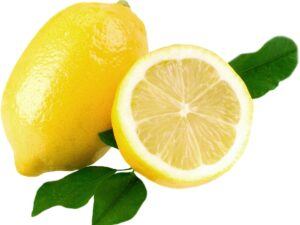 citrus scent. It is commonly used in aromatherapy.
A 2015 review found that exposing mice and rats to lemon oil appeared to have an anxiety-relieving effect. On the other hand, over-exposure could cause a stressful response/
A 2016 study found that aromatherapy with lemon essential oil relieved anxiety in patients after orthopedic surgery.
Lemon balm – Melissa officinalis – smells like lemon but is actually a herb in the mint family.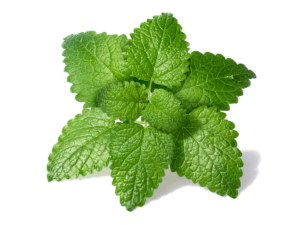 The ancient Greeks revered lemon balm. And both the renowned 11th-century Persian physician Avicenna and the 16th-century German alchemist Hieronymus Brunschwig found that lemon balm reduced stress and anxiety.
In the 14th century, Lemon balm was used in the formulation of Carmelite water, also known as Eau de Melisse. This has been used as an alcoholic tonic herbal remedy ever since.
This article discusses the anti-stress effect of lemon balm in food formulations.
In aromatherapy, lemon balm essential oil promotes calmness and eases stress.
Neroli (Citrus aurantium L.) Essential Oil (Neroli EO) is extracted from the blossoms of the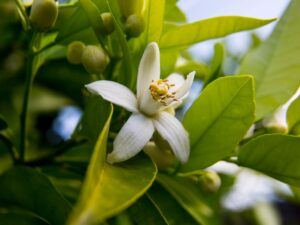 bitter orange tree. Neroli is also known as the orange blossom oil. It is reported to have been incorporated into the secret Coca-Cola recipe.
Neroli EO is used for its soothing and calming effect by healthcare centers in Italy, Spain, Mexico, Puerto Rico, Guatemala, and Martinique.
A 2015 review notes that research supports aromatherapy with neroli oil as having a calming effect.
In aromatherapy, Neroli can positively affect mood and promotes a feeling of well-being and emotional balance.
Rose absolute  – Rosa damascena – (also known as the Damask Rose) has a rich floral scent. It is widely used in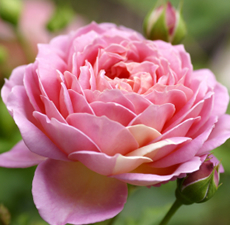 perfumery and is known for its calming effect. Although it has been around for thousands of years, its origins remain a mystery. However, many historians follow the name and tip it to Damascus in Syria.
In aromatherapy, Rose absolute will help soothe emotions and can promote relaxation before sleep
Sandalwood – santalum album – oil (SAO), also known as East Indian sandalwood oil (EISO), is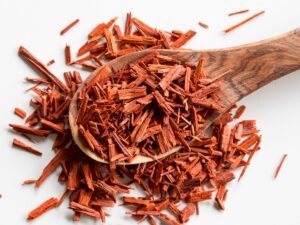 an essential oil distilled from the Santalum album tree.
Sandalwood has played an important part in human history, having figured prominently on the Silk Road. It is considered sacred in India. And in China and Tibet sandalwood was used as an antiseptic in herbal medicine.
It has been shown to have anti-inflammatory and anti-microbial properties. And research supports that sandalwood has a sedative effect, and can reduce anxiety, increase non-REM sleep, and ease stress.
Sweet Orange – Citrus sinensis – Essential Oil can be contrasted with Neroli, which is derived from Bitter Orange –
Citrus aurantium.
Aromatherapy with Sweet Orange essential oil has been shown in this study to have a calming effect on children in dentistry. Another study found that it had a positive effect on the mood of mice.
Of course, all these studies do is confirm what aromatherapists have known for a long time. Sweet Orange essential oil helps people deal with stress and anxiety.
The Ylang Ylang tree – Cananga odorata – is a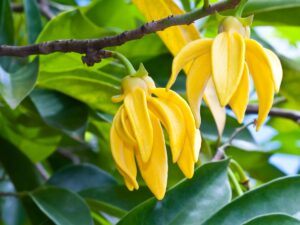 tropical tree, also called the Macassar Oil Plant and The Perfume Tree.
Ylang Ylang Essential Oil has a sweet and floral aroma and comes from the steam distillation of this tree's star-shaped flowering parts.
Ylang Ylang essential oil is a sweet floral aromatic extracted from the flower of a tropical tree in Southeast Asia. 
In many small studies, Ylang Ylang aroma has been shown to relax and reduce blood pressure.
It is widely known among aromatherapists the Ylang Ylang essential oil helps reduce stress and anxiety.
Blending aromatherapy oils
Many people have taken to blending aromatherapy oils for stress and anxiety to create personally pleasing therapeutic effects and fragrances.
And there is evidence that the right kinds of blends can enhance the calming and stress-relieving effects of individual essential oils. For example, this  2015 review found that a blend of rose and lavender essential oils helped reduce anxiety in a group of female college students.
We love this aromatherapist's site. And here is an example of one of her blends:
Calm Down Blend
3 drops Lavender

3 drops Geranium

2 drops Lemon

2 drops Sandalwood
You can download a free detail sheet of these blends at this link.
And here is a fascinating piece on the theory and practice of essential oil blending.
Conclusion on  aromatherapy oils for stress and anxiety
In our opinion, there is irrefutable historical support for the proposition that aromatherapy with certain essential oil is helpful for people going through periods of stress or anxiety.
And there is also increasing scientific evidence supporting this conclusion.
But, if you have any doubt about it, all we would suggest is that you keep an open mind and try it out for yourself. It sure won't do you any harm. And if you feel you need to, you can always consult a regular medical professional. However, if aromatherapy does work for you, it will save you the expense of doctors and prescription meds. It will certainly be more enjoyable.