When we consider backyard granny houses and plan to accommodate Mom or Pop (or both) on our own property, we need to look at the big picture.
Certainly, the big picture features Mom or Pop (or both) in the foreground. But in the background are considerations of the best use of our property and maximizing its value. And this affects the type of granny house we choose to put on the property.
Backyard granny houses
Unfortunately, there is no universally recognized term of art for the backyard granny house. It comes with many names. They all describe the same thing but in slightly different contexts.
Granny flat
The original idea was the "granny flat" that was popular in the 1970s. The granny flat is an apartment within an existing home. It might be in the form of a house addition or the conversion of existing space. The idea was to give an elderly loved one a sense of independence, while at the same time living with younger family members.
Granny pod
Then the granny flat concept morphed into the "granny pod," which is a specialized version of the "tiny home." The granny pod is a separate tiny home that allows a senior to live on his or her children's property. This is a much better and usually much less expensive alternative to a senior living facility. The granny pod can be site-built or prefabricated.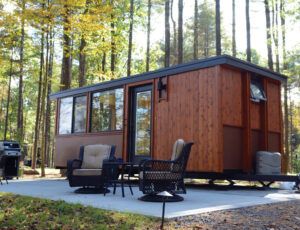 But it is important to distinguish the tiny home from the granny pod. The tiny home is generic for any very small and separate dwelling that may or may not be located in the backyard of an existing home. And it is usually on wheels.
So the way a tiny home is designed and built does not provide the necessary accessibility. Plus it may not be suited to placing on a permanent foundation
The granny pod, on the other hand, needs to be designed with "aging in place" in mind. It needs the features of Universal Design that make it safe and accessible for senior living.
Auxiliary dwelling unit (ADU)
"ADU" is really town planning jargon for an additional living unit that includes its own cooking facilities and is built on a lot with an existing dwelling. This would usually be an existing single-family home. And the ADU can take various forms. It can be:
Separate and detached.
A garage conversion
A home addition.
A basement conversion
But, of course, when it comes to Mom, accessibility is an issue and some of these may not be good options. In fact, the best location for granny is probably separate and detached in the backyard.
Each state has its own rules and regulations for ADUs. And it is important to know that not all states allow them.
So, if you are contemplating the rules for backyard houses and their possible application to your property, the first thing you do is check to see if your state allows ADUs. If it doesn't, then you are out of luck. This is because a backyard granny house is actually an ADU.
You will find a great resource on ADUs at accessory dwellings.
Backyard granny houses and the big picture
We mentioned the "big picture" earlier. By this, we mean that while we take care of Mom, we need to do it in a larger context. We need to ask ourselves such questions as these:
What else can the granny house do for us?
Can we use the granny house as a home office too? If we can do this, we can provide Mom with extra company at the same time. Or perhaps the home office will be in a separate part of the structure.
Can we provide additional space within the granny house as separately accessed guest quarters?
When the inevitable time arrives and Mom is no longer with us, can we use the granny house as a rental unit? This consideration has bearing on the initial design of and access to the granny house.
These considerations have an impact on the value of our property. If the granny house is designed and built right, it can make your home more valuable and eventually more marketable.
And for maximum future value make sure that the granny house you go with is on a permanent foundation. This will affect financing options too.
What goes into a backyard granny house or granny pod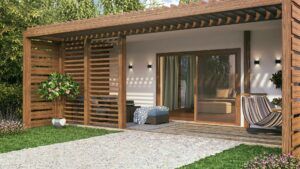 These units are mini-homes that are fully equipped for independent living. They are permanent structures, typically between 200 and 1,000 square feet. And they will be served by the same utilities as the main house.
They are single-story
They will include a fully functioning small kitchen.
The bedroom may be separate or set up studio style.
They will be carefully laid out for safety and accessibility, especially in the bathroom.
They come with soft flooring to cushion falls.
They may be designed with some medically related amenities.
They will include smart technology that can alert the main house of the authorities if there is an emergency.
How to build backyard granny  houses
There are basically two ways to go if you want to put a granny house in your backyard. One is to buy a prefabricated pod. The other is to "stick-build" it from scratch from a set of plans 
Prefabricated granny pods
Prefabricated granny pods run the gamut from simple to sophisticated.
Simple casita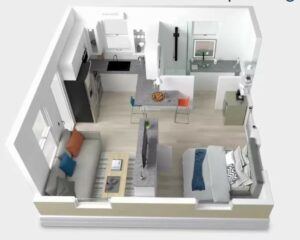 There are a number of companies providing simple prefabricated granny pods. Boxabl.com is one such and you will see a pretty cool video at the link. Their product is an all-purpose casita.
Their casita comes with a full kitchen, bathroom, bedroom (studio style), and living area. It is small at only 375 sq ft but low-cost at only $50,000.
MedCottage
At the other end of the scale is the MedCottage out of Virginia. This unit is much like a small nursing home and comes equipped with some high-tech medical equipment.
It serves its purpose but critics say that because it is designed as a medical facility, it is difficult to repurpose as, say, a rental unit.  So this makes it unsuitable for "big picture" use
Unfortunately, as we write this, we cannot find a working website for MedCottage. The cost of a MedCottage ranges from $85,000  to $125,000
Other modular granny pod providers 
You might also check out Better Living Express, Elder Cottages, and Evernest.
Modifying a prefab home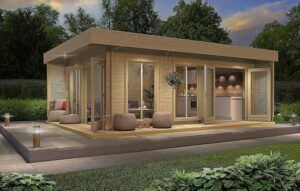 You can incorporate all the features of universal design for aging in place we discuss elsewhere on this site and apply them to a small prefab home or casita of the kind you can find on Amazon. Here is an example. But be careful to check the specs to make sure they comport with your local building codes.
Pratt Homes are another source of inspiration.
Stick-built backyard granny house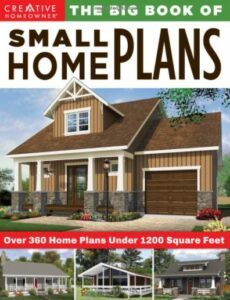 Even if you opt for a prefabricated granny house, you are going to have to use a general contractor for things like site preparation, roughing in the utilities, and slab pouring. So you might just as well go all-out and have him build out the whole house while he is at it.
This has the advantage of giving you much more control over the design and selection of materials.
For suitable plans to work from, you can refer to this excellent small home plans resource on Amazon.
Again, you can follow the tips for universal design for aging in place. But here are the basics of what you should include:
The unit should be single level with easy entrance by a gentle ramp if necessary
Doorways should be at least 36 inches wide in case wheelchair access is required.
The entire living area should be laid out with wheelchair access in mind
Safety features should include grab bars and railings.
Pay special attention to bathroom safety.
Include soft flooring to minimize the effect of falls.
Do not install rugs. They are trip hazards.
Lighting should have motion sensors. Add floor-level lighting.
Make provision for visual impairment.
Include smart home technology that can be monitored from the main house for control of security locks, temperature, and lighting.
Install floor-level cameras to monitor for falls.
Make sure there is a medical alert system and consider adding vital sign monitoring technology.
Pros and cons of the granny house or granny pod
Pros of granny pods
Proximity to your loved one
With Mom in your own backyard, you are better able to monitor her well-being. And it's good for her too. She's close to family. The kids will love it. Plus you have a live-in babysitter.
Independence for Mom
While being close to you, Mom is still living independently. This is a continuation of the highly beneficial aging-in-place concept.
Long-term cost savings
Over time, building a granny house is likely much less expensive than the cost of a long-term care facility or nursing home. With these costs at well north of $4,000 per month, the cost of financing the granny house pales in comparison.
Financing can be by a personal loan, home equity, or an FHA 203k loan. There are other financing options too.
 Increase in property value
We have already mentioned this. Adding square footage to the living area on your property is pretty much guaranteed to add value and marketability. To get a handle on this, talk to a local real estate agent.
Future rental opportunity
Depending on your state's laws, a granny pod has future rental possibilities.
Cons of granny pods
Isolation
Some argue that Mom may actually feel isolated living on her own and is more at risk for falls if there is no one in immediate attendance. And, while this is certainly a consideration at the planning stage, it really depends on the individual circumstance.
Upfront cost
A granny pod will likely cost in the range of $80,000 to $125,000 when all is said and done. You could probably get a bare-bones pod done for around $50,000 but you are unlikely to be happy with it.
However, the cost can probably be financed. And this makes it less of an issue.
Increase in utility costs
The granny pod will almost certainly be served by the existing home utilities. And the cost of heating and cooling the unit is not insignificant.
And concerning utility costs, while it is relatively easy to hook up water and electricity, sewer lines may be an issue. This will depend on the elevation of the granny pod on the site and (if you have one) septic tank capacity,
Increase in property taxes
In line with the increase in property value, the assessed value for tax purposes will also rise. The bottom line effect depends on the laws in your state.
Increase in insurance costs
You should discuss a possible increase in hazard and liability insurance costs with your insurance agent. This is unlikely to affect your decision but it is something you need to factor into your decision-making.
Possible future market resistance
In our opinion it is unlikely, but there may be market resistance to a granny pod or separate dwelling unit on the property. But this is something you will need to discuss with a local real estate agent.
Conclusions on backyard granny houses
A well-designed and equipped granny house or pod is a great option for extending all the benefits of the aging-in-place concept. So, when the time is right, Mom can transition from aging in place at her own home to aging in place at your home. This is great for her and great for the family.