Bathroom remodeling on the cheap really is possible. You just need the right bathroom renovation mindset, some know-how, and some follow-through. You will find the know-how below.
Almost everybody thinks that bathroom remodeling is incredibly expensive and time-consuming. And it can be. But it does not have to be.
Check out what Homeadvisor, which is a go-to site for this type of information, has to say about bathroom remodeling costs. As of this writing, the typical cost range of a bathroom remodel, is in the order of $6,500 to $16,000
And the other thing about expensive bathroom remodeling is that, as it is draining your bank account, it is also taking a long time to do it. And the sheer length of time takes its own toll in terms of frustration, irritation, and inconvenience.
But it doesn't have to be like this.
Keys to bathroom remodeling on the cheap
There really is no mystery to being cheap and also successful with your bathroom remodeling. And here are the three keys to doing it:
DIY
Do as much as you can DIY. And, if you are not handy and just shy away from the thought, see to it that the tasks involved can be tackled by a handyman. They should not require the skills and resources of a general contractor.
Renovation not remodeling
In broad terms, bathroom remodeling is a major project that involves the rearrangement of the bathroom and the re-routing of its electrical and plumbing components. This is what drives up the costs. It also has you running to the City for permits.
So, in your mind's eye, as you plan your bathroom project, reframe it as a renovation, not a remodel. This means that, for the most part, you will be making cosmetic changes to what is already there. You will be updating existing finishes, rather than replacing major components.
Imagination and know-how
The third key to cheap bathroom remodeling is a combination of imagination and know-how. Here's how that works.
You do the thinking outside the box and we help you do it with the know-how you will find here..
Elsewhere on this site, you will find general insights into bathroom remodeling and renovation and bathroom layout. And you may want to refer to them.
But in this post, we lay out specific money-saving ideas for you to draw on as you wish.
Materials
The first step to a bathroom renovation on the cheap is to build your vision of what the finished product should look like based on the look and feel of materials that are cheap or can be obtained cheaply.
Shopping around for materials
Habitat for Humanity
A great source for cheap renovation materials is the Habitat for Humanity ReStore. But by cheap, we don't need inferior quality. You will find an astonishing array of excellent renovation materials at knock-down prices for every imaginable home improvement project. You will find tubs, toilets, countertops, sinks, mirrors, and more.
Inventory is constantly turning over. So, if you don't find what you want on your first visit, just go back every week or so. In this way, you can gather the materials you need in advance of getting into your project.
Other shopping
Go online to Facebook Marketplace, Ebay, and CraigsList.
Visit neighborhood thrift stores and bargain stores.
Look for sales deals at the usual big box stores like Lowe's and Home Depot. Ask if they have close-out deals.
Declutter
Before you start your renovation planning, declutter. Elsewhere we explain why decluttering is good for you in any case.
But for a bathroom renovation project, you need to clear the decks of superfluous clutter in order to start seeing the wood from the trees and to plan your project with a view that is uncluttered by superfood stuff.
Floor coverings 
Vinyl flooring has come a long way from the cheap-looking vinyl tiles that have given vinyl floors a bad reputation.
Vinyl plank flooring really is very hard to tell apart from regular wood flooring. On top of that, it is much more resistant to water than wood flooring. Plus it has "give" underfoot, which makes it easier on the feet and more forgiving if you fall on it.
And this vinyl technology now extends to ceramic tile-lookalike products. So, from the point of view of color and style, there is plenty of choice out there.
Aside from the cost of the material, the other appealing aspect of vinyl flooring is that it is relatively easy to install by a DYIer, much more so than wood or ceramic tile.
Vanity tops
Laminate countertops
Modern laminate countertops have come a long way from the tacky-looking Formica products of the 1960s. New technologies are in play making them better looking than their antecedents. Plus there are many design options.
Laminate countertops are DIY-friendly and inexpensive. But it must be said they are not very durable.
Shop for granite slab off-cuts or slabs with imperfections
Granite fab shops will often have off-cut pieces that will work for a small vanity and that you can pick up very cheaply.
And you may also find full slabs with imperfections in the right places that you can make work for your situation. For example, you may find a slab with an imperfection that is right where your sink cut-out is going to be. Or the imperfection may be at an end that would be simply cut off for your project.
DIY dresser vanities
Dresser sinks are a designer trend right now. But you don't have to splurge on something ready-made.
Rather, get an old dresser from a thrift store to use as a sink pedestal. Cut out the top and install a sink insert. And then cut out the back to accommodate the plumbing.
Other countertop options
Here is a great rundown of countertop alternatives for your home.
Colored epoxy kit
The cheapest countertop alternative that we know of is the colored epoxy kit. It is also DIY-friendly. It's perfect for upgrading what you already have. Here is a great explainer video.
Bathtubs
Rather than refinishing your bathtub, you may be able to just touch it up with a porcelain touch-up paint. You can get it on Amazon here.
But, if you are feeling brave and have really good DIY skills, you can refinish the entire tub with a refinishing kit. You can get one on Amazon here.
You can find good info on refinishing bathroom fixtures at HGTV.
But we honestly don't recommend this. It's unlikely you will be satisfied with the results. And our recommendation is to get bathtub refinishing done by a professional. And comfort yourself that this is still a lot cheaper than buying and installing a new tub.
Showers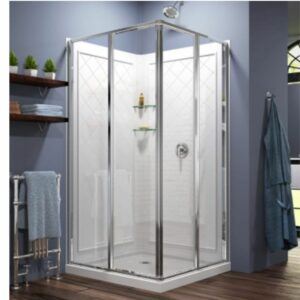 If you have an existing prefabricated shower, your best upgrade option is simply to have it refinished, just like a bathtub.
But if you must replace it altogether, you can avoid the very great cost of installing a custom tile shower, by installing a new prefabricated shower. These are now a far cry from the old prefab unit you may be replacing. They now come in a variety of colors, textures, and shapes.
It's unlikely you will be able to get a single-piece prefab shower through the door. So your best option is to get a multi-piece shower. This typically comprises interlocking panels and a shower pan, like the one shown here, which is available on Amazon.
Toilets
Your toilet may still be fully functional. But there could still be a good reason to replace it. For example, if you are getting on in years, the toilet you have may be too low for it to be easy to get up from. So you need a comfort height toilet.
The good news about installing toilets is that it is easy to do, from a strictly plumbing- technical point of view. They have only one or maybe two water-line hookups. But toilets are really heavy and hard to handle. Nonetheless, you can easily change one out DIY with the help of a husky neighbor or a handcart.
Upgrading your toilet to comfort height is an inexpensive way of getting a big lift in your quality of life.
Bidets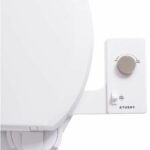 One of the best add-ons to a toilet overhaul is the installation of a bidet conversion. You can get more information on the benefits of bidets here. Bidet toilet seat conversions are quite inexpensive, considering the benefits they bring. The Tushy bidet toilet seat attachment (shown here) is available on Amazon.
Vanities
The cheap way to go with vanities is to accept what you already have and dress it up with fresh paint and new cabinet hardware. Make sure that when you shop for the hardware, the screw fastening arrangement matches the existing holes in your vanity drawers and doors. You don't want to be drilling new holes.
But if your existing vanities just have to go, shop for new vanity units that come with coordinated counters. The least expensive way to go with these is to have the sinks already molded into them. This saves the cost and aggravation of buying and installing new sinks. Besides, from a cleaning point of view, they can't be beaten.
Replace the vanity faucet
Updating the vanity faucet is another way of giving the bathroom a relatively cheap uplift, without replacing the sink or vanity itself. And this is well within the capabilities of any DIYer.
Bathroom fixtures
Aside from the vanity faucet, look at the bathtub and shower fixtures, including toilet roll holders.
See if you can make cheap upgrades by sourcing replacements from some of the places we mentioned above.
If you can, replace an old showerhead with a new head that comes with a hand-held wand too.
Walls
Paint
Fresh paint is the cheapest and easiest way to rejuvenate a bathroom. A new paint color scheme can completely change the look and mood of a room.
And bathrooms are typically fairly small rooms with much of the wall space occupied by mirrors, vanities, and shower stalls. So painting your bathroom is not a big deal. And, of all the ways to renovate a bathroom, it gives the best bang for the buck.
Wainscot
Wainscotting is a wall paneling system installed on the lower portion of the wall. It was originally used to keep damp and drafts out of poorly insulated rooms but was retained as a decorative feature and also has the practical effect of protecting the walls in a room with heavy use.
It went out of fashion in the 1950s. But it is now making a designer comeback as an architectural detail. So you might consider adding a wainscot as a decorative feature to your bathroom.
You can get pretty inexpensive prefabricated, water-resistant MDF wainscot panels from Home Depot or Lowe's. And this is definitely within the capability of the DIYer.
Wall niches
Add interest and function to your bathroom by adding prefabricated recessed wall niches, like this one from Amazon.
And here is an explainer video that will help you understand the process. With one of the prefab wall niches, this is definitely within reach of the DIYer.
Floors
Wood is no one's first choice for bathroom floor material. But, if your bathroom has a wooden floor and, if it is in reasonably good shape, your best, cheap option is simply to refinish it with protective enamel paint.
Otherwise, consider the luxury vinyl option we discussed above.
Tile
To keep costs down, we should avoid replacing tile if at all possible.
Tile work is difficult, so it is usually best done by a professional. And this makes it expensive. So, if your existing tile is in reasonably good shape, consider an update with a new color by refinishing it.
New technologies make this relatively easy. It's done by professionals but the cost is way less than replacing the tile.
But if you are OK with your existing tile, just freshen it up by cleaning the grout. And, while you are at this, replace the grout around the tub and sinks.
And, once you have freshened up your tile, consider jazzing it up with tile decals, such as the one shown here and available on Amazon.
Mirrors
Rather than getting a new mirror, try changing up the look of your existing mirror by adding some molding or giving it a new frame.
Storage
A cheap way to add storage capacity to your bathroom is to install open storage racks, or etageres that free-stand on the floor. You can use this one from Amazon. It's shown as a bookcase but it would work fine in a bathroom
Or you can add open shelving to the walls. But this takes a good deal more DIY effort.
Frankly, we are not big fans of open storage. This is because it invites the accumulation of dust and it is visually distracting. But you can conceal your bathroom related items in decorative baskets that you place on the racks or shelves.
Lighting
Changing out light fixtures is a pretty cheap way to give your bathroom a designer lift.  Here are some tips on lighting and remodeling.
And these days it is relatively easy to add smart lighting features. Check out these cool dimmable bulbs that can change color for a spa-like feel.
Bathroom remodeling on the cheap – Summing up 
The main takeaway of bathroom remodeling on the cheap is to make what you already have in your bathroom work. This is renovation not remodeling. So try to restrict your efforts to cosmetic upgrades only.
This can take mental effort, imagination, and planning. But it can also save you big-time in money and minimize the work that actually needs to be done.
We hope what we have presented here will help.