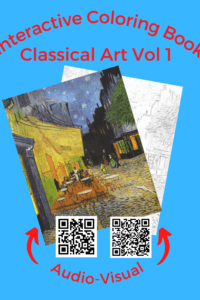 This volume of Amazon coloring books for adults, which is available here, includes Boulevard Montmartre by Camille Pissarro (1830-1903), a Danish-French landscape artist of the Impressionist school.  He was born in what is now the American Virgin Islands. Scroll to the end of this post for the full coloring guide image of this artwork. 
Elsewhere on this site, you will find other famous classical artwork you can follow as coloring guides to be used with one of these interactive Amazon coloring books.
We explain the interactive coloring process here: Interactive Coloring.
But, in case you just browsed to this page, here's a quick summary of what this is about:
Interactive Coloring
Our  Amazon coloring books for adults are interactive. A QR code within the coloring book will take you to a web page on this site, where you will find the full-color original artwork that you can follow as you color.
Another QR code will take you to a YouTube video containing meditative music with binaural beats composed to relax you as you color.
Coloring is Good for You
Coloring is not just a fun and creative play activity for children. It is good for adults too. And, with our classical images to color, there is an added element of art appreciation and learning.
Coloring relieves stress, calms the mind, and helps relax the body. And this can help with the reduction of feelings of anxiety and depression.
Coloring promotes mindfulness. The process of coloring with its focus on hand movement and color perception helps one stay in the moment.
And nobody is judging your work. You are not competing with anyone. All you are doing is enjoying a gentle task and, in the case of our classical interactive coloring books, immersing yourself in great art at the same time.
Coloring Books Good for Seniors
Coloring helps keep an aging mind healthy. It can stimulate the mind. And it can also help maintain the hand-eye coordination that was learned as a child. It maintains dexterity, grip, and focus.
Our Amazon Coloring Books for Adults 
Each of our Amazon coloring books for adults features around 40 paintings by some of the great masters. And each coloring page in the book contains a black-and-white outline of the original piece. The outline was generated using Artificial Intelligence (AI). The colorist can follow the outline in recreating the original work in color or creating their own version.
Artificial Intelligence
Since the outline is AI-generated from a high-resolution color photograph, it is precisely accurate and faithful to the original. It also avoids the hard lines that are inevitable when a black-and-white rendering is done by hand. This makes for great subtlety in the result and allows the colorist wide latitude in recreating the shading of the original.
Originals Online 
By the same token, this subtlety of line can sometimes make the work of coloring quite challenging. And this is why we provide the full-color original on this page.
Opposite each coloring page is a QR code referencing a page on this website. That page contains a high-resolution image of the original in full color., such as the one below. This makes it very easy for the colorist to bring it up on a computer, smartphone, or tablet.
And because the image is on an electronic screen and not on a static piece of paper, the colorist can zoom in and out, see the original artwork in minute detail, and follow it accordingly.
Meditative Music and Binaural Beats 
Also opposite each coloring page in the book is a QR code that will take the colorist to some meditative music on our YouTube site. This music is enhanced with binaural beats in the Theta range to boost the colorist's creativity.
Never Too Old to Learn About Art
Last but not least, one is never too old to learn something about art, its creators, and the period in which it was created. Along with each piece, we include links to the artist's bio and to commentary on the piece itself.
Here is the full coloring guide for our subject image we referenced above: