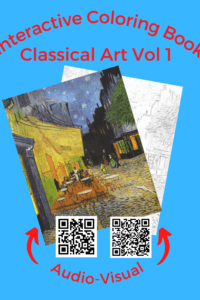 Las Damas Romanas by Juan Luna (1857-1899), Filipino artist. You can find background information on this piece here and Luna's bio here.
The full image of this artwork is displayed below. It is intended as a coloring guide to be used with one of our Amazon KDP coloring books.  
We explain the complete process here: Interactive Coloring.
But, in case you just browsed to this page, here's a quick summary:
Coloring Books
Each coloring book features around 40 paintings by some of the great masters. And each coloring page in the book contains a black-and-white outline of the original piece. The outline was generated using Artificial Intelligence (AI). The colorist can follow the outline in recreating the original work in color or creating their own version.
Artificial Intelligence
Since the outline is AI-generated from a high-resolution color photograph, it is precisely accurate and faithful to the original. It also avoids the hard lines that are inevitable when a black-and-white rendering is done by hand. This makes for great subtlety in the result and allows the colorist wide latitude in recreating the shading of the original.
Originals Online
By the same token, this subtlety of line can sometimes make the work of coloring quite challenging. And this is why we provide the full-color original on this page.
Opposite each coloring page is a QR code referencing a page on this website. That page contains a high-resolution image of the original in full color, such as the one below. This makes it very easy for the colorist to bring it up on a computer, smartphone, or tablet.
And because the image is on an electronic screen and not on a static piece of paper, the colorist can zoom in and out, see the original artwork in minute detail, and follow it accordingly.
Meditative Music and Binaural Beats
Also opposite each coloring page in the book is a QR code that will take the colorist to some meditative music on our YouTube site. This music is enhanced with binaural beats in the Theta range to boost the colorist's creativity.
Here is the full image we referenced above: