Covid-19 forced us to take a close look at current bathroom design trends and how they might serve our purpose in the context of our "new normal" lives.
So here is our overview as to how best to approach this.
Current Bathroom Design Trends
We have seen the kitchen, family room, and dining room become home offices and home schools. And we have seen them host improvised Zoom cocktail parties and happy hours.
And our bathrooms, aside from their traditional functions, have become resort destinations for tranquility and retreat. Let's admit it. We may just want to linger a while in a quiet spot away from the family.
Evaluating current bathroom design trends
In evaluating any kind of bathroom design trend we need to run it through some filters to see if it passes muster. Think relaxation, refuge, and reflection but without sacrificing functionality and practicality.
To put this in context, we should be aware of the distinctions in the progression from fad to trend to timeless. This is because, in taking stock of any trend, we always seek the potential for timelessness. And we must always try to be certain that the trend we like is no longer a mere fad.
Unfortunately, no room in the house falls victim to fads so much as the bathroom. So we start by avoiding anything in the bathroom that could be distracting or jarring. And we always need to think of long-term practicality.
Standing the test of time
So, when taking stock of a trend within your own bathroom's design, you should consider not just how you relate to it aesthetically but also how it suits your lifestyle.
Here is a practical way in which you can test a trend for potential timelessness. Ask these questions:
Is this trend something I can live with for the rest of my life?
If I sell my home, will what I do with the bathroom help or hinder my marketing? Because, after the kitchen, the next thing a buyer looks at is the bathroom.
In this same light, we critique below some of the current bathroom design trends, as we see them. And while acknowledging some overlap, we look first at bathroom layout and functionality. And then we look at the bathroom's visual style and the kinds of things to avoid.
Current bathroom design trends in layout and functionality
Universal Design
In laying out a new bathroom, try to incorporate the principles of Universal Design. This is an underlying concept that is here to stay. But unfortunately, ditsy designers overlook or ignore it in favor of making a trendy design splash.
Larger bathrooms
Given the importance of the bathroom as a perceived refuge, many people are looking for an expanded bathroom space as part of a remodeling project. The extras space can accommodate functionality, as in the case of a new, separate shower. Or it might contain a spa-like relaxation area.
Increased storage
We support increasing storage wherever possible. And this can affect some choices in material.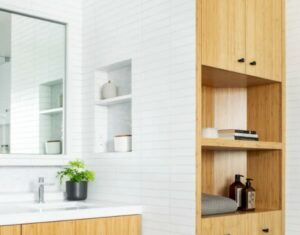 For example, while we find the cantilevered bathroom sink attractive in theory, it effectively eliminates 1) useful storage space underneath the sink, and 2) something to hide unattractive plumbing.
One storage trend we see is an increase in the use of inset storage and display niches. The more storage or display space the better.
We frequently see this in the shower. But take advantage of the 2×4 wall framing elsewhere in the bathroom and niche it out as a display nook or handy grab-what-you-need spot for frequently used items. We like this as being both useful and stylish, especially with a tile accent in the back of the niche.
Showers
In line with the demand for increased bathroom space, people are opting for separate showers to go along with their tubs. If you do this, make sure you include grab bars and shower seats with your shower. And be sure to include wall niches for soap, shampoo, etc.
But think twice before eliminating your tub in favor of a standalone shower. You may have a specific need to accommodate, like aging in place, because a tub no longer suits the way you live. And this is fine.
However, just be aware that, when it comes time to put your home on the market, most buyers will be looking for the traditional tub and shower combo, unless you already have a separate tub and shower.
Showerheads
For the best practical effect look for a rain shower combined with a hand-held shower wand.
And for a spa effect check out the Moen Aromatherapy Handshower and the musical showerhead by Kohler.
Steam showers and saunas
Steam showers and saunas are not trending strongly but should be considered as adding to the spa experience in a bathroom renovation or remodel.
Wet rooms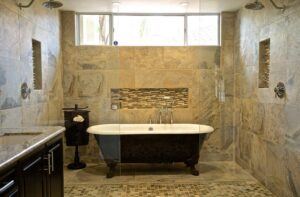 Wet rooms combine a tub, a (perhaps double) shower, and even the toilet/bidet in a separate tiled and glass-screened area. These are highly practical and easy to clean.
But the wet room can come over as a bit sterile. So, offset this effect with a relaxing easy chair in a nook nearby. This will soften the look of the wet room and add to the spa effect we want in the bathroom.
Standalone tubs
Standalone tubs, especially those with an asymmetrical look are tremendously stylish and look great. But there are reasons the old Victorian clawfoot tub gave way to the built-in tub. Here are some of them: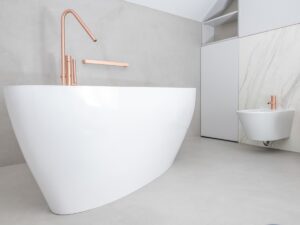 Standalone tubs only display well if you have the luxury of a large bathroom space to set off their looks.
You can't easily reach that soap or sponge or drink that you can place on a ledge or in a niche next to your built-in tub.
Standalone tubs are harder to get in and out of than built-in tubs, which has handy walls to lean on or that can accommodate grab bars.
The plumbing hardware is out in the open and a distraction to the eye.
The standalone tub loses heat fast. So forget the long, hot soak that you can get with a built-in tub that has insulation packed around it.
The standalone tub is a cleaning problem. It's not easy to reach around the legs or behind it.
If your bathroom is on an upper floor there may be a load-bearing issue with the standalone tub.
It's hard to integrate a shower into a standalone tub.
The built-in tub is much less expensive than the standalone tub.
Our verdict: Put your money somewhere else and go for a built-in tub.
Toilets & bidets
Obviously, the toilet and the bidet need to be considered together. The bidet is a trend that has become timeless and it comes in three basic forms:
1) Standalone bidet. This is fine if you have space. But it does take up room that might be better used. And it does require dedicated plumbing.
2) A bidet/toilet seat combo, like the Toto Washlet.
3) The smart toilet, like the Woodbridge, with an advanced bidet function, temperature-controlled wash functions, and air dryer.
Comfort height toilet: Be sure to make provision for a comfort height toilet. This is much easier to use than the standard height toilet and is the kind of thing that comports with Universal Design principles. It is also ADA-approved.
Sinks
Floating or cantilevered sinks. A floating or cantilevered sink may be fine in a powder room, where you want to score style points with your friends. But they are a bad idea in a master bathroom or guest bathroom, where they waste storage space. It's an example of sacrificing functionality for style. You shouldn't do it. There are plenty of stylish sinks in a standard configuration.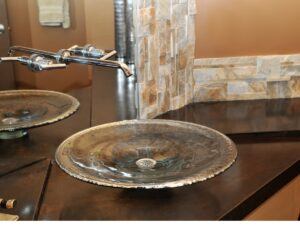 Vessel sinks: The vessel sink refuses to go out of style but is ridiculous. It is nonsensical from the practical point of view and a pet peeve for us. Some people excuse it because of its style and it frees up storage space below the counter.
But we don't buy this when you trade it off against:
It's difficult to use for smaller people.
It's easy to damage accidentally.
It needs an expensive custom faucet.
It splashes more.
It's unstable.
It has no overflow.
It's a cleaning problem, not least because you can't see behind it.
It's expensive.
It's just a weird echo of a bygone Victorian age when all you had to wash with was a wood washstand with a bowl and a pitcher of water.
Pedestal sinks: The pedestal sink is fine for a powder room. We prefer it there to the cantilevered sink because it conceals the plumbing. But it is not practical for the other bathrooms because it sacrifices storage.
Undermount sink: We like the under-mount sink arrangement because it is practical, being pretty easy to clean. It is also stylish because the sink material can make a contrast with or complement the countertop material.
Integrated sink: We like the integrated sink for the simplicity and ease of cleaning provided by a continuous surface. Some people will say it lacks style. But this is nothing that can't be offset with good-looking plumbing fixtures.
Lighting
A good bathroom lighting plan that incorporates ambient, task, and accent lighting is central to any interior design.
And don't forget Circadian rhythm lighting is a natural complement to the spa-like effect we strive for in a bathroom.
Integrated LED lighting: Depending on how it is placed, integrated LED lighting can provide elements of ambient and accent lighting. Here are a couple of examples:
You can put integrated LED lighting behind mirrors to accentuate the look of the tile that the mirror is set against.
You can install it below a floating cabinet to accentuate the floating effect. This will also provide subdued lighting to make those nighttime bathroom trips easier.
Always add dimmers to your lighting circuits. And make use of motion sensors to turn them on and off.
Smart technology
Smart technology is all around us now and will develop and trend throughout the foreseeable future. Here are some things to look out for:
Hands-free, touchless faucets.
Control of shower water temperature.
Voice-activated lighting (integrated with Alexa).
A smart mirror that will display your weather, current news, calendar, and social media feeds.
Current bathroom design trends in style
The calm, soothing, and clean-look bathroom is trending and we would support this, subject to some of the details we have already covered. Concerning style as opposed to functionality, much of what is trending is driven by a choice of materials
Natural woods
The incorporation of natural woods into a design scheme can bring in a touch of warmth. But wood and water and cleanliness don't always go together well. Remember that there is a reason we have tile in bathrooms. So confine the use of wood to accents.
Mixed and shiny metals
Mixing metals, especially shiny metals is a bad and faddy idea. Mixing metals among plumbing fixtures may score theoretical style points, but we find this distracting or even jarring to the eye. There should be nothing in a bathroom that detracts from calm.
Black bathtubs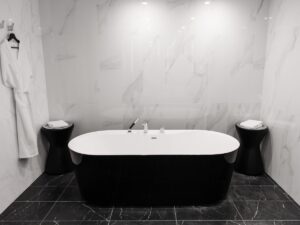 Black bathtubs! Give me a break. This is the epitome of a fad. Bathrooms are usually small places. And black sucks out both light and feelings of space. And try selling a home with a black bathtub!
Don't get us wrong. The color black can do very well as a limited accent point. But to make it a dominant color in a bathroom space is not smart.
Small and mosaic tile
Small and mosaic tiles are a bad idea. There is way too much grout to clean and keep sealed. Any tile used in a bathroom should have minimal grout tiles.
Tiles with bold patterns or arranged in bold ways
Tiles made with creative patterns or installed in creative patterns are generally a bad idea. They can be fine if used with care and subtlety. But all too often we see patterns that are "In your face," distracting and jarring. It's the same with loud wallpaper. That kind of thing has no place in a bathroom.
Marble
Marble is very trendy right now. But we would avoid it as a maintenance nightmare over the long haul. For example, common cleaning products like vinegar, Windex, or bleach will eat into the marble surface and dull the stone.
However, if you do use marble, put it on the shower walls only. Don't use it on horizontal surfaces, since staining from an accidental spill is next to impossible to remove. Do you ever take a glass of red wine into your bathroom?
And choose marble that does not have distractingly busy veins that will counter any feeling of tranquility you are trying to instill in your bathroom.
Current bathroom design trends to avoid
Below are some illustrations of the bad, and the ugly in current bathroom design trends as they meet the eye. There is a great deal of good out there but these are cautionary examples (without comment) of the kinds of faddy or messy things you should avoid in your bathroom.
There is nothing here that will stand the test of time.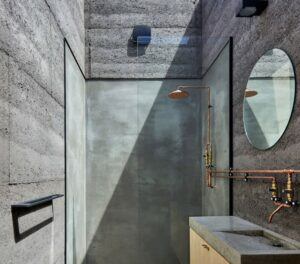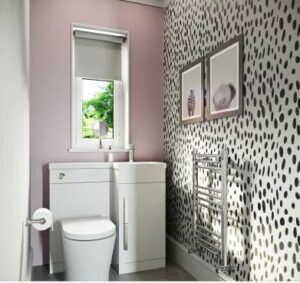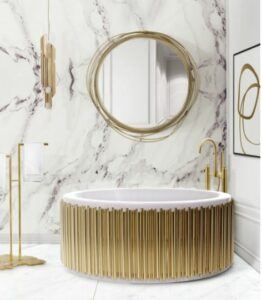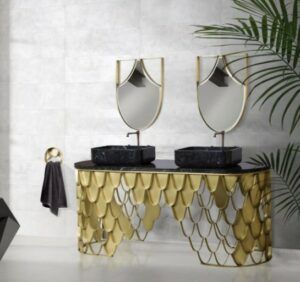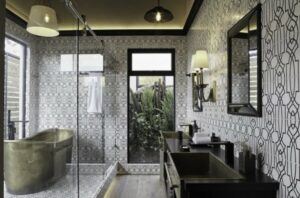 Conclusions on current bathroom design trends
As a takeaway we would make three main points about any kind of design trend:
Never be a slave to a trend.
Always engage your critical thinking.
Always ask if it will stand the test of time.
If you apply these principles to the evaluation of any current bathroom design trend, you won't go wrong.