In another post, we talk about getting your house ready to sell generally. But in this piece, we drill down specifically into how to declutter your home to sell as a key part of the home selling process.
Two dynamics in how to declutter your home to sell
In decluttering your home to sell, there are two dynamics in play simultaneously. You might not have thought of the second but it's important to you.
Preparing your old home to sell
Preparing to move to your new home
In getting your old home ready to sell, there is a key test for decluttering that really focuses the mind. Because, aside from the need to help your current home best present itself to potential buyers, it's also about answering the question: What are you going to take to your new home?
And this goes beyond the small items that are generally thought to comprise clutter, this includes major items of furniture too. So identifying what you are going to take with you and what you are going to discard gives your decluttering effort extra purpose.
Why are we decluttering to sell in the first place? A reminder
A home that is decluttered sells much faster than a home that is full of "stuff." It will also likely sell at a somewhat enhanced price because decluttering increases the perception of value.
And don't forget that the faster the home sells, the more likely you are to save on mortgage payments.
Remember that one of the things that are likely motivating buyers to look at your home in the first place is that they want a new home with more space and more room for their stuff than their current home.
This is why you want your home to look like it has tons of room for the buyers' stuff.
You don't want to disappoint them and maybe even turn them away. So here's the thing:
A home that seems overcrowded with things just seems smaller.
A plethora of things within the home distracts the eye from the features of the home itself.
A decluttered home is neater and cleaner and that makes it seem better maintained.
Clutter through the eyes of the buyer
Things that appear as distracting and overcrowding clutter in the eyes of a buyer include:
Walls that are overfilled with artwork.
Shelves that are overfilled with books and knick-knacks.
Furniture that is too large for the room it is in.
Floors that are strewn with things like children's toys.
Also, crucially important storage areas will just seem inadequate if they are overloaded and overfull. These include:
Closets and pantries.
Countertops and other horizontal surfaces.
Drawers and cabinets.
Other storage areas, such as the garage.
This is why decluttering your home to sell is so important. But there are a couple of bonuses for doing it.
Decluttering bonus: It's pretty much free to do
A little appreciated side benefit of decluttering is that it is pretty much cost-free to do. In other words, you are adding value to your home but without forking out money to do it.
In fact, you may even be able to make money by selling some of the items you get rid of. And if you give things away to charity, you may be able to claim a tax deduction. We are not giving advice here. You need to talk to a tax professional about this.
Your only likely cost is the rental of a storage unit as a temporary holding area for the decluttered things you will be taking to your new home.
The other decluttering bonus: Your new home
As we mentioned earlier, decluttering the home you are selling helps you prepare for the move to your new home. And, if decluttering means getting rid of stuff you don't want to move, this will save you in moving expenses.
Decluttering strategies
This is really a sorting exercise. All your stuff will fall into one of 4 categories:
There are things you want to get rid of because you will not be taking them to your new home.
There are things you need to keep in your current home because it's necessary for day-to-day living.
There are things that you need to keep in the current home to "stage" the home for potential buyers.
There are things that you need to move into temporary storage because they are "cluttering" your current home and will hinder the selling process.
There are two main steps to this process.
Step 1: Get rid of what you don't want to take to a new home
The first step in following through on your "how to declutter your home to sell" project
is to sort through everything and decide what to get rid of. And this may seem overwhelming at first. But here's how to do it. It's a process.
First, you break the task down into a room-by-room exercise. And then for each room start with the items in plain sight. After that, you tackle the stuff that is out of sight in closets and drawers.
"Plain sight" items 
The stuff that is in plain sight will be
Furniture.
Items standing on the floor (such as floor lamps).
Items on bookshelves and on horizontal surfaces (books, antiques, collectibles, and knick-knacks).
Items on the walls (such as artwork).
Furniture and other large items
Items of furniture and other large items should be separated into those that you will keep and those that you will get rid of. Of the furniture and other large items you want to keep, decide what is necessary for your daily living and what you need to "stage" the home for showing.
If there is any furniture or large item that you want to keep but is making the room look cluttered or overcrowded, label it for storage and make an inventory note accordingly. This will need to be moved temporarily to a storage unit before you list your home for sale.
Make an inventory note of the furniture and other items you will donate or sell, and label them. Then separate out the recycled and trash items. You can leave the "donate" or "sell" items in place for now. But get the trash or recycle items out of the room and out of the house.
Smaller "plain sight" items
Again, decide what is necessary to "stage" the home and leave it in place, whether you are going to keep it long-term or not.
But anything that is "clutter" should be separated out and placed in boxes, bins, or bags to be stored, donated, sold, recycled, or trashed. Label them. And keep an inventory of what is to be stored. And then get the recycle and trash stuff out of the house and out of your life.
"Out of sight" items
Next, remove everything from each storage space (closets and drawers) and put it all in the middle of the room. This will give you a sense of the size of the job you are facing.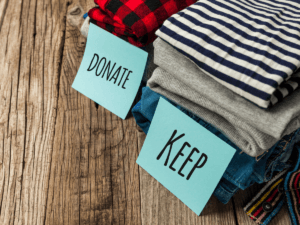 Next, separate the stuff into these four "keep or toss" piles.
Stuff you will keep ("keepers").
Stuff you will donate.
Stuff you think you can sell (if you can't sell it, the fallback is to donate it).
Stuff you will trash or recycle.
Put the stuff you will donate, sell, trash, and recycle into separate bins, boxes, or bags. And label them.
Fine-tune the "keepers" category
Next, revisit the "keepers" pile. Ask yourself these questions about each object.
Do I really, really want this item? If you have used it more than once in the past year, it's probably a "keeper." Otherwise, put it in one of the donate, sell, trash, or recycle containers.
If it is a "keeper" but you won't need it during the home selling period (either for use or staging the home), put it in a separate box or bin. Label it "storage," give the box/bin a number, and keep an inventory list of what is in it.
Put the remaining "keeper" items back into the closet or drawer. But, as you do this, take a look at how full the drawer or closet looks through the eyes of a buyer.
Ask another question: "Can I live without any of this until I get it to my new home?" If you can do without it, put it in the storage box and add it to the inventory list.
Step 2: Clearing the decks
The second step in your "how to declutter your home to sell" project is to get stuff out of your house.
Separate out the storage, donate, sell, trash, and recycle bins, boxes, and bags. And then get rid of the trash and recycle items – out of your house and out of your life.
"Keeper" items go to storage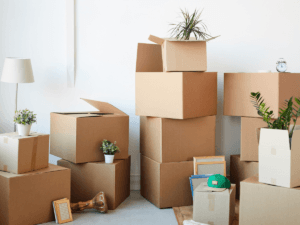 It may be that the boxes or bins of storage items can reasonably be stored on-site in your garage. Think of this through the eyes of your prospective buyers.
If your buyers can say "Wow. Look at all these boxes. There's tons of room to store stuff in here," then you have a winning strategy.
But if your on-site storage efforts make the garage look crowded, then move the stuff to a storage unit. This applies to the larger furniture-type items too. These "keeper" items will stay in the storage unit until it is time to move to your new home.
Selling your surplus stuff
Just a little note of caution on selling your stuff. Is it really worth your time? Selling stuff takes time, no matter how you slice it. Unless you are holding a garage sale, which is a time-consuming exercise all its own, you have to take photos, price, and post items individually.
Of course, it all depends on how valuable the stuff you want to sell is. Only you can determine this and balance it against the value of your time.
But it may be that you will get more value and time savings out of it by assessing its fair market value and taking it as a tax deduction by giving it to charity. Talk to a tax professional about this. And be sure to understand what paperwork you need to document the deduction claimed.
Besides, even if you are not taking a tax deduction, giving stuff for a good cause feels good too.
But assuming you want to sell stuff, what are the options?
Garage or yard sale
Dave Ramsey has some great tips on organizing a garage or yard sale here. He explains how to organize, price, and advertise your stuff for a garage or yard sale.
Sell locally online
Here are the local online options
eBay and alternatives
eBay: You can sell almost anything on eBay.
eBay alternatives, where you can sell anything
Bonanza: You can import your eBay listings.
eBid: You can import listings from eBay, Etsy, and Amazon.
eBay alternatives for niche-type products
Etsy For crafts, handmades, collectibles, and vintage clothing.
ArtFire: For artisan, handmade and vintage items.
There are other sites like Ruby Lane and Reverb but they are more for professional-type sellers.
Donating your stuff
You may well have your own local charities in your area but those listed below operate widely in the US.
Goodwill: Goodwill uses revenue generated from their stores to provide employment training and placement services for people in the local community. They provide a pickup service and will accept furniture, shoes, clothing, housewares, furniture, art, and books.
Habitat for Humanity: Habitat for Humanity helps provide affordable housing to those in need. They accept furniture, building materials, household items, and appliances. They sell these through their Habitat ReStores. They will pick stuff up.
The Arc: The Arc supports people with developmental and intellectual disabilities. They accept furniture, housewares, clothing, shoes, electronics, toys, games, books, and used cars. They pick stuff up.
Salvation Army: The Salvation Army provides a wide range of charitable services. They accept most things and will pick up.
Concluding thoughts on your decluttering project
When you have finished decluttering, congratulate yourself for executing your "how to declutter your home to sell" project.
You have increased the marketability of your home, meaning you will sell it faster and therefore save money on mortgage payments.
You have likely increased its final sale price a little.
You may have made some money or at least a tax break on the side.
You can feel good about donations to charities.
Then congratulate yourself for the advanced preparation of your new home as a serene, zen-like, clutter-free living environment.
The work of Marie Kondo, the queen of decluttering and home organizing, is well worth your time. She explains how you can actually get a sense of release by letting your stuff go with gratitude for its service.
And you can get a different take on the transformative effect of decluttering with a Feng Shui approach.
The whole point is that a decluttered home is a healthy home.