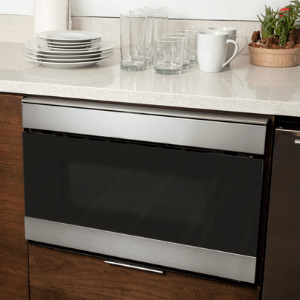 Drawer Microwave Ovens
Before we get into the best drawer microwave ovens in detail, let's consider whether you would want one in the first place. After all, a regular microwave is much less expensive.
We always approach our product reviews with the mindset of a remodeling designer/contractor giving advice to a client on the layout and use of a new kitchen.
So, to start with, you might want to check out the comparison of the various microwave types we did in our  Microwave Buyers Guide. For example, if you must have a convection feature with your microwave, a drawer microwave is not for you.
And check out these related posts:
That said, here are our top picks for microwave drawers.
WiFi connectivity
Hands-free "wave" opening
Easy-use undercounter location

Click for Price




 4/5


Easy-use location
Easy-use, flip-to-open and close control panel
Countertop space saver

Click for Price




 4/5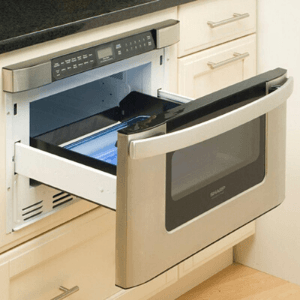 Easy-use under counter location
Tilted display for easy reading
Useful towel rail handle
Since pictures speak louder than words. Let's introduce the drawer microwave with this video, courtesy of Sharp. This is not their latest model but is a great illustration of the microwave drawer concept.
Are microwave drawers a good idea?
The answer is: Yes, microwave drawers are terrific but at a price. So let's talk about the main reasons for choosing a drawer microwave.
There are one compelling reason and five supporting reasons to make the additional expense of a drawer microwave worthwhile.
Compelling reason for choosing a microwave drawer
The compelling reason for choosing a microwave drawer is that it provides ease of use, accessibility, and safety benefits over a conventional microwave. This is especially important, for example, in an aging in place scenario. Or for someone in a wheelchair.
You use the drawer microwave from the top and lift food in and out from the counter immediately above. This is an easier and safer proposition than pulling hot food or liquid out of the front of a microwave oven installed over the range. Nor do you have to deal with a swinging door.
Also, since the drawer microwave is usually located immediately below the kitchen counter, it is much easier to reach, especially from a wheelchair.
That said, the ease of use of the drawer microwave actually makes sense for everyone, not just the elderly. In short, they improve kitchen safety. They are a great application of Universal Design principles.
Supporting reasons for choosing a microwave drawer
1: They are terrific countertop space-savers.
2: They are more cook friendly than a microwave with a door.
3: Because the magnetron is in the roof of the unit, it is not cluttered by a turntable. See here for an explanation. This makes its 1.2 cu ft equivalent to the volume in a larger conventional microwave unit.
4: You can mount the drawer microwave below a standard wall oven, if you want.
5: They look great.
Who manufactures microwave drawers? 
Sharp
Sharp invented the drawer microwave. According to their website they hold 11 individual patents associated with the drawer microwave. They produced their first model in 2009. This was the Sharp KB-6524PS and is still a big seller.
Since then, they came out with their first update in 2015. These were the Sharp SMD2470AS (the 24" version) and SHARP SMD3070AS (the 30" version). These had a much trendier look and improved controls.
Sharp's latest iteration is the "Wave" model (Sharp SMD2480CS). This came out in 2018 and has a sensor that lets you open it with a literal wave of the hand. It also comes with connectivity, allowing operation via Alexa. This is our "best of" recommendation.
Other brands
In the meantime, over the years since 2009, other brands, such as Bosch, Thermador, Viking, Jenn-Air and Wolf, have come out with their own drawer microwaves. But these "redesigns" are basically the same animal as the Sharp unit. They just come with different aesthetics and controls. It seems that they are all manufactured at the same Sharp facilities.
From a specification perspective, they all have the same 1.2 cubic foot capacity with the same sensor cooking features. And they mostly all come in 24" and 30" widths to fit all standard cabinetry.
What that means to the buyer is that differences among all these units is mainly cosmetics, control features, and whether the unit sits flush with the cabinetry or proud of it. There are different warranty periods, depending on the brand.
In our review round up here we have included some units other than Sharp for you to consider. However, Sharp still dominates the drawer microwave space and we feel they provide the best value for money overall.
Because all drawer microwaves are built on the Sharp platform, they share essential features. So, to avoid needless repetition, our review takes the approach of reviewing Sharp's latest benchmark product in detail first. We will then compare and contrast other models/brands.
Let's get into the details.
1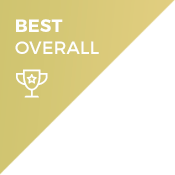 Sharp SMD2489ES 24 Microwave Drawer
Connectivity
This unit is the latest in Sharp's line of drawer microwaves. It is billed as the world's first smart microwave drawer. It comes with WIFI connectivity for full integration with your smart home's capability. To get going with this, you just download the Sharp Kitchen Application to your smartphone.
Easy Wave Open
What also makes this unit unique is that it incorporates Sharp's "Easy Wave Open" technology. You don't even have to touch this microwave to open it. The unit simply opens with a wave of your hand. You do need to do this deliberately with an up and down wave in front of the sensor. You can't open it accidentally just by walking by. This makes it safe around kids and pets. You can close the drawer with a button or just a gentle nudge.
The drawer opens and closes smoothly, so as not to spill anything. And it does it quietly. No more of that loud click when you shut a regular microwave oven door.
Other great features
The touch control panel opens to a 45 degree angle. This makes it easy to read. You don't have to stoop to see it. So the controls are there when you need them and hidden when you do not. See the video below. Bright LED lighting illuminates the interior of the unit, so you can easily see what is going on with your cooking.
This microwave drawer has great looks with its edge to edge stainless steel and black glass design. It will pair well with your other kitchen appliances. Plus, it has no visible "Sharp" logo, so there will be no mismatch with other brands.
The built in air-flow venting of this unit allows you to install it flush or proud of its surrounding cabinetry. This gives you design flexibility. And, of course, because it is built into the cabinetry on all sides except the front, it deadens that well known noise of a microwave oven operating.
Finally, when it comes down to actually using this drawer microwave for cooking, it has a great deal going for it. We have already discussed how safe and easy it is to use because of its location immediately below the countertop and its easy to read controls. On top of that, food sensors and 11 power settings make cooking itself a snap.
And with a 1.2 cu ft cavity, this Sharp microwave drawer has plenty of cooking capacity. It  can accommodate a 20 oz beverage or a 4 qt casserole.
In fact, the capacity is actually greater than it sounds because there is no turntable to get in the way.  This feature also makes it easier to clean.
Only two drawbacks
All in all we have only two reservations about this microwave drawer. First, at 950 watts, it can be considered under-powered. Second, there is no denying that it is expensive for a microwave oven.
What We Like
WiFi connectivity
Hands-free "wave" opening
Easy-use undercounter location
Easy-use controls
Sleek design
Space saver
What We Don't Like
A little underpowered at 950W
Not available in 30″ width. However, an extension kit is available.
Pricey for a microwave
Key Specs
Power output: 950W
Capacity: 1.2 cu ft
Dimensions: 23-5/8″ W x 16.0″ H x 23-7/16″ D
120 Volts, 15 Amps, 60 Hz
11 power levels
Our Assessment
We really like this Sharp microwave drawer oven. It is state of the art and comes with an established pedigree. There are no reviews of this model on Amazon, presumably because the WiFi feature is so new.
However, there is an identical unit (but with no WiFi capability) available on Amazon at this link: Sharp SMD2480CS.
The 5 star review score for this one is good, with negative reviews mostly centered on shipping damage issues. People really like it for all the reasons we have given above and find it good value for money.
Concerning the issue of price, we always advise our clients to consider how long they will be living with their choice. No doubt, price is a thing. But value is more important. Many of the features of this unit provide long term value, especially in space saving and ease of use.
And, in the context of a kitchen remodel, it is overall value that is paramount. Plus, when you consider all the money you are spending on your project in any case, it would be worth taking other items out of the budget in order to include this one.
Full specs for the Sharp SMD2489ES are available at this link.
How  Much We Like It
 4.5/5
The Sharp SMD2480CS Control Panel
2

Sharp SMD2470AS Microwave Drawer Oven
This model is said to be the first "modern" microwave drawer. It was introduced around 2016. Until the "Wave" was introduced, it was top of the line.
As with the '''Wave" model, it has a control panel that tilts out to a 45 degree angle making it easy-to-read and operate. When you are done, you simply fold it back flush with the rest of the unit.
You can't "wave" it open but you can open it with a button. You can close it with a button or, hands-free, with a nudge.
The sleek design enables flush mounting and definitely improves the look of your kitchen when compared to a typical built in, over the range or countertop microwave ovens. It will fit well with any kitchen decor.
You can find the full specs for this unit at this link Sharp SMD2470AS
This model is 24 inches wide. But,if it better suits your kitchen design or cabinetry, it comes in a 30 inch version. You can check it out here: SHARP SMD3070AS
What We Like
Easy-use undercounter location
Easy-use, flip-to-open and close control panel
Space saver
Comes in a 30 inch wide version
What We Don't Like
No connectivity
A little underpowered at 950W
Pricey for a microwave
Key Specs
Power output: 950W
Capacity: 1.2 cu ft
Dimensions:23 7/8″ W x 15 7/8″ H x 23 1/64″ W
120 Volts, 15 Amps, 60 Hz
12 power settings
Our Assessment
This is a solid choice of microwave drawer oven. And we really like that it comes with an alternative 30 inch wide version.
There are plenty of reviews on Amazon. Most of them are positive. Some warranty and shipping damage issues reported.
How Much We Like It
 4/5
Sharp SMD2470AS Microwave Control Panel
3

Sharp KB-6524PS Microwave Drawer Oven
Sharp pioneered the drawer microwave with this model around 10 years ago. However, it is still a very strong seller with a ton of positive reviews.
While it certainly looks a little funky and dated compared to the later Sharp models, it is without doubt the best value for money among all microwave drawers. It has almost all the functionality of more recent iterations of the Sharp drawer microwave line. This includes an angled control panel for easy reading.
Also, many people prefer the added functionality of the towel bar feature that later models lack. Plus, at 1,000W, its power output is greater than in the later models.
You can find the official spec sheet for this unit here: Sharp KB-6524PS
What We Like
Easy-use undercounter location
Easy read tilted control panel
Space saver
Handy towel rail
Full 1,000W of power output
What We Don't lIke
No connectivity
Pricey for a microwave
A bit clunky looking
Key Specs
Power outtput: 1,000W
Capacity: 1.2 cu ft
Dimensions: 23.9″ W x 15″ H x 26.2″ D
120V, 60Hz / 1.67kW, 14.5 Amps
11 power settings
Our Assessment
This is absolutely the best bang for your buck when it comes to drawer microwave ovens. It has pretty much all the functionality of later models (except for connectivity) and it packs a bit more power punch.
Although it is somewhat clunky looking compared to later models, its stainless steel finish will go well with most kitchen designs.
How Much We Like It
 4/5
4
Bosch HMD8451UC 800 Microwave Drawer
Bosch is a well regarded name in the home appliance space. With the Bosch HMD8053UC 30 800 Series Drawer Microwave they have produced a sleek and modern look that will grace any kitchen.
Of course, we do have to remember that the exterior of this drawer microwave is just superimposed on the Sharp technology that we have described above. But if you like the look, then this unit is for you.
It features automatic food sensor programs and 10 power levels. The drawer operation is as follows the standard Sharp touch to open and touch to close and it can be installed flush to the cabinetry.
Our only criticism is that the control display is vertical. It does not tilt like the displays on the Sharp units described above. You have to stoop and peer to look at it. So it is not as easy to see.
What We LIke
Easy-use undercounter location
Sleek good looks
Space saver
What We Don't Like
No connectivity
Display not so easy to read
Key Specs
Power output: 950W
Capacity: 1.2 cu ft
Dimensions: 16.3" H x 23.9" W x 23.4" D
120V, 60Hz / 1.67kW, 15 Amps​
11 power settings
Our Assessment
This unit has good  looks. It will go well with just about any kitchen design.
Customer reviews are very mixed. Some people love this unit. Others report iffy  performance and poor customer service. However, see our FAQs on Amazon customer reviews.
How Much We Like It
 3.6/5
5
ZLINE 24″ 1.2 cu. ft. Microwave Drawer
The design of the ZLINE 24″ 1.2 cu. ft. Microwave Drawer, with its towel rail, is reminiscent of the original Sharp model featured as #3 above.
The 11 power level settings include a melt feature for the melting of butter, marshmallows, chocolate and cheese without worry
Easy to use screen display and touchscreen controls. And the display is tilted back, so you can read it easily.
This unit is ADA compliant. This reinforces our earlier point that the drawer microwave suits an aging in place application.
What We LIke
Easy-use undercounter location
Handy towel rail
Space saver
Tilted back display for easy reading
Full 1,000 watts of power
ADA compliant
What We Don't Like
No connectivity
The logo is a bit in your face
Key Specs
Power output: 1,000W
Capacity: 1.2 cu ft
Dimensions: 14" H x 24" W x 25" D
120V, 60Hz / 1.67kW, 14.5 Amps
11 power levels
Our Assessment
Of all the non-Sharp units we have seen, we like this one best. It has solid reviews with only the occasional technical glitch showing up.
How Much We Like It
 4/5
Some Microwave Drawer FAQs
How do microwave ovens work anyway?
The microwave drawer is no different than any other microwave in the basic way it works. The only design difference from the regular microwave oven is that the magnetron is located in the roof of the unit.
Here is a great explanatory video:
Why are Amazon reviews so critical?
The microwave drawers we have reviewed are high-quality products. So why is it that they garner highly critical reviews that drag their overall ratings down?
Well, it just seems that high-ticket items tend to get treated that way. People who spend a lot of money on a product tend to be pretty demanding and therefore pretty critical. This is as it should be. It's human nature.
People are more likely to let the world know they had a  problem with an expensive product than they are to leave a positive review if they were delighted by it.
In the case of microwave drawers, ratings seem to have mostly suffered from issues related to shipping damage and customer service more than with defects. We also suspect that supposed defects were often caused by operator error.
However, be all that as it may, we highly recommend you protect your high ticket purchase with one of Amazon's extended warranty plans.
What are the Pros and Cons of Microwave Drawers?
At the risk of repeating what we have already discussed, it is worth wrapping up with summary of the pros and cons of the microwave drawer.
Pros of Owning a Microwave Drawer
It frees up a ton of space on your countertop
If you get stressed out by not having enough working space on your countertop, the microwave drawer is just what you need. It fits neatly into a lower cabinet or your kitchen island or beneath a wall oven. So you avoid the clutter of a countertop microwave.
By the way, in our opinion, the best placement is right under your food prep area.
The microwave drawer is both functional and accessible
The microwave drawer is a problem solver for people who are short, lacking upper body strength, in wheelchairs, or who are left-handed. This is why one of the models listed above is ADA rated. In fact, we are pretty certain all of them would qualify.
Shorter people and people lacking upper body strength can have difficulty hoisting heavy dishes in and out of an over-the-range microwave oven. The microwave drawer overcomes this problem because all this effort is pretty much limited to countertop level. This takes on even greater importance for people who are in wheelchairs.
As for left-handed people, who find the left-hinged conventional microwave awkward to use, the simple drawer opening action of the microwave drawer makes things much easier for them.
This easy accessibility makes the microwave drawer super easy to clean.
Microwave drawers make design statements
They are modern, sleek, elegant and low profile. They will complement your kitchen, no matter the design style. Their unique, high-end looks are guaranteed to draw oohs and aahs from your visitors.
They are safer
The controls of these drawer microwaves are lockable. So it is easy to set them such that only adults can operate them. This will keep both the kids and the microwave out of trouble.
Easy Open
All these microwave drawers are easy to open. And the "wave open" unit is totally hands-free. This is great, for example, when you think about opening a regular microwave with hands that are covered in grease from food prep.
The open and close action is smooth, so as not to spill liquids. Plus you can stir  or season your dishes without removing them from the oven. You just let the drawer roll open, inspect, stir or season the food and then nudge the drawer closed.
Surprisingly Roomy
It is easy to get the false impression that the cavity in a drawer microwave is small. But in fact, because there is no turntable, you get full use of its 1.2 cu ft. It will accommodate a 4 quart casserole or 20-oz coffee cup.
They are quiet
The drawer microwave oven is surrounded by cabinetry on 5 sides. This has the bonus and very welcome effect of muffling that well-known microwave noise.
By the way, almost all the noise made by a microwave comes from the fan that cools the magnetron.
Cons of a Microwave Drawer
There is no convection feature
So far there are no microwave drawers with convection cooking capability. The design of microwave drawers to date has not been able to deal with the air heating and circulation that is necessary for convection cooking.
Professional installation is necessary
Installing a drawer microwave is not as simple as the standard countertop microwave, which you just take out of the box and plug into the wall. Installing a microwave drawer will require at least a skilled handyman or perhaps a cabinet guy and electrician.
Price
Based on the prices you have seen above, all the benefits of a microwave drawer over a regular microwave oven come at a steep premium. A decent regular microwave costs anywhere from $100 to $500.
So a drawer microwave is not for budget shoppers but it is definitely worth considering in the context of an overall remodel project. In that case, the cost of a drawer microwave represents a small part of the overall budget and it is easier to make adjustments for it.
Why are microwave drawers so much more expensive than regular microwave ovens?
We suspect this is a combination of two factors. First, Sharp holds all the relevant patents and, until these run out, Sharp can charge whatever price the market will bear.
And of course, this means that other manufacturers, who are just making cosmetic changes to the Sharp product and slapping their own branding on it, must charge even more, under their licensing agreements with Sharp.
When Sharp's patents expire, we suspect there will be a drop in prices.  Generally, patents will last for 20 years before they expire. We do not know when Sharp filed its patents but they produced their first microwave drawer in 2009.
Given this history, we have to conclude that Sharp makes the best drawer microwave ovens and likely at the best price.
The second factor is that the additional features of the drawer microwave, especially the drawer component, are more costly to produce than the standard microwave.
Nonetheless, given the myriad benefits of the microwave drawer, we feel that they remain great value for money.