Hello! And welcome to my review of Frigidaire electric cooktops, specifically the Frigidaire 30 Inch Electric Cooktop and the Frigidaire 36 Inch Electric Cooktop.
Our site has a special emphasis on Universal Design and its subset, Aging in Place. Our product reviews reflect this, especially when it comes to ergonomics for the elderly.
In addition, we approach all our reviews from a home renovation, remodeling, and value-add perspective.


Frigidaire Smoothtop Cooktops – My Headlines
Very nice: Beautiful, practical and moderately priced.
Not so nice: You must pay special attention to cleaning them and be careful not to allow on them any material that can melt on the surface when it is hot.
My main takeaway: both the 30 inch and 36 inch models are entirely fit for purpose, great value and backed by an excellent brand.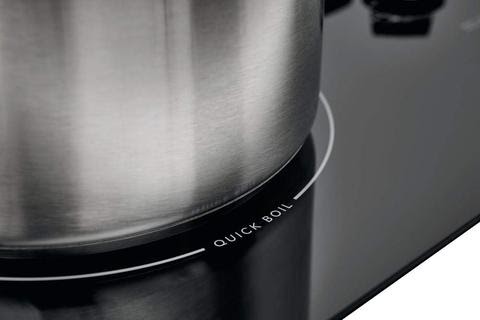 COOKTOP VS RANGE – WHICH IS BETTER?
If you are remodeling your kitchen, whether fully or partially, there is good cause for choosing a separate cooktop and wall oven over the standard all-in-one range. Here are the main reasons:
Flexible design options: for example, you can have the cooktop on an island and the oven at a more manageable height within the cabinetry on a wall.
Convenience: you get a much easier transition from the cooking area to the countertop. A glass electric cooktop can even double as extra counter space when not being used for cooking.
Safer than a range: the cooktop cools off faster.
It is true that a separate cooktop and oven is more expensive than the range combination but in our view this is outweighed by the benefits, especially considering you will be enjoying them for a long time.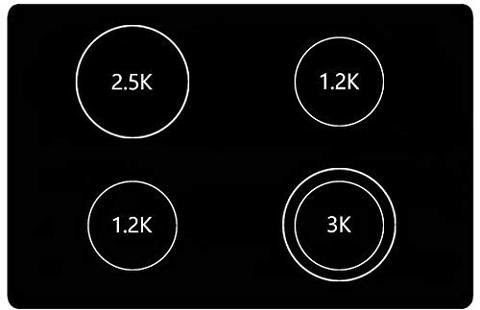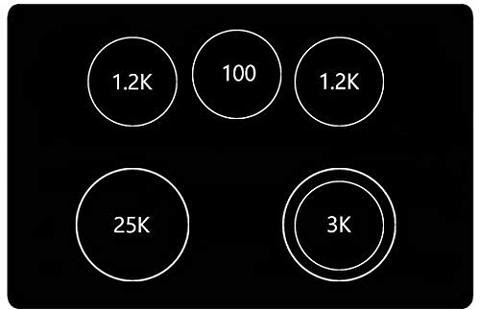 KEY ELECTRIC COOKTOP SPECS THAT DELIVER WHAT YOU NEED
| | |
| --- | --- |
| Electric Cooktop Spec | Delivering |
| Quick Boil Element (both units) | A powerful, fast heating / fast food prep, 3,000 watt cooking capability |
| SpaceWise® Expandable Element (both units) | This element can expand to accommodate different sizes of cookware to give you cooking flexibility. |
| Ceramic Glass Cooktop (both units) | This is a beautiful aesthetic addition to your kitchen. It is easy to clean (just stay on top of it). |
| Ready-Select® Controls (both units) | As you can see from the image below, these controls are easy to read. They are also set off to the right side of the cooktop to keep them out of the way of accidental change and out of reach of small children's hands. |
| Warm Zone (36-inch unit only) | The additional 100-watt warm zone area on the 36-inch cooktop version provides greater flexibility to your cooking operation. |
| Hot Surface Indicator (both units) | This is an excellent built-in safety feature that will alert you if your cooktop is too hot to touch. |
| Both Units | Approved for installation over a Frigidaire Electric Wall Oven |
Frigidaire Cooktop Physical Specs for Installation Purposes
| | 30-Inch Frigidaire Cooktop | 36-Inch Frigidaire Cooktop |
| --- | --- | --- |
| Overall Width | 30.375″ | 36.75″ |
| Overall Depth | 21″ | 21″ |
| Cutout Depth | 20.5″ | 20.5″ |
| Cutout Height | 5″ | 5″ |
What Other Buyers Have Said About These Frigidaire Cooktops
Both these units are very highly rated on Amazon and on other sites. We have summarized  typical buyer responses in thumbs up and thumbs down columns.
Very easy to install
Easy to clean but you must clean spills immediately
Fast shipping. No damage.
Damage in shipping (only one complaint)
Great replacement for an old unit
Great cooktop. Good value.
Bought for a new home. Works great.
Awesome cooktop.
FAQS ABOUT THESE FRIGIDAIRE ELECTRIC COOKTOP UNITS
We have summarized questions and answers from buyers and prospective buyers as follows:
Q:  Does the unit need to be hardwired?
A: Yes. To a 220v circuit.
Q: One of the wires is silver colored. Does that mean it's aluminum and would be a problem when connected to copper?
A: No. It is in fact a copper alloy that is perfectly compatible with the copper wiring in your house. It does not need any kind of dielectric grease.
FAQS ABOUT ELECTRIC COOKTOPS GENERALLY
1: How do you clean electric cooktop glass?
We touched on this earlier and must say that this is the single biggest downside to the glass cooktop (probably the only one). We recommend the Cerama Bryte cooktop cleaning kit. But there is another (old school) way to clean it with stuff that is usually on hand:
Once the heating elements have cooled, spray the glass surface with white vinegar and then wipe with a damp cloth.
Next, sprinkle baking soda on the glass. This will help break down the crud on the glass. It is only slightly abrasive and rubbing will not harm the glass surface.
Then, soak an old towel in water, spread it over the glass and baking soda and pat it down. Let it sit there for 20 minutes or so.
Then rub the glass with the towel to remove the loosened crud. Rinse the towel and repeat this step a couple of times if necessary
Then, if there is any stuck-on crud remaining, take a razor blade and carefully lift it off.
Finally, repeat the first step with vinegar and then polish with a dry cloth.
This is obviously a rigmarole. But you can avoid it just by staying on top of your cleaning.
2: How do you care for electric cooktop glass?
Before using the cooktop for the first time prepare it by using a glass cooktop cleaning cream. You can find this in most supermarkets or hardware stores. These creams leave a protective film on the glass and help prevent accidental scratching. Then just take some common sense precautions like:
Cleaning up spills immediately.
Not scraping metal objects over the surface. This means placing your cookware on it not sliding it.
Not letting crud build up on the bottom of the cookware.
Not using it as a cutting surface.
Not dropping heavy objects on it. 
From time to time re-apply the glass cooktop cleaning cream.
3: Electric cooktop vs gas cooktop – Which is better?
In our opinion, it all comes down to cooking style preferences but there are differences to consider:
A gas cooktop applies heat to the cookware instantly. Electric cooktops take a little while to reach the temperature you want.
Due to the nature of the heat transfer, a gas cooktop generally heats more evenly. This is because the gas flame heats both the bottom and the sides of the cookware.
Gas cooktops are more expensive to buy and install but less expensive to operate.
A glass electric cooktop is much easier to keep clean than a gas cooktop.
Electric cooktops are safer than gas cooktops simply because electricity is inherently safer than gas.
4: Ceramic electric cooktop vs induction cooktop – Which is better?
First, what's the difference? The ceramic cooktop heats the cookware via electric coil heating elements under the glass. The induction cooktop heats special ferrous cookware via high-frequency electromagnets instead of coil heating elements. The electromagnetic effect causes the cookware itself to heat and not the surface of the cooktop.
As to which is better, in general, the induction cooktop is more expensive but more efficient. It is also considered safer since the only thing that gets hot is the cookware itself. However, for induction cooking you do need (preferably) purpose-made ferrous cookware for it to work properly.
5: 36-inch cooktop vs 30-inch cooktop – Which should I go for?
If you don't have space for a 36-inch unit, then the 30-inch unit is your only choice.
However, if you have space, go for the 36-inch unit. Here are three reasons:
If you have a ton of counter space, a 30-inch unit would not be in proportion and would look awkward in the space;.
The 36-inch unit has a greater cooking capacity and you will certainly welcome this for entertaining.
The 36-inch unit would add greater resale value, not least because of the added "wow" effect.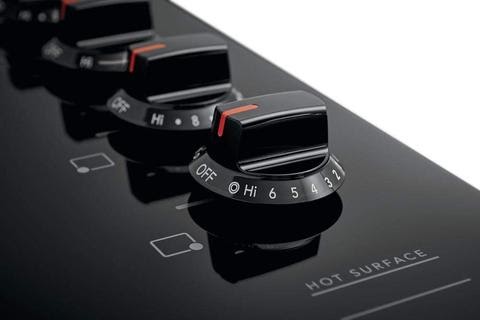 FINAL TAKE: PROVIDING WHAT YOU NEED IN AN ELECTRIC COOKTOP
Both the 30-inch and 36-inch cooktop units deliver the goods:
1: Easy cleanup: smooth top electric cooktops are easy to clean but you must stay on top of it and do it the right way. We have already suggested the Cerama Bryte glass cooktop cleaning kit for this job.
2: A good variety of burners: both of our featured cooktops do well here.
3: A good burner layout: both of our featured cooktops score well here with their four main burners. Having more space, the 36 inch cooktop also has a 100W warming zone element. Both have a dual 1.6KW and 3KW (quick boil) element.
4: Legible and well-located controls: the controls of both cooktops are easily read and set off to the side. This puts them out of reach of small children and makes it difficult to knock them out of adjustment accidentally.
5: All the aesthetics you could want for your kitchen: the black minimalist styling is terrific.
So there you have it. But don't just take my word on it. Click on the image links below and check them out on Amazon yourself.
Just a quick note about product and price in the context of a home remodel or renovation project. Take a moment to think about how long you will be living with your selection!
Within reason, it's not the price of a product that matters so much as its suitability and durability. These add up to real value, provided the price is not excessive. I can safely say that the Frigidaire 30 Inch Electric Cooktop and the Frigidaire 36 Inch Electric Cooktop stand this test.