This getting your house ready to sell checklist is about its physical appearance, "feel" and marketability only. It does not cover the technical aspects of the sale, such as selecting an agent or going FSBO, understanding the local market, pricing, etc.
So what we are going to do here is cover in detail what it takes to prepare the home for sale. This is so that it puts its best foot forward when it comes to greeting and welcoming potential buyers.
We'll discuss getting your house ready to sell in general terms and conclude with a reminder checklist
Home matchmaking
Think of yourself as a home matchmaker. You want to entice potential buyers at the curb. And then you want them to fall in love with your home as they explore the interior.
And if your home looks like you have loved and cared for it, so much the better. Don't discount the vibe that this can create.
Your buyer will already have seen photos of your home online at places like Zillow and Trulia, or the MLS, and you want to make sure that the home lives up to their expectations. You don't want to disappoint them as they come in through the door.
Enhance your home's curb appeal
Your buyer's first impression of your home is the view s/he gets from the street. And everyone knows that you never get a second chance to make a first impression.
So curb appeal is really important. And here is how to maximize it, while spending the least amount of money.
Start with these three vital focal points.
Mailbox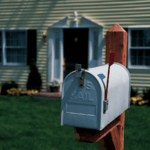 The mailbox may seem like a small detail, but it's important. After all, it's usually right there, at the curb.
Paint it or put in a new one. You can do something creative and eye-catching with it.  Here are some great mailbox makeover tips.
Garage door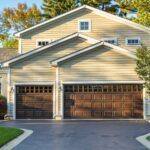 The garage door usually features prominently in the view of a home from the street.
If you have a shabby garage door and paint won't help it, a new garage door is probably the single best home improvement you can make to help sell your home and also get most of your money back when you sell.  A good-looking garage door is highly functional and is great for curb appeal.
Front door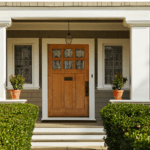 The front door is what most immediately welcomes your buyer into the home. S/he may imagine their own visitors getting the same welcome.
In Fengshui, the front door is where the home's chi or energy enters. So give your front door a fresh coat of paint. And consider upgrading its hardware (handle and address number), and doorbell. Get a new and attractive welcome mat.
General home exterior
Beyond those three focal points, make sure that the exterior of the home looks attractive, clean, and well-maintained. Pay attention to these details, and if necessary:
Plant colorful flowers.
Make sure the lawn is mowed, hedges trimmed, leaves raked, and walkways swept.
Make needed repairs in roof and guttering.
Paint and touch up as necessary.
Clean windows.
Repair any cracks in the hardscape.
Clean up after pets.
Pro tip: Don't make your landscaping look too manicured or fussy. A high-maintenance yard can put buyers off because it can look like a problem to them.
Declutter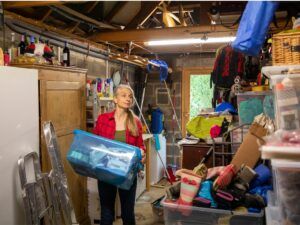 Decluttering applies to every room in the house, including the kitchen and bathrooms. And declutter first, because it will make it easier to clean everything later.
Remove anything and everything on surfaces and in closets or drawers that might distract the buyer's attention or make them think the space is overcrowded. Otherwise, they will get the feeling that the home is too small and there will be no room for their own stuff.
Reorganize drawers, cabinets, and closets everywhere, including the kitchen and bathrooms. Try to limit continued use, while you are still living in the home, to only 50% of the available space.
You want your prospective buyers to get the impression that there is plenty of storage space. This especially goes for your kitchen and bathroom cabinets.
Make everything neat and tidy in there. Buyers will want to look inside. And you should have no expectation of privacy. After all, the home is likely going to be shown when you are not there.
Keep toys out of sight and to a minimum.
Pro tip: Treat this declutter exercise not so much as a pain in the neck but rather as necessary preparation for you to make your own move. Once this home has been sold, it will be easier to move because you will have already packed.  And you can rent a storage unit in the meantime.
This is your chance to discard or give away anything that you no longer need. Sift through everything, including furniture, small appliances, clothing, books, games, and those dust-gathering tchotchkes.
Maximize impressions of space
Part of getting your house ready to sell (meaning attractive to a buyer) is making it feel as spacious as possible.
Once you have dealt with the small stuff, take a look at how your furniture uses space. If any of it is oversized, put it in storage. Rearrange what is left to maximize feelings of space.
You want all the rooms in the home to look as large as possible by maximizing open wall and floor space. But don't overdo this. You want to leave enough furniture there for your buyers to be able to visualize their own furniture replacing it.
Depersonalize
Remove anything that is personal to you or your family. This includes any family photos, striking artwork, or personal collections.
These things are distractions and indicate your ownership of the space. You want to offer your buyers a neutral space or a clean slate on which they can project their own personality and imagine their own family being at home there.
Especially remove anything that might indicate your political leanings – one way or the other. In this current highly charged political atmosphere, you don't want anything in the home that might make a buyer dislike you. This may sound silly, but it's a real thing.
Hide your valuables
As part of the decluttering exercise, keep any precious art or jewelry locked up or, preferably, stored off-site. You can't expect every single potential buyer that comes into your home to be entirely trustworthy. And if anything disappears, there is no realistic way of getting it back.
Repairs
Obviously, you will want to repair or replace what is really needed. But you need to be strategic about it. You don't want to spend money unnecessarily.
Home inspection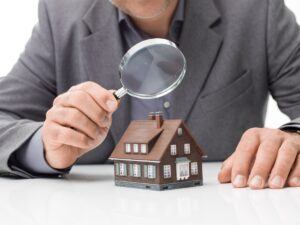 Pro tip: You know that your eventual buyer is going to want a professional home inspection. So in order to head off the discovery of any negative surprises that could cause the buyer to withdraw, or require you to make price reductions, commission your own home inspection.
Based on your inspector's report, you can make your own repairs of anything untoward the inspector may find. Aside from anything else, this will give you greater confidence going into the actual home selling process. Your agent will appreciate it too.
Remodeling and renovation
Don't listen to anyone who tells you that getting your house ready to sell means getting into expensive renovation projects.
Aside from the garage door mentioned earlier, we do not recommend any kind of home remodeling as a way to make your home more marketable. This is because you will never recover all your expenses at the sale.
And there is no amount of remodeling that will dramatically increase your home's market value overnight.
But that is not to say you should not pay attention to cosmetic items. This is because the "look" of the home is so important to the sale.
Cosmetic repairs, replacements, and touch-ups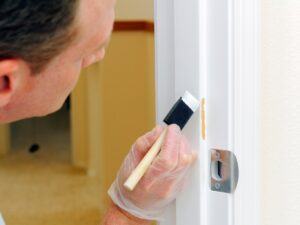 Paint: If the paint is in poor condition, repaint or at least touch it up.  And if you have any walls painted in what might be considered a wild or eccentric color, this could really turn a buyer off.
You might say "Well, it's only paint. And they can always change it."  But that's not the point. You want to make the buyer immediately feel at home. And only neutral tones of paint are going to do this safely.
Interior walls should be painted in an off-white or beige color.  And bathrooms always look good in a light blue or green.
Neutral and light colors also help open rooms up and add to a feeling of space.
Also pay close attention to the condition of baseboards, doors, and door trim. Scrub clean and touch up as necessary.
Door furniture: Fix or replace defective door handles. New door hardware has the effect of dressing things up, especially when it comes to cabinet doors.
Plumbing hardware: Replace or repair any leaky faucets. In fact, you might consider new faucets as a way of dressing up the kitchen and bathrooms.
Light fixtures: Repair or replace light fixtures that need it. And make sure they all work and are equipped with appropriate bulbs. In fact, for showing purposes, put in bulbs with enhanced brightness. Lots of light helps the appearance of a room.
Electrical outlets: Make sure that there are no broken or cracked outlet covers.
Air conditioning and heating registers. Make sure that all of these are clean and in good condition.
The bottom line of this is that you don't want a buyer to see anything that is obviously wrong. This is because their natural follow-up thought is: "Well, what else is wrong with this place."
Clean – and then clean some more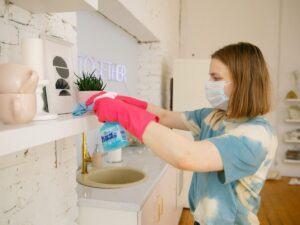 Clean your house from top to bottom and pay attention to these details:
Carpets: Shampoo carpets and rugs. Remove any pet stains. Remove small mats and runners. They may be protective but they come across as clutter.
Pro tip: If you have hardwood floors under your carpets, throw the carpeting out, buff up the hardwood and show it off.  Hardwood flooring can be a major selling point.
Windows: Keep windows, frames, and sills spotless. You want maximum natural light entering your home to show it off. By the same token, wash your curtains and keep the blinds dust-free.
Tile: Clean kitchen and bathroom tile, especially grout lines.
Kitchen counters: Make sure they are spotless, and keep them clear of unnecessary small appliances.
Kitchen appliances: Clean and tidy the interior of the fridge, clean the microwave oven interior, degrease the oven, and make sure the range/cooktop is spotless.
Don't forget the backyard
Your buyers will want to envision enjoying the outdoors there and seeing their children play there. So make sure it is neat and welcoming, with the patio furniture and BBQ in good order.
Passing the smell test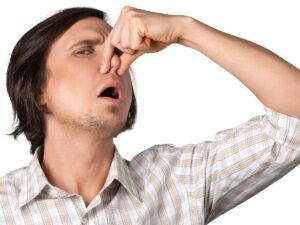 Once your house has been cleaned and organized from top to bottom, get friends you trust to come and look it over. They may have suggestions. But more importantly, ask them to see if they can detect any unpleasant smells, such as pet odor.
You are so used to living in the home that you may be unaware of these smells. But bad odors in a home can be a real turn-off for prospective buyers.
If there are any detectable odors, locate the source and deal with it. Don't attempt to mask smells with other, stronger smells, like scented candles or plug-in deodorizers.
These strong smells can actually put people off. But you might consider an essential oils diffuser. Lemon oil is probably the best for this.
Maintain all the work you have done and keep things tidy
It's not easy to keep things tidy, because you are still living in the home. And this is especially so if you have young children. But make a constant effort to keep the home tidy. You want it to be ready to show at a moment's notice.
Home Staging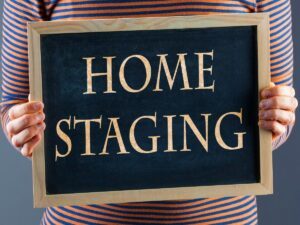 Your agent may have home stagers on staff at the brokerage as part of the service or will recommend one.  And, depending on the price range of your home, you may want to pay for this service.
Home stagers know the local real estate market and what sells. They will evaluate the furnishings that are in the home and may make recommendations to rearrange things, or rent or buy other items.
Now all of this can get expensive. And they may even want you to move out of the home altogether during the selling process.
In the case of a high-priced home, all this may make sense  But if not, here are some home simple staging tips you can use, especially for an open house.
Staging tips
Add some plants: Green is a welcoming color. And you may want to add bouquets of flowers in the kitchen and master bathroom. A bowl of fruit looks good on a dining table.
Turn on the lights.
Open curtains and blinds to let in maximum daylight.
Open windows (if the season allows).
Turn off radios and TVs
Get pets out of the house, if there is an open house that day.
Don't smoke in the house.
The smell of baking cookies is a classic way to welcome buyers – and it still works. Offer the cookies at the open house
Getting your house ready to sell checklist summary
Here is an area-by-area and room-by-room home preparation checklist summary with some bonus showing tips
Curb appeal
Mailbox – paint or upgrade
Garage door – replace if cost-beneficial
Front door (paint & hardware)
Exterior (street side)
Paint/touch-up as necessary
Plant colorful flowers or shrubs (add mulch to set them off)
Make sure the lawn is mowed, hedges trimmed, leaves raked, and walkways swept (do the same for the yard).
Pay attention to needed repairs in roof and guttering.
Paint and touch up as necessary.
Clean windows (prune shrubs away from them to maximize light).
Repair any cracks in the hardscape. Pressure wash stains (do the same for the yard)
Clean up after pets.
Yard
Stain patio deck if necessary
Put patio furniture & BBQ in good order. Cushions on the furniture.
Weed planter beds
Prune shrubs & trees (keep them away from windows to maximize natural interior light).
Declutter
Remove all personal items.
Remove all decorative items (except for a couple of pieces of neutral artwork on the walls of each room).
Reduce items of furniture to a minimum.
Clear all surfaces of anything but essential living items.
Remove anything non-essential from all drawers, cabinets, and closets. Tidy them.
Discard or store off-site anything you have removed.
Store any valuables.
Keep tables clear
Depersonalize
Remove anything that is personal to you. Store it off-site.
Repairs
Get a home inspection and repair recommended items.
Paint and touch up throughout the home.
Repair or replace:
All door hardware (including cabinets and drawers)
Plumbing hardware.
Lighting fixtures.
Electrical outlet covers.
HVAC/heating registers
Deep-clean everything, including
Walls
Baseboards.
Ceilings
Carpets
Windows
Blinds
Tile
Countertops in kitchen and bathrooms.
Kitchen appliances.(especially oven, cooktop, and fridge)
Kitchen and bathroom sinks.
Ceiling fans
HVAC returns and vents
Kitchen showing
Make sure the trash and recycling bins are emptied before any showing.
Keep vacuums, mops, and brooms out of sight.
Put pet food and water away before showing.
Bathroom showing
Hang towels neatly.
Consider new towels.
Remove cloth toilet mats and lid covers.
Keep toilet lids closed.
Empty trash cans.
Keep out one dispenser of hand soap.
Keep cleaning supplies out of sight.
Dining room showing
Limit dining room chairs to 6 maximum (remove unnecessary table leaves).
Keep the dining table clear except for one floral or fruit bowl centerpiece
Bedroom showing
Keep the beds made.
Consider new bedspreads.
Keep everything tidy (including closets).
Keep closet doors closed.
Keep toys out of sight.
Laundry room showing
Put all cleaning supplies away.
Keep dirty laundry out of sight.
Put clean laundry away.
General showing
Use bright lighting throughout the home.
Add extra floor lighting if there are dark spots.
Open curtains and blinds to let in maximum daylight.
Open windows (if the season allows).
Turn off radios and TVs.
Get pets out of the house, if there is an open house that day.
Don't smoke in the house.
Smells
Deodorize throughout.
Don't use plug-in deodorizers or candles.
Consider a citrus-flavored essential oil diffuser.
Wrapping up on getting your house ready to sell 
All of this may seem like a lot of work. But you don't have to tackle it all at once. Take the time to be methodical and thorough with the task.
Plus, you can actually feel excited about a lot of what is involved in the process, because it helps you with organizing the move to your next home!
You want your home to stand out from the rest in order to get a fast sale at top dollar. It is a huge and likely very costly mistake to put your home on the market before you have prepared it.
Again, think of it in terms of matchmaking.  Nobody goes out on a date that really matters to them without getting ready for it.