In this post, we survey the home improvement trends arising out of having been forced to stay at home by the Covid-19 pandemic. And we note some positive developments going forward.
Pandemic-inspired home improvement trends 
The Covid-19 pandemic has begun to subside (we hope). So we can now survey and evaluate its impact both on our life at home and the changes we should consider making to our home.
Our general conclusion is that many of the effects of the short-term shut-down are likely to be permanent. And it seems that the way in which the world operates and the way we live in it may have changed forever.
This means that our lives are likely to be increasingly lived at home. And, having gotten over the initial shock of no longer commuting to work and having to teach our children at home, we are beginning to embrace the idea. So are our employers.
Working from home
Here is a startling statistic. According to Upwork, a huge online work marketplace, 22% of the workforce or 36.2 million Americans will be working remotely from home by 2025. This is an 87% increase over the period prior to the pandemic.
Upwork also found that there has been a big increase in the number of people doing freelance work working from home. This trend is likely to continue beyond the pandemic.
Homeschooling
Homeschooling has for many years been on an upward trend. But the pandemic has caused an explosion of interest. And for many, homeschooling may become a permanent feature of their lives. After all, being able to work from home is a perfect complement to homeschooling.
Profound effect on the home environment
A lifestyle of working, schooling, exercising, relaxing, socializing, and staycationing at home has caused a profound rethinking and reshaping of the home environment. And, as remodeling and real estate professionals, we are able to offer some thoughts as to how to approach this.
So, we'll look at home improvement trends by layout, room, function, look, and style
Home layout – redefining spaces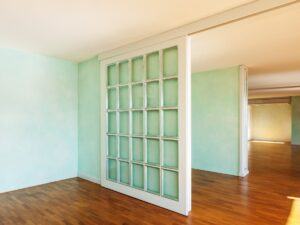 A home that now needs to accommodate so many functions needs to have increasingly defined living spaces. For example, it is obviously necessary to segregate our office Zoom meetings from our children's Zoom classes. And some of us need to make provisions for a multi-generational family.
This means that in remodeling projects, the removal of partition walls for an open-plan look has lost favor. And people who already have an open plan, are finding ways to separate functional areas by the use of sliding interior doors, screens, and nooks, rather than building permanent partition walls.
And, as part and parcel of separated spaces, we are installing or increasing soundproofing where necessary and possible.
The home office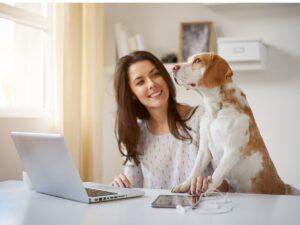 For larger homes, the separate, dedicated home office is obviously front and center of the work-from-home trend. After all, if working at home is going to be a permanent arrangement, it is no longer acceptable to be doing it from the kitchen table.
So people are converting a spare bedroom, any unused closet space, part of the garage, or a finished basement into an office. And some will even put on a room addition for this purpose.
And smaller homes are looking to achieve the same effect with the "cloffice" or closet office. This is a creative way to create a personal workspace in cramped quarters.
When thinking of the home office, why not design it for two people? So include an additional or double work workstation. There is nothing new about this. It's no more than a reincarnation of the old English partner's desk.
And when it comes to office decor, make sure that you have a wall that is a worthy backdrop for a Zoom call. Some nice artwork or a shelf full of important-looking books behind you on the call would be ideal.
The kitchen
People are looking for larger kitchens, not least because this is now a place for multi-tasking. Aside from its traditional food prep and cooking function, the kitchen may now also double as a home office or schoolroom.
Kitchen island
So we are especially looking for increased functionality in larger kitchen islands. It is not only a focal point in the kitchen design.
We also need to maximize its use as a storage place, somewhere to place a pull-out garbage drawer, the dishwasher, a prep sink, a cooktop, or a wine cooler.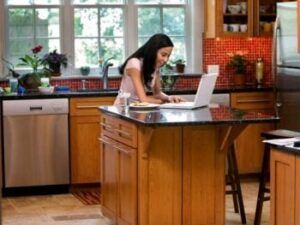 The kitchen island is also one of the points anchoring the kitchen work triangle or (increasingly) the kitchen quadrangle. What used to be the work triangle of range, sink, and refrigerator is now being expanded to a quadrangle that includes the laptop or tablet.
This is because people are increasingly referring to a screen rather than a cookbook for recipe reference. Or, the chef may be multitasking by doing some work on the laptop, while cooking at the same time.
If possible, make provision for a split-level island. You can place your laptop on the upper level to keep it out of range of accidental spills.
Induction cooktops
Because of their inherent safety and to protect the greater number of people now using the kitchen, especially children, we recommend the use of induction cooktops over the traditional glass-top radiant electric cooktop.
Put the induction cooktop on the island, where it can safely double as an additional countertop workspace. And if you want a gas cooktop, install it on a perimeter countertop, rather than on the island.
Kitchen pantry
Finally, If you have space, add a kitchen pantry. You might even check out the freestanding version, since it is less expensive than the built-in.
Touchless faucets
In line with our increased awareness of hygiene, incorporate touchless faucets into your kitchen design.
We have more at this post on current kitchen design trends
The bathroom
In this pandemic world, we increasingly turn to the bathroom for rest, refuge, relaxation, and quiet time. So, we want to make the bathroom fit for this new purpose as an oasis away from it all. We want it to be our pampering, self-care central
People are considering big upgrades like standalone showers, steam showers, and soaking tubs. They are also looking at smaller touches of comfort and luxury, like aromatherapy showerheads and bathtub tray caddies. These can handily hold a glass of wine. or a mug of coffee, while we lie back and soak.
The bidet
The bidet has for some years been a gradually trending item in America. But the pandemic-induced toilet paper shortage made it take off like a rocket. And this just the start of a renewed focus on hygiene in the bathroom.
The bidet comes as a standalone item, a high-tech toilet/bidet combo, or a simple low-tech toilet seat.
Touchless environment
That which is touchless is also hygienic. So look for touchless bathroom faucets, motion sensors to control lighting, and smart water temperature controls.
Bathroom upgrades like this will make life better and also boost future resale value.
We have more in our post on current bathroom design trends.
Indoors/outdoors 
A change in the relationship between indoors and outdoors is one of the more welcome home improvement trends. Somehow, being forced to stay at home has brought us closer to nature. It's as if the Covid-induced cabin fever is forcing us to embrace the near outside.
So the natural, and welcome consequence is a blurring of the boundary between indoors and outdoors. We are bringing the outdoors in and extending the indoors out.
And we want to do this in such a way that there is a comfortable flow between the two. So here are some of the things people are doing to access the outdoors, for both casual enjoyment and entertaining:
Adding decks or patios.
Installing large sliding or folding glass doors to welcome the outdoors.
Installing patio fire pits and outdoor heating lamps to extend outside enjoyment into the winter months.
Installing patio mister systems in hot desert areas.
Building pergolas and gazebos. How about an enclosed gazebo as an outdoor office away from it all?
Upgrading patio furniture.
Installing built-in seating areas.
Putting in outdoor kitchens to supplement the BBQ. Some are quite elaborate and include a stovetop, refrigerator, and wine bar.
Adding a swimming pool.
Many of these things add to future value on resale.
And then to enjoy nature indoors, people are:
Making indoor edible herb gardens. A good way to do this is to install a greenhouse kitchen window.
More and more decorating with indoor house plants and terrariums.
Accessory Dwelling Unit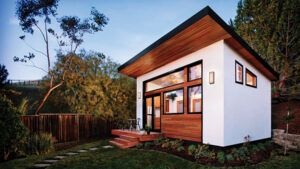 The growing appreciation of the accessory dwelling unit (ADU) is another of the home improvement trends that preceded the pandemic but has been brought into sharper focus.
To get the most out of the home and available yard space, many people are turning to the ADU. This can take many forms. And this backyard cottage can be somewhere granny lives, or it can be a home office, home gym, spa, playroom, or even a rental.
Many jurisdictions are actively encouraging the development of ADUs.
Sustainability
People are looking for sustainable options when it comes to home improvement. This too is one of the home improvement trends that predate the pandemic. It has just gained momentum.
There are likely to be increased tax incentives for insulation, HVAC upgrades, solar power, energy-efficient windows, energy-efficient roofs, and even appliances.
And on a different level, look for sustainable and organic materials like bamboo flooring.
Design and style
Here are some of the things we are seeing in design and style. But do be careful to distinguish the fad from the trend. And always aim for the timeless.
Organic and natural materials and earth tones
As with the greater use of houseplants to bring the outdoors in, an increased incorporation of organic and natural materials reflects a desire to reconnect with nature.
And for the kitchen, the timeless look of wood-grained cabinetry is making a comeback.
For background, there is an increasing emphasis on subdued whites, neutral beiges, taupes, and greys. And, while some think "blush" is a "thing," we think it's a fad.
We like bold colors but use them for contrast in furniture pieces, accent pieces, and wall art. We also like the use of metals for emphasis and contrast.
Rattan is being seen everywhere. But confine its use to accent or accessory pieces. Rattan is not very durable as furniture.
Large-format tiles
The large format tile has the visual effect of expanding a small space. It has fewer grout lines, making it easier to clean, and easier on the eye, since it reduces visual clutter. But avoid reintroducing visual clutter by installing your tile in "over the top" arrangements. So be careful with herringbone, brick, and stacked patterns
Fusion in style
In style, we are seeing a blend or fusion of styles. And, to a degree, they overlap.
Modified Minimalism and Mid-Century Modern
Minimalism is one of those timeless styles that has been used for years for its ability to transform any space with relatively little effort. Implementing a minimalist style is just a process of eliminating the unnecessary.
And anything new that you introduce just needs to have clean lines. Minimalism requires simplicity, cleanliness, and clutter-free space. Taken altogether, minimalism engenders feelings of tranquility.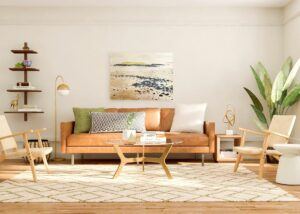 The Mid-Century Modern style is also timeless and is closely associated with minimalism, because of its clean lines. So they make a great combo. Mid-century furniture is both comfortable and functional.
Now we prefaced this section with the descriptor "modified." This is because with everything going on in a multifunction home with the entire family present, busy, and doing their thing, it is not possible to be a minimalism purist.
So, modify the effort with the introduction of some eclectic items that will soften the austerity of the strict minimalist and add interest.
But we do advocate minimalism as a principle because it helps us maintain some discipline over our space. And this is essential in what is now a busy, multitasking home environment.
Ethnic Fusion
We are also seeing a fusion of ethnic styles that have an affinity for each other. A blend or pairing of Asian and Scandinavian styles works well, not least because both have a minimalist approach to the use of space. And they both exude warmth.
Statement Pieces
To achieve a touch of sophistication and flair, and add your own personal signature by introducing a piece of artwork as a statement piece. You can do this in every room.
We have seen people use light fixtures to make a statement, but find them pretty faddy, like these knotted lights:
Healthy home improvement trends
The pandemic has had the effect of bringing the healthy home into focus. And this has many aspects.
Simple cleanliness is one. Hence the emphasis on touchless plumbing hardware as a hygiene measure.
And, with so much activity going on at home, there is the perceived need to keep everything calm by making a conscious effort to keep the home decluttered.
There are also more elaborate measures we can take. And we have written about them elsewhere. Please see our posts on home improvement ideas in these areas:
Conclusion on home improvement trends
Now that the dust is settling, we see the long term effect of the Covid shut-down as being in many ways positive. We are now able to move away from the mindset of being forced to stay at home to actually being able to enjoy a new home-based lifestyle.
After all, home is where the heart is.