Executing on home office setup ideas is starting to take the lead in many home improvement efforts. This is due to the increasing "work from home" trend.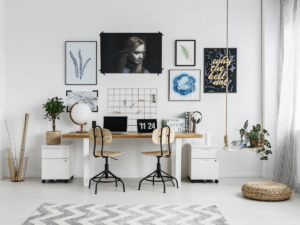 Work From Home – WFH – was already on its way to becoming a "thing" before the Covid pandemic hit. But it was the pandemic that forced employers, many of whom remained to be convinced, to accept the WFH model.
And now that the pandemic has appeared to have run its course, there is no reversing the trend in the general employment sphere. Although, in the meantime, many solo entrepreneurs have already become accustomed to WFH.
According to Upwork, the online talent site, about 22% of the American workforce will be working from home by 2025. Many of them will be freelancers.
We touched on all this as a trend that affects the entire home. But here our focus is entirely on the home office, which is fast becoming central to a new way of life.
Setting up your home workspace
To some degree, the home workspace you design will depend on the requirements of the business you operate. But the brutal reality is, for example, that a dentist who wants to set up a home dental practice, complete with a treatment room and waiting room, is going to run into two powerful limiting factors.
These are:
1) The regulatory authorities, such as the local government or homeowners association, might take a dim view of this as a zoning or rules matter.
2) The physical space available at home.
It is this second consideration that matters most.
Where can I put my home workspace?
In selecting your home workspace, think of these driving factors:
Your family: The needs of a functioning family have to be accommodated.
Your business: You need to be able to keep distractions, such as children, away.
For example, if you are a busy working mom with children at home, you may be better off setting up your home office in the kitchen.
But if you are a professional, who must get away and work in a quiet place, you need a different solution. And, if possible, you want to be able to close the door on external interference.
What are my options for a home workspace?
Separate structure
Ideally, a home office should be located in a structure outside the main home. This could be a converted garage or gazebo. Or it might be a prefab granny flat or ADU (Accessory Dwelling Unit).
The obstacles to this are the availability of outside space, hassle, regulations, and expense.
House addition
A house addition runs into the same obstacles as the separate structure, which are hassle, regulations, and expense.
Dining room
The dining room is a popular location for a home workspace because of the large working surface presented by the dining table. And it is an easy place to deploy a laptop.
But you have to compete with the family for the dining room. And a dining table and chair is not an ideal desk setup.
Kitchen
It is quite common to find a desk in the kitchen. And the lighting is usually good and power outlets are readily available. But, as with the dining room, you have to compete with the family for this space.
Spare bedroom
With the spare bedroom, you have an opportunity to create a full-blown office, complete with closed-door privacy. This can be ideal.
And, for the occasional overnight visitor, you can install a Murphy bed that you can fold out of the way of your office function. And if the bedroom has an en suite bathroom, so much the better.
Spare corner of the home
In all reality, it is the spare corner of the home that provides the room for most home workspaces. Consider using a floor screen to "wall it off" from the rest of the room.
Designing your home workspace
In designing your home workspace, the key priority is to create the right work environment. By work environment, we mean a set of key factors that will make your work enjoyable.
An enjoyable work environment is one in which you are motivated or inspired to work with as little as possible getting in the way of this goal.
Let's look at some of the factors that will make up an awesome home workspace environment
Natural lighting
If possible, position your workspace where there is abundant natural light. This study documents that mood and sleep patterns are enhanced by the availability of natural daylight in the office workspace.
This is not surprising. This is because so many of us spend most of our waking hours indoors in an environment that does not cater to the cycle of circadian rhythm that we are all born with.
Aside from better sleep and better mood, other benefits of natural lighting at work include less eye strain, fewer headaches, better concentration, and fewer mistakes
We have written on circadian rhythm lighting. So the lesson here is that if natural light is not available for your home workspace, then be sure to incorporate circadian effective lighting in your workspace to help your mood.
You can do this with your computer screens too by using F.lux. This software will automatically alter the color temperature of your screens over the course of the day. It will make the screens "cool" in the morning and "warm' in the evening.
Task and ambient lighting

We discuss home lighting design generally here. But for your home office, you want to be sure you have adequate ambient lighting in the ceiling and spot or task lighting focused on your desk area. For this, a small desktop LED lamp is usually just fine.
Check out this 3-color mode desktop lamp on Amazon.
View
If you can, place your desk where you can take a mental break from what you are doing on your computer screen and rest your eyes and mind on a view. Of course, this also relates to the natural light we just referenced.
Freedom from clutter and distraction
A consciously minimalist approach to home office design works. Desk clutter can be both distracting and irritating. It's disturbing to eyes that are trying to focus on a computer screen. And it is annoying because stuff just seems to get in the way all the time.
And, naturally, none of this is good for productivity. According to Forbes, a messy desk leads to messy work. And a survey by OfficeMax finds that people feel more in control and less stressed when they are well organized.
So make a special effort to take control of clutter.
Decluttering ideas
Here are some things to do to declutter your workspace:
Plan to maximize available storage space.
Use the full height of nearby walls for shelving.
Maximize use of the real estate below your desk for filing etc.
Keep your desktop clear of everything except your computer, mouse, and monitor(s). Many people are more productive with twin monitors. Keep everything else off to the side or underneath the desk.
Try to be paperless, with all reference material in the cloud or on a backed-up hard drive
If you need to work with paper, keep twin paper trays off to the side.
Put equipment like pens, pencils, paperclips, hole punches, and highlighters in a desk drawer or off to the side.
Make provision for a printer, paper storage, and shredder.
Take care of "clutter creep." Clutter somehow always manages to creep up on us. So set a weekly or even end-of-day reminder to survey your space for clutter and deal with it.
And while you are dealing with clutter creep, do some office cleaning as well.
Wall accents
It may be that your home office workspace is in a room used for other purposes. For example, it might be in a corner of a living room or bedroom. If this is the case, give the space a little of its own identity by adding wall accents. This can be anything from a wall hanging, to artwork, or family photos.
In much the same way as a view, this will also be something you can rest your eyes and mind on.
Home office workspace and home ambiance
Although it's just fine to add some accents and perhaps accessories to give your office workspace its own identity or personality, don't let it clash with the rest of the decor in your home. This will make it an annoying distraction for everyone in the home, especially if the area is visible and not behind a closed door.
So be sure that your home office workspace blends in and harmonizes with adjacent areas. It needs to complement the rest of the home in its choice of style and color.
House-plants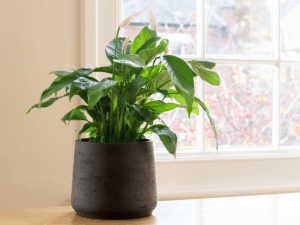 Add a houseplant or two to your home office workspace.
They are calming and attractive accessories in their own right.
They are a touch of nature that you can take a mental break with just by contemplating them.
They are good for indoor air quality. And plants that are suitable for this include spider plant, English ivy, bamboo palm, peace lily, and dragon tree
Equipping your home workspace
Equipping the home workspace covers many areas. And of course, almost all of it relates to working from home online. But here we cover home office essentials.
Electrical infrastructure
The electrical requirements you need to provide will likely include:
An adequate number of electrical outlets.
USB hub charging station.
Telephone. You may want a dedicated land if you send faxes. And they are good to have in emergencies anyway if there are problems with cell phones.
High-speed internet and network router. You will likely have this anyway for other devices in your home.
Home office ergonomics
Don't neglect ergonomic considerations in the design of your office. It's essential for maintaining a healthy posture.
Here is an excellent workspace planning tool, courtesy of Ergotron. This diagram contains values for someone who is 5'10" but you can select your own height.

Ergonomic highlights are
The top of the computer screen should be at or a little below eye level. This is best for your posture and avoids strain.
The keyboard should be at such a level that your forearms are parallel to the floor.
It is worth spending time and money on getting this right. It's important for your health. After all, you are going to spend many hours in the ergonomic environment you create.
Home office desk
Your choice of desk is constrained by budget and space. But strongly consider the benefits of a standing desk. At least get a standing desk converter, which has the added benefit of being portable and less expensive than a standing desk.
A standing desk converter, or desk topper, is a height-adjustable unit you put on top of an existing desk or table. There are plenty of options out there.
Check out this Flexispot standing desk converter on Amazon. There are models that will accommodate twin monitors.

A standing desk or converter comes with significant health benefits. These include:
Lower risk of weight gain and obesity.
Lower blood sugar levels.
Lower risk of heart disease.
Reduction in back pain.
Improved mood and energy levels
Possible boost in productivity.
Longer life. There is a correlation between being excessively sedentary and early death.
Home office chair
An ergonomic office chair that rolls is more convenient to use than one that is stationary. Make sure it fits under your desk and has a smooth mat to roll on, to avoid carpet wear and make it easier on yourself as you maneuver it around.
A good ergonomic chair will feature:
Adjustable seat height
Adjustable armrests
Adjustable back support
All around swivel
It makes sense to save money by getting a desk converter rather than a full-standing desk. But it's really worth spending money on a good quality ergonomic chair, considering the amount of time you'll be spending in it.
Check out this chair by Gabrylly on Amazon.

Desktop computer or laptop
The choices of computers are vast. Make sure yours is super fast for the best productivity and satisfaction. Slow load times can make you crazy.
Dual monitors
Dual monitors are a great productivity tool. Clicking back and forth between browser tabs on a single screen is a pain, especially when you have multiple tabs open.
For best ergonomics, the monitors should be at least 20 inches away from your face. They should be further if they are large monitors.
Use the tilt adjustment on the monitors, such that your eyes are looking slightly downward at the screen. This is the best way to be kind to both your eyes and your neck.
Quality speakers or headphones
Music, while we work, is good for our productivity. It boosts what is called our "state positive affect" and relieves stress. So quality speakers can only enhance this.
However, if you feel your music may disrupt the rest of your household, get some good-quality headphones instead. Choose headphones that are also noise canceling.
Video conferencing camera & microphone
If teleconferencing is part of your work schedule, get a decent camera and microphone. Make sure they are WiFi-enabled since you want to minimize the presence of electrical cords on your desk.
Zoom wall
As we discuss video conferencing, let's not forget that we are on show and on stage. So we should make sure that the background behind our pretty or handsome faces makes us look good.
The first rule of the Zoom wall is to make sure that it does not display anything embarrassing or controversial. The second rule is that it should display things that make us look smart, cool, and interesting.
A good choice is a wall of books, photos, or memorabilia. Display things that could spark an interesting conversation that might lighten the mood of your Zoom meeting. And depending on the meeting, you might deliberately display something that would take the meeting in a direction you want to go.
Keyboard and mouse
Make sure that the keyboard and mouse are also wireless to minimize cords and clutter. The keyboard should be ergonomically designed to support your wrists.
And here's a tip. You don't really need a fancy keyboard. We have found that the best wrist support comes from simple memory foam cushions like this Gimars memory foam set from Amazon.

Printer/scanner
Again go for a wireless printer/scanner. Since printers can be quite large and intrusive, you want to be able to find a convenient location that does not have to be close to your desk. It can be anywhere in your house, if you have decent WiFi. Besides, you may want to share it with other family members.
Smart assistant
Get an Amazon Echo or Google Assistant-type device as your office assistant. It will keep your calendar, set an alarm, answer your questions, and more. All of this is on verbal command, without you having to go online.
Surge protector and uninterrupted power supply (UPS)
All your electronic equipment should be on a surge protector. And, unless you are using a laptop, with a built-in battery, consider getting a UPS.
Cord control
Even in the age of WiFi, there is no avoiding hard wires in a home office. This has an effect that ranges from a safety hazard at worst to clutter at best. So make sure you take steps toward some form of cord management.
Water bottle
Keep a 64-ounce measured water bottle handy. It's important for your health and also for your productivity to stay hydrated throughout the day. But you don't want to have to remember to make frequent and distracting trips to the kitchen
Important productivity tip
Take breaks: When you are working at home it is easy to lose track of time. So, set a timer to remind yourself to take breaks and move around. Some studies show this increases productivity because it is good for one's overall health and well-being.
And let's not forget the bonus benefits of working from home
There are hidden benefits of working remotely. Let's not lose sight of:
No temptation to lose productivity through gossip with co-workers at the office.
No unnecessary meetings at the office.
Meetings are confined to Zoom or similar
No wasted commute time.
You can wear what you like. However, there is a psychological reason not to be working in PJs. Getting dressed makes you more productive because it sends a signal to you that you are now in work mode.
Keep your own hours.
Take breaks when you like.
Tax considerations
Our final suggestion is to take professional tax advice on the tax status of your home office.
We are not tax professionals and do not offer tax advice here, except to get the advice of a tax professional. But this is what we understand.
You can take a home office deduction but to qualify, the home office must be:
Your principal place of business.
Used exclusively for your business.
Maybe you can even deduct your office setup expenses.
Talk to a professional and see if you can take advantage of this.
Conclusions on home office setup ideas
Based on what we have discussed here, you owe it to yourself to take the time and spend the money necessary to design and set up your home office. Given the current and projected workforce environment, the home office is now a permanent and even central feature in our lives.