Interactive Coloring
We have created a series of multimedia interactive coloring books on the Amazon Kindle Direct Publishing (KDP) platform.  These feature the work of great artists, past and present. We will be adding a series of coloring books featuring flowers, animals, landscapes, and historical landmarks.
Scroll down for links to the full list of coloring books. We will be adding more.
Here is a sample (front and back) book cover: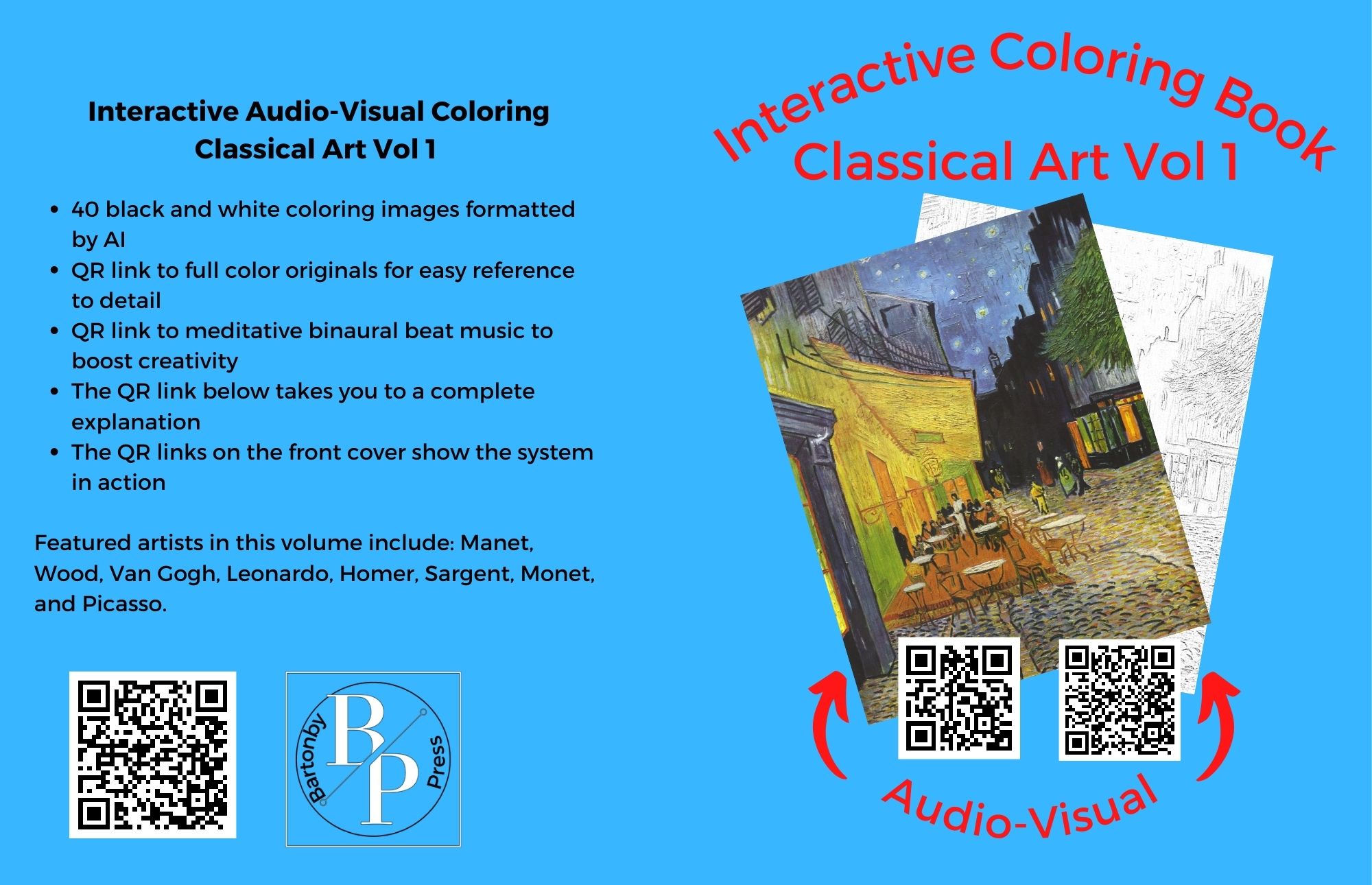 How This Works
We lay out below details of the health benefits of coloring and how our audio-visual interactive system works to enhance the coloring experience.
In a nutshell, our system provides ready access via QR to the full-color image that is being colored. And at the same time, it provides QR access to meditative and relaxing music, enhanced by sounds of nature and Theta wave binaural beats. This accompanies the coloring exercise and boosts creativity.
Health Benefits of Coloring
This kind of coloring exercise is contemplative, relaxing, and inspirational.  It is also good for us.
Look at what WebMD has to say about it.  They tell us that we benefit from coloring in many ways, including:
Relaxing the brain 

Improving brain function

Inducing a meditative state

Improving motor skills

Improving hand-eye coordination

Improving sleep

Improving focus

Reducing anxiety

Improving mood

Enhancing mindfulness

Reducing stress

Relieving tension
The Cleveland Clinic weighs in here.
And what better to contemplate and color than timeless works of inspirational art?
The Visual Element
In our coloring books, we use Artificial Intelligence (AI)-generated line renderings of the original art to make images that are suitable for creative coloring and shading. This process results in coloring designs that avoid the hard, dark lines that make shading difficult, which is what happens when an original is rendered in black and white by hand.
On the other hand, it is certainly true that the relative absence of hard lines can sometimes make the work of coloring quite difficult.  And this is why we have made our coloring books visually online interactive. When you bring up an online original on your device, it is easy to zoom in on the details for guidance on shading.
Website reference – Smartphone or Tablet
On the page opposite each coloring page in our coloring book, we include a QR link (together with the URL webpage address) referencing a corresponding page on this website. That page contains a high-resolution image of the original work of art in full color. So, using either the QR code (or URL provided), the colorist can easily pull up the original artwork on a smartphone or tablet for ready reference, while working on the coloring page. 
Zooming In
On a smartphone or tablet, one can zoom in and out of the image by using fingers on the touchscreen.
Website Reference – PC or Mac
Alternatively, for a large screen experience, the colorist can bring up the colored image on the computer screen of a  PC, Mac, or laptop.  To use the QR code, follow these steps:
Go to

https://qrscanner.org/

and open it in your browser.

Allow permissions, if asked.

Hold the relevant QR code in front of the camera on your laptop or desktop.

The browser will then display a URL. 

Click on the URL and this will bring up a page on this website with the image you are looking for in full color.
Alternatively, simply type the URL provided directly into your browser bar.
Zooming In
On a PC: to zoom in, press Ctrl and the Plus sign (+).  And, to zoom out, press  Ctrl and the Minus (-) sign.
On a Mac: to zoom in, press these three keys together: Option, Command, and Equals sign (=).  And, to zoom out, press these three keys together: Option, Command, and Minus sign (-).
The Visual Effect
With the web page open, the colorist is then able to compare the rendered  black and white coloring page with the Full color of the original work of art, pretty much side-by-side, like this:
On the web page                                                                 On the coloring book page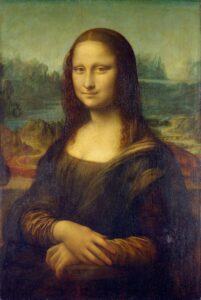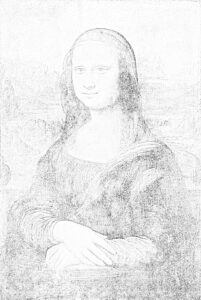 In this way, using the magic of AI, the original artwork is formatted for coloring with complete fidelity.  At the same time, the original artwork itself is made available in full color for easy reference.  And the zoom feature allows for close examination of detail.
The Audio Element
Opposite each coloring page, you will also find a QR code and related short URL that will take you to a suggested music video on our sister YouTube channel. This music is meditative in nature. It contains sounds of nature and includes binaural beats in the Theta wave range. Our music was created primarily with sleep in mind but it is a perfect audio background for the work of coloring.
To benefit from the effect of binaural beats, you must wear a headset. But this is entirely optional and you can simply listen to the music through the speakers.
And, of course, you can always browse around our YouTube channel for alternative music. There are more than 100 meditation music videos there.
Why Binaural Beats?
This is not the place to get technical with binaural beats. But here is a link to a Healthline article on the subject: Healthline – Binaural Beats. And we have used binaural beats in the Theta wave range because these are inducive of creativity, intuition, and learning.
Here Are Our Interactive Coloring Books