This post is all about identifying the best kitchen island design for your remodel project.
Origins of the kitchen island
The kitchen island is really an outgrowth of the humble but essential kitchen table. The kitchen table is where all family issues get discussed and the homework gets done. It is also where some food prep gets done.
The kitchen island is nothing but an elaboration on the kitchen table and became a "thing" after WWII and the introduction of open floor plans. It retains the concepts of the kitchen table but has expanded to include broader utilitarian kitchen functions as well.
The modern kitchen island
For the modern-day remodeler, the kitchen island runs the gamut from table and chairs, through rolling utility carts, to an elaborate furniture piece, to the full-on built-in kitchen island or peninsula fitted out with range, sink, dishwasher, wine cooler, microwave, and storage.
So the modern kitchen island has multiple uses: a casual gathering place, visual centerpiece, kid's homework table, additional storage space, food prep area, or breakfast bar. It is a feature that increases the efficiency of the kitchen, especially when seen as extending the classic kitchen "work triangle" of range, sink, and refrigerator into a more user-friendly "work zone." And it can be made to fit just about any space.
As well as providing additional work surfaces, kitchen island cabinets can keep unattractive appliances, pots, and pans out of sight. And shelves within the island can put cool-looking appliances in easy reach or let you display decorative items.
Does a kitchen island add value?
Built-in kitchen islands or at the very least semi-permanent island furniture pieces that have become virtual fixtures are sought after by buyers. The National Association of Home Builders consistently finds that about three in four buyers want a kitchen with an island focal point.
The bottom line of this is that a kitchen island makes your home more marketable. Does this mean that if you put in a kitchen island with a view to selling right away, will you get your money back and then some? Probably not.
The average ROI (return on investment) for a major kitchen remodel, which would incl;ude a kitchen island, is only 54%. So it makes no sense to do it for immediate resale.
But that's not the point. The main reason for remodeling your kitchen is to do with your quality of life. In a 2017 survey by HOUZZ   lifestyle benefits included:
More family time 49%
More home cooking 41%
More entertaining 40%
Less takeout 34%
So, a remodel is really for you to enjoy over time not for immediate resale. Although, given enough time, you will certainly recoup your investment on the eventual sale.
How much does it cost to put in a kitchen island?
This can range from $100 for a cheap rolling cart to $10,000 for a full-on built-in kitchen island. The average cost is around $4,000.
There is an excellent breakdown here from HomeAdvisor.
There are four types of kitchen island
The  rolling kitchen island
The furniture piece kitchen island
The built-in peninsula
The built-in kitchen island
We'll take a look at each. And, whichever is right for you, don't forget to account for it in your initial planning:
Rolling Kitchen Islands
A rolling island or cart adds easy flexibility and versatility to the kitchen. Unlike the heavy furniture piece island, it is easily moved to suit any purpose. You can even roll it into the dining room and use it as a serving table. Or, when it is not in use, you can roll it out of the way and park it under a counter. It is especially useful in a smaller kitchen. For safety, a rolling island should always be on lockable caster wheels.
Rolling kitchen islands are considered a great addition to a kitchen designed with aging in place in mind, since their placement can be adjusted to give clearance for a walker or wheelchair.  .
The classic rolling kitchen island, for aesthetics and practicality, would be the butcher block kitchen cart or the kitchen island bar cart.
Let's illustrate the rolling kitchen island by looking on Amazon.
Furniture piece kitchen island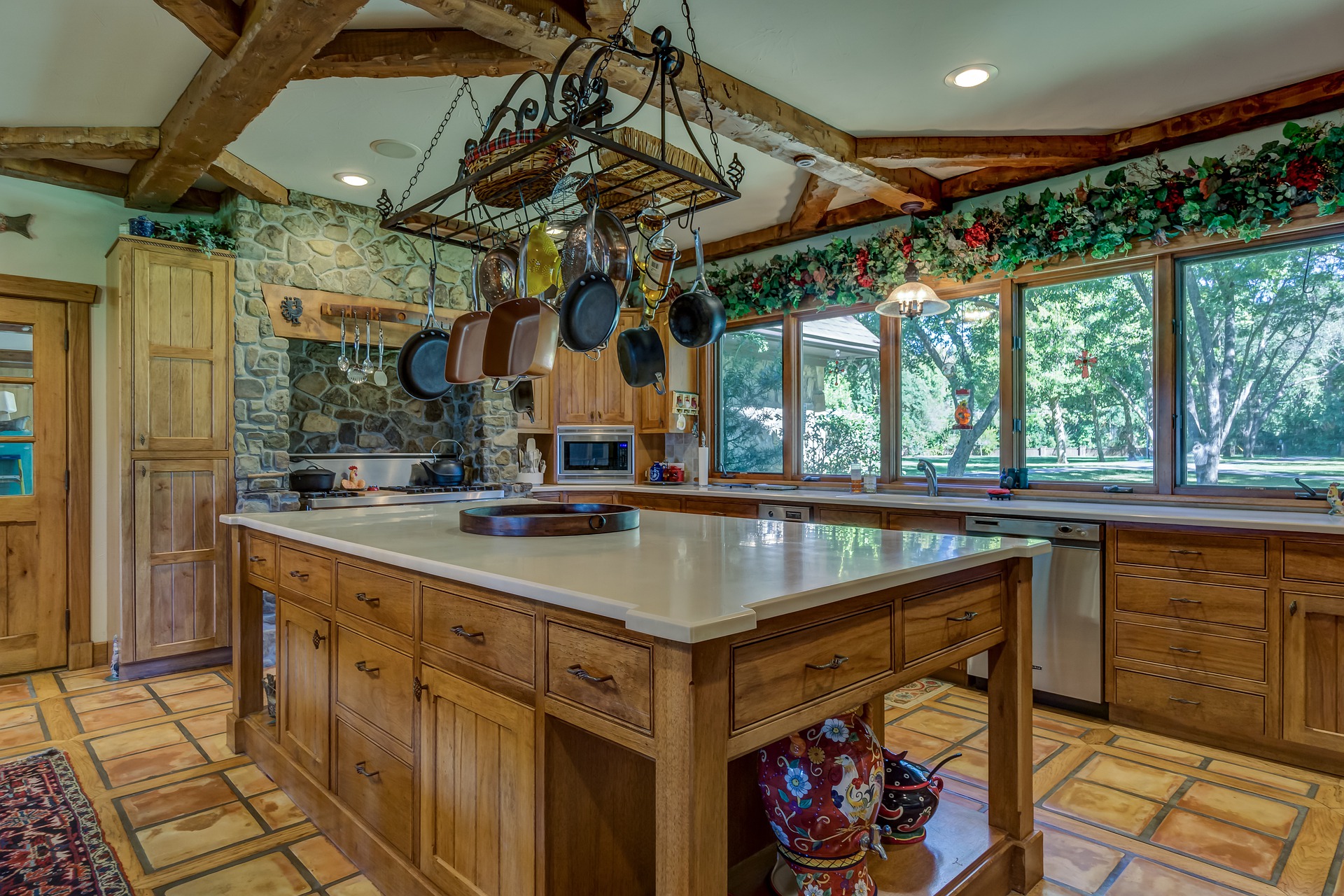 The furniture piece kitchen island ranges from the simple kitchen table or sideboard to more elaborate cabinetry. It does not have wheels.
As with permanently built-in custom kitchen islands, these ready-made kitchen island furniture pieces, while usually smaller, can also make great design statements. However, like any furniture, they sit on top of the finish flooring.
Although quite heavy, they can be moved around for greater flexibility than the permanent island. Also, they are a lot less expensive than the custom or semi-custom built-in version, which code typically requires to have electrical service.
When choosing a kitchen island furniture piece, make sure the style complements your other kitchen cabinets. It does not have to match.
Let's illustrate the rolling kitchen island by looking on Amazon.
The kitchen peninsula
The kitchen peninsula is where what would otherwise be a kitchen island has one of its short sides attached to a wall.
In the debate over the kitchen island vs the peninsula, the peninsula has a great deal going for it. And do not overlook its benefits even if you have room for a full island.
The peninsula may well be a better design choice, especially for a smaller kitchen..
The peninsula allows for fuller space utilization than the island because you can use the circulating space otherwise required by one side of the island for both additional countertop area and storage below.
You can still include bar seating on the outside of the peninsula
It can better define the kitchen itself by turning an L-shaped kitchen into a U-shaped kitchen.
It is much easier (and therefore cheaper) to provide plumbing and electrical to a peninsula than an island.
The peninsula will typically be built in as a part of the permanent cabinetry but you can achieve a peninsula effect by placing a rolling cart or furniture piece against a kitchen wall.
The peninsula is custom or semi-custom cabinetry and is not available on Amazon.
The permanent built-in kitchen Island
How do you size a kitchen island?
The answer to this question starts with another question: How much space do you need between an island and a kitchen counter?
According to NKBA https://nkba.org/ (National Kitchen & Bath Association) guidelines, you should have a walkway of at least 36" between a kitchen counter and the island.
And if the counter immediately opposite the island or the island itself contains an appliance such as sink, stove or dishwasher, the working aisle should be 42" to 48" wide.
How much space do you need for seating at a kitchen island?
If one side of the island is to be used as a breakfast bar, you should allow 36" to 44" for kitchen island seating plus the walkway.
How big should a kitchen island be?
Once you have accounted for the spatial allowances of traffic, the kitchen island can be as big as you like. But don't let it get out of proportion with the rest of the space.
Be mindful that kitchen islands absorb a great deal of space. So if your kitchen isn't at least 12 feet long by 8 feet deep, do not even think about a kitchen island. Consider a peninsula instead.
And then there is a minimum practical size for the kitchen island. It should not be less than 2 feet deep by 4 feet long. Anything smaller than that is virtually useless.
By the way, as with peninsulas, the permanent kitchen island is custom or semi-custom cabinetry and is not available on Amazon.
Kitchen island electrical
If the kitchen island is permanently built-in, the code will require the installation of at least one receptacle outlet.
This is for safety. You don't want the hazard of electrical cords stretched from a kitchen wall receptacle outlet across a walkway to operate a kitchen appliance on the island.
This is also one of the things that make a kitchen island relatively expensive. The electric wiring has to be run under the finish floor to reach the island.
Does a kitchen island need GFCI? You only need to install a ground fault circuit interrupter if the island contains a sink or dishwasher within 6 feet of a receptacle outlet.
Notice the electrical outlet on the end of the kitchen island below.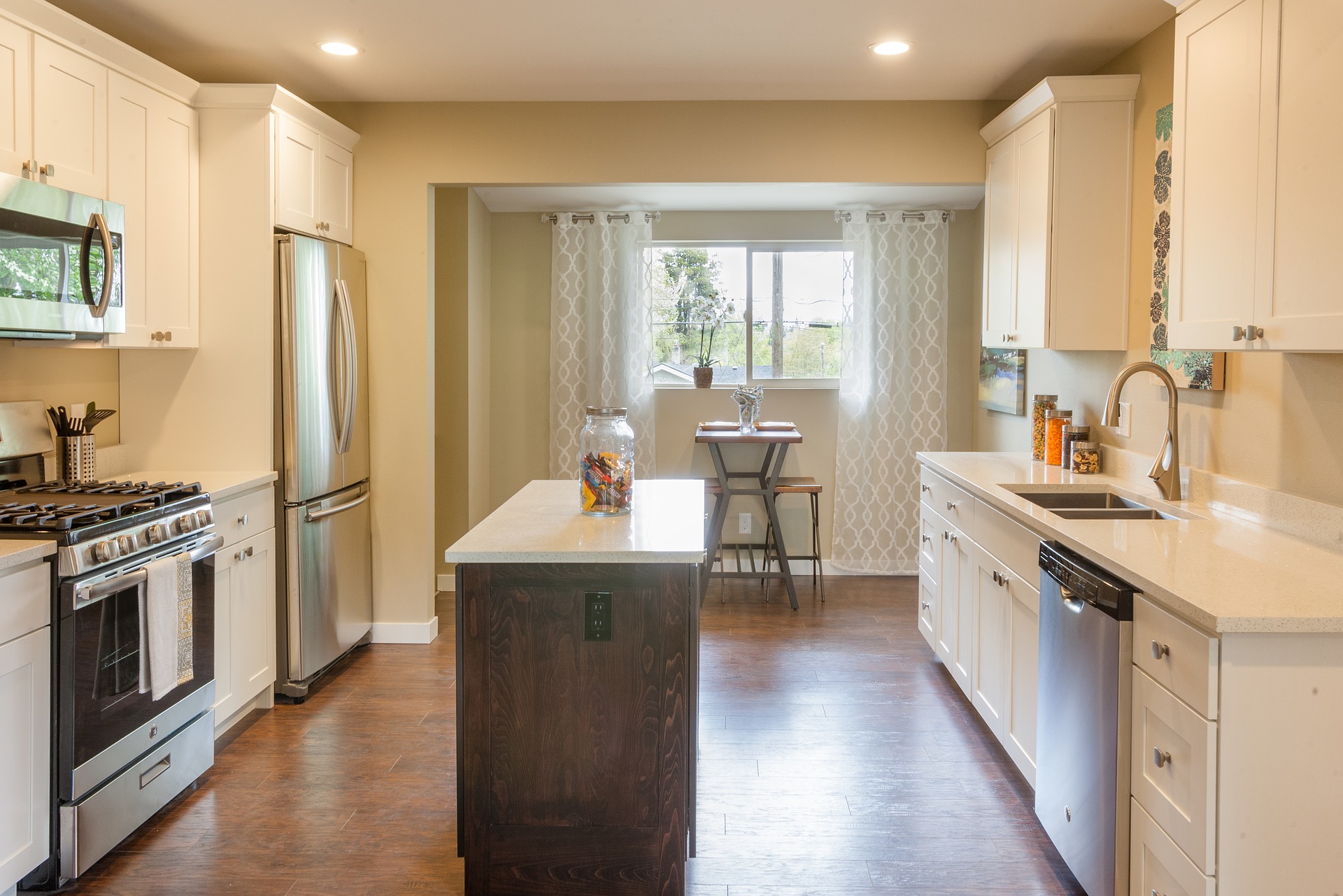 Kitchen island lighting
A kitchen island often features pendant lights. These serve as both accent or decorative lighting as well as task lighting. The lower edges of the pendant lights should be around 30 inches above the surface of the island.
A grouping of three pendant lights provides better design balance than two or four but limitations of space may restrict you to two pendant lights. Don't sweat this decision.
By the way, you would consider the same kind of lighting arrangement for a peninsula.