So what is the best kitchen oven for your remodel project? This post will help you make that decision.
Making The Oven Decision
The approach of this site is to emphasize aging in place or Universal Design. Universal Design just means the best design for everybody and pays maximum attention to ergonomics.
These principles apply just as much to the selection of ovens as anything else in the kitchen.
We touch here on:
Gas vs electric ovens
The cooktop/oven range combo
The wall oven
Swing door wall ovens
Convection ovens
Microwave ovens
Gas vs electric ovens
Are electric ovens better than gas ovens? 
Gas ovens are typically the most energy-efficient option because they take a shorter amount of time to heat up and cool down.
However, there are many downsides to gas ovens
It is more difficult and expensive to plumb the gas lines to where you want them.
There is a lot more flexibility as to where you can place an electric oven in your kitchen over the gas oven.
Electric ovens come with a wider range of baking and cooking features.
Gas ovens are typically more expensive than equivalent electric ovens.
Gas oven model choices are much fewer than with electric ovens.
Gas service may not even be available. Whereas electricity is pretty much universal.
The bottom line of it is that electric ovens are much more popular than gas ovens, especially when it comes to gas wall ovens.
Range ovens
Space, kitchen design, and budget may well dictate that you go with the traditional all-in-one cooktop/oven range combo. It may even be your initial preference. But don't decide before you read about wall ovens below.
Here are your best options for range ovens.
Check out these gas and electric ranges on Amazon
| Range | Description | Width |
| --- | --- | --- |
| | Thor Kitchen HRG3080GMT 30″ Freestanding Professional Style Gas Range with 4.2 cuft, 4 Burners, Convection Fan, Cast Iron Grates, and Blue Porcelain Oven Interior in Stainless Ste | 30″ |
| | GE JGBS30DEKBB Freestanding Gas Range | 30″ |
| | Cosmo GRP304 Gas Range with 4 Sealed Burner Rangetop, Single Convection Oven w/Light Heavy-Duty Metal Stove Heat Control & Cast Iron Grate | Free-Standing/Slide-In, 30-in, Stainless Steel | 29.8″ |
| | GE Appliances JBS60DKWW, White | 30″ |
| | GE Appliances JS645SLSS, Stainless-Steel | 30″ |
| | Frigidaire FFEF3054TS 30 Inch Electric Freestanding Range with 5 Elements, Smoothtop Cooktop, 5.3 cu. ft. Primary Oven Capacity, in Stainless Steel | 30″ |
Wall ovens
The main drawback of the range oven is that you have to stoop to see what is going on in the oven. And it makes it awkward to load and unload the oven. For the elderly, this can even be dangerous.
The wall oven eliminates the need to bend over to inspect your food as it cooks. And it makes it much easier to transfer the food from the oven to a countertop surface. Basically, the wall oven is just much more ergonomic than the range oven.
You can install a wall oven just about anywhere you have the cabinetry to accommodate it. This versatility makes it fit well in any kitchen layout. And it gives great flexibility when designing kitchen work triangles and optimizing kitchen workflow.
So, in the range vs wall oven competition, the wall oven, especially the swing door wall version, wins hands down. It is the same with the cooktop vs range comparison.
In addition, a wall oven makes the perfect partner for a separate cooktop.
Are wall ovens standard sizes?
Yes. Wall ovens typically come in 24, 27, or 30-inch varieties. The most common size is 30 inches. However, if you are trying to match appliances, stick with the same brand. Individual brands have different ways of measuring their products.
Wall ovens are available in single, double, and combo microwave-wall oven configurations. And they come with drop-down fronts or swing doors. Many wall ovens feature an additional half oven for grilling, warming, or just reheating.
Double wall ovens
On the face of it, the double or stacked wall oven looks like a great option.
It has double the cooking capacity
You can cook multiple dishes simultaneously without mixing flavors
You can set different cooking times independently
Each oven may offer different features
But there are some disadvantages to the double wall oven.
Even with the best possible placement in the cabinetry, shorter people or people with limited reach may find the double wall oven difficult to work with.
And if an oven is difficult to work with, it is potentially dangerous.
Plus if it is placed lower down in the cabinetry, the lower oven comes with the same accessibility disadvantages as the standard range oven.
How far off the floor should a double oven be?
Generally, a double oven should be built in at about 28" from the finish floor. This should place both ovens at a manageable height. However, since the kitchen is being customized for you, here is an individual approach.
Create a full-scale diagram of the front of the double oven you like on a roll of craft paper. Pin it to the wall. Assess where the controls and display readouts are located relative to your eye height. Also, assess the level at which the oven doors are located and how they will operate (swing or drop-down). Then you can see whether what is comfortable for you stacks up against the standard 28" and adjust accordingly.
Check out these double wall ovens on Amazon
Single wall ovens
Single wall ovens are very versatile since you can place them anywhere and at any height convenient to everyone in the home. This means you can line the rack up so that it matches the height of adjacent countertops. This reduces lifting and bending.
Another great arrangement is to install a pull-out shelf under the oven so that you can set hot items down on it when you pull them out before transferring them to the counter. With this in mind, if possible, have at least 18" of counter space on either side of the oven.
How far off the floor should a single wall oven be?
The standard height is 32" from the floor. But, since this is your kitchen you should customize the height to suit yourself. If you are the cook, stand in front of the location you want to install the oven. As with the double oven above, you can make a scale diagram and pin it to the wall.
Make it so that the top of the oven will be at eye level or slightly above. This will ensure that you will not be stooping to place and remove the food.
Can a wall oven go under a cooktop? 
No. The wall oven will not fit because of the various clearances required by both the cooktop and the oven. Besides, this defeats the purpose of the wall oven, which is easy accessibility. If you install it low down in the cabinetry, you are back to stooping to see what is going on with your food. And you will get the same hard time handling the food as with a standard range oven.
However, installing a warming drawer below the cooktop is a great idea.
Can a wall oven go under the counter?
Yes. But but make it tight to the countertop. As we just have seen with the "under a cooktop idea," you risk defeating the accessibility purpose of the wall oven.
Can you stack two single wall ovens?
No. Do not attempt to stack single wall ovens one on top of the other. They are not designed for this. There could be severe safety consequences respecting venting and heat transfer.
That all said, in our opinion, if a double oven is a "must-have," you can achieve the same result and better by using two separate single wall ovens.
Side by side single wall ovens 
Here is an arrangement of single wall ovens. The side-by-side oven places everything within easy reach and looks great. Plus, you get the benefits of the double oven but with none of the drawbacks.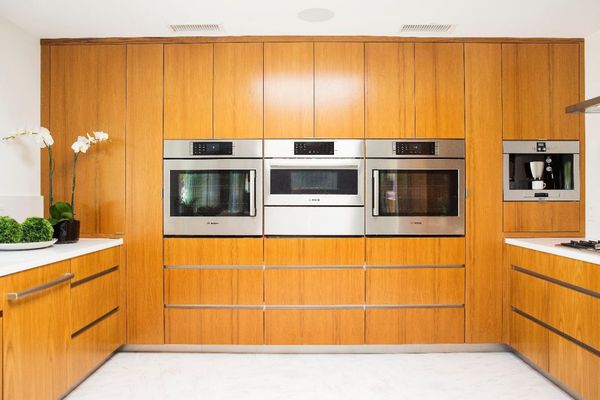 Check out these single-door wall ovens on Amazon
Swing door wall ovens
The pull-down fronts of the standard range and wall oven are just plain awkward. So oven design has progressed to the swing door oven.
Swing-door ovens are more accessible and safer than pull-down door ovens. This is because you don't have to stoop down over a hot door or extend your reach to lift out a heavy roast.
French Door Wall Ovens 
The regular swing door oven and the French door oven both satisfy ADA requirements. Of the two, we prefer the French Door type over the single door. This is because the swing radius of the double doors is much less. This makes them less intrusive into the space in front of the oven.
French doors also offer a cool design statement. And keep in mind that you can get the French door effect with two side by side ovens with left and right hinges.
Check out these French door wall ovens on Amazon
Convection ovens
Convection ovens have an internal fan to accelerate the circulation of heat within the oven cavity. This results in faster and more even cooking. Some convection ovens come with an additional heating element at the fan.
As you can see above, many regular ovens come with a combined convection feature.
Microwave ovens
Our watchword is accessibility – for ease and safety of use. This means that the microwave must be installed at a height everyone can reach easily and be within easy reach of a counter for content transfer. It should also have simple and easy-to-read controls, and visual and audible indicators as to food readiness.
Locating a microwave on the countertop, which is well below shoulder level, makes it easily accessible for everyone. You can place the microwave on the countertop or – to save counter space – recess it into a cabinet.
An alternative is to place the microwave in the cabinetry just below the counter. For this, we really like the microwave drawer type of microwave. In this arrangement, when you pull the microwave drawer out, the contents are accessible from above. This makes it easy to pick dishes out of the microwave vertically or stir them without removing them.
Microwave/Wall Oven Combo 
A good double oven arrangement is the wall oven plus microwave combo unit. It is more compact than the standard stacked double oven and this makes it more accessible
Pro Safety Tip: 
Although a popular arrangement, it is a bad idea to install a microwave in conjunction with the hood over the cooking range. This may save space but it is asking for trouble because it is not easy for even a fit adult to reach and maneuver a hot, heavy dish safely at this height. You do not ever want to reach above your shoulders to do this.
Plus, you shouldn't be doing this over the range or cooktop itself, which is a potentially dangerous heat source that you are not watching while you are leaning over it to work on the microwave above.
We really like the microwave drawer oven.
Check out these microwave drawer ovens on Amazon
Aging in Place
Finally, wall ovens are a "must have " for the disabled and elderly. This is where Universal Design kicks in for people who use a wheelchair or may need one in the future.
To start with, the wall oven can be placed at a much more convenient height than is offered by the standard range oven.
For side-hinged wall ovens, you should create knee space right under the oven or to the side opposite the door hinge. For a dropdown door, the knee space can go on either side of the oven.