Here are 20 kitchen remodeling mistakes that you should avoid. Not doing so can cause unnecessary expense, long-term frustration, dissatisfaction, and regret.
1: Going for DIY kitchen remodeling
It is easy to get excited by what the glamorous DIY people seem to achieve with kitchen remodeling on HGTV. But this is mostly entertainment fantasy. Reality is quite different.
Unless you are skilled in multiple trades, a kitchen remodel is way beyond the DIY enthusiast. This is more so than any other room in the house, including the bathroom.
Certainly, there are things you can do to help the remodel process along but you need to put the main work in the hands of an experienced remodeling professional, preferably one with a strong track record in kitchens.
So, when you are interviewing your contractors, ask specifically what things you can do that will save money on the project.
There is far too much that can go wrong in the kitchen with structural, plumbing, electrical, code, and permitting issues for you to risk going it alone. Besides, you are going to have to manage the trades that you have no skill in as the work goes forward.
A DIY kitchen remodel attempt is almost guaranteed to be an expensive and painful mistake. It is first on our list of kitchen remodeling mistakes for a reason.
2: Putting form over function
The kitchen is a room with a fundamental purpose – food preparation and cooking.
And in the modern home, it is also a room with multiple purposes. Aside from its cooking function, it is a gathering place, a school homework station, and an on-the-fly home office.
So, unless you get the kitchen designed to suit its purpose before you decide how it should look, it will make your life miserable as you work in it, no matter how aesthetically beautiful it is.
Physical space
You have to start with the physical space available in the kitchen. The placement of walls, entryways, doors, windows, and plumbing will (subject to any spatial alterations you can make), dictate the placement of the kitchen sink and where you can position the refrigerator and other appliances.
Work triangles
From that point, you can focus on building your work zones, work triangles, and work quadrangles. The quadrangle is the extra point where you place your laptop or tablet for recipe reference or remote office multi-tasking.
The other angles to account for are the food prep area, sink, range, and refrigerator. All have to be in easy reach for a properly functioning kitchen. And they must be arranged in triangles not side by side, or only one person will be able to operate in the kitchen.
Door openings
Make sure that cabinet doors, oven doors, refrigerator doors, and dishwasher drawers do not open in such a way as to collide with each other. Making a mistake with this can set you up for years of annoyance and frustration going forward.
Aesthetics
The aesthetics should by no means be relegated to the back seat. So, once you have the functional basics covered, you can let your creativity loose on making a really useful kitchen beautiful. There are myriad styles, colors, and materials available for you to make this happen.
3: Failing to include Universal Design
It may be that you are remodeling your kitchen with 'aging in place' in mind. But even if this is not the case, it is important to include the principles of Universal Design in your kitchen remodel.
Universal Design makes for the ultimate in the functional kitchen because it is a design for all ages. We cover this in detail elsewhere on this site. See Aging in Place Remodelling.
But, just for example, with Universal Design::
We do not place the microwave oven over the range
We prefer the safety of induction cooking over the radiant electric cooktop.
We leave plenty of aisle space for a wheelchair.
We like the drawer dishwasher and the drawer microwave, for easy reach.
If you have included Universal Design in your kitchen (and bathrooms for that matter), you will score marketing points when it comes to selling your home.
4: Failing to accommodate family and friends
Make sure there is room for family and friends to sit at a counter and socialize, or do homework. Not treating the kitchen as an integral part of the home is another one of the basic kitchen remodeling mistakes.
5: Failing to use every square inch of space
In laying out your kitchen be careful to use all of the space available to you. If you don't, you will kick yourself afterward, when it will be too late.
For example, make sure your upper cabinets go all the way to the ceiling. Now if you have tall ceilings, that can make the top part of the cabinet hard to get at. But you can still use the space for the stuff you want to keep but seldom use.
6: Failing to select appliances early
Your cabinet maker or designer will want to know the dimensions and placement of the appliances you intend to use before he gets going on his work. In fact, he will be able to advise you on appliance selection.
While it is true that most appliances are made to fairly standard dimensions, you still need to know if you will be installing a 30-inch range or a 36-inch range. And then again, you may want a separate cooktop and oven.
And the biggest appliance is the refrigerator. Depending on its configuration, the fridge/freezer comes in several different sizes. So it's really important to know these things upfront.
It's important for the aesthetic too. A matching suite of kitchen appliances is easier on the eye than a hodgepodge of appliances with different stainless steel fronts, for example.
Within the appliance category, we include the sink and also a food prep sink, if you have space for it.
7: Skimping on the kitchen faucet
A high-end kitchen faucet is extremely functional. It is also a design statement that will add to the look and feel of the kitchen. It is long-lasting and it is something that you will enjoy using every day.
8: Forgetting ventilation

Installing proper ventilation is important to a kitchen remodel.  And it is quite likely to come in the form of a range hood, which ranks along with the other appliances as being necessary to select early in the process.
9: Forgetting kitchen technology
Consider what is available in smart appliances that can help your kitchen experience. And consider touchless faucets that will add hygiene to food preparation.
10: Failing to provide adequate storage space
There is never too much storage space in a kitchen. So discuss with your cabinet maker or supplier all the creative options available to you in maximizing your storage space.
These can include Lazy Susans in the corner cabinets, pull-out pantries, pull-out tray dividers, and pull-out trash and recycle receptacles.
Maximum storage space can help you avoid clutter on your countertops.
11: Putting in open shelving
There is no doubt that open shelving is a trend but we think it's more of a bad fad. There is a reason for cabinetry. It is to hide the unsightly but, more importantly, prevent things from gathering dust.
Open shelving is a step backward that, at best, invites irritating visual clutter and, at worst, is an unhygienic thing to have in a kitchen.
So, if you do have surplus wall space, use it to display artwork or statement pieces rather than crockery or pots and pans on open shelving.
12: Failing to provide adequate countertop space
Lack of adequate counter space is a common kitchen complaint. So head this off at the design stage. Consider maximizing countertop space by, for example:
Adding a peninsula or island, if you can.
Using a rolling island you can park beneath a countertop overhang or inside knee space.
Inserting pull-out countertop shelves over the top of the cabinetry and just below the main countertop surface.
This too is part of the conversation you should have with your cabinet maker or supplier..
13: Failing to provide enough electrical outlets
Just about everything needs power. This includes the toaster, coffee maker, can opener, food processor, and mobile devices.
You can't have too many electrical outlets. And they should be installed in backsplashes, on the island, on the sides of kitchen cabinets, and (for charging mobile devices) inside drawers too.
For safety, when you locate the electrical outlets, anticipate the type of appliance that will use it, in order to avoid long lengths of power cord being draped along countertops.
14: Neglecting backsplashes
The backsplash is an often neglected part of the kitchen design. Its prime purpose is to protect the wall from water and grease splatters. It is also where you place most of your electrical outlets.
It should extend all the way from the countertop surface to the underside of the cabinetry above. Anything less looks unfinished. It should also be installed behind the cooktop, if this is on the perimeter wall, all the way up to or behind the vent hood.
And of course, the backsplash is also there to make a design statement and provide a continuity of look. It can come in a multitude of materials that will help you do this.
15: Using impractical materials
Some materials just don't belong in a kitchen. Make sure everything you use is easy maintenance, durable, and cleanable.
For example, avoid the use of marble. It is highly prone to staining and a nightmare to clean.
Another no-no is the tile countertop. This used to be popular back in the 80s when continuous countertop surfaces like Corian and granite were not widely available. But you don't want an uneven surface. And you don't want to be cleaning grout.
16: Overlooking proper lighting
It's important to incorporate all aspects of lighting in your kitchen design, This includes ambient, task, and accent lighting. Make sure all lighting is on dimmers and you should incorporate smart lighting technology for control.
We cover this in detail elsewhere on this site. See, for example, Home Interior Lighting Ideas.
You cannot prepare food properly and safely without proper lighting. And lighting is also an important part of Universal Design and aging in place.
Your kitchen lighting plan will likely include ceiling lighting for general ambient lighting; under-cabinet lighting; over-cabinet lighting; toe kick lighting; and spot lighting for over-the-range and over-the-sink. And if you have an island or peninsula, there will be pendant lighting too.
And don't forget that lighting is essential for setting off the aesthetics of your kitchen too.
17: Failing to have the resale market in mind
If you paid close attention to functionality and Universal Design in the remodeling of your kitchen, you will already appeal to the resale market when it comes time to sell your home.
But don't spoil this by adding an eccentric aesthetic to the kitchen that will turn buyers off. For example, most buyers are unlikely to want a gaudy Boho (Bohemian) style, like this.
18: Falling for faddy, transient, or trendy designs
Ditsy decorators will try to sell you on the latest in cool interior design trends. But don't fall for it.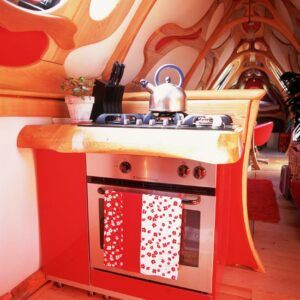 Rather, adopt a design and layout that is timeless but will still allow you to incorporate fun, faddy, trendy, or eccentric accents. For example you could make room for a statement piece of artwork that reflects the latest and greatest trend. And you can change it out for something new as trends change.
But don't let it go beyond being a conversation piece. Of all the kitchen remodeling mistakes you can make, falling for a fad can be the most embarrassing. And it is very expensive to undo.  You don't want to end up with something weird.
19: Not paying attention to the aesthetics
So far we have warned against the faddish in design, But this is not to say that your search for something timeless in your kitchen aesthetic should not reflect your personality. It should.
There are many elements in the kitchen that you can personalize. These include cabinetry, cabinet hardware, plumbing fixtures, countertops, backsplashes, flooring, and walls.
All of these come in materials and colors that you can and should use to make your own design statement.. Tie everything together and make your kitchen a space you will really enjoy being in.
20: Making basic mistakes common to all home remodeling 
So what we have covered here are specifically kitchen remodeling mistakes. You can make a lot more besides. We cover the basic home remodeling mistakes in this post: Home Remodeling Mistakes.