What's the Best Kitchen Sink?
We'll look at it from the point of view of a kitchen remodel.
When it comes to the kitchen sink In your kitchen remodel or renovation project you have to settle a bunch of questions before determining your choice of sink.
Your choice of kitchen sink is determined by your preference for material and style, how many sinks you want, and also where and how the sink or sinks are to be installed in your new kitchen.
And then, of course, there is your budget.
Our goal here is to help you through the decision-making process.
Spoiler alert – we make no secret of our preference for the stainless steel kitchen sink.
Which material is best for the kitchen sink?
We have counted seven different types of material used in the manufacture of kitchen sinks. Here they are with their main pros and cons:
Stainless steel kitchen sinks
The stainless steel sink is by far the most popular material for a kitchen sink and for good reason. It is durable and cost-effective and looks good in any style of kitchen and pairs well with granite, quartz, or wood countertops.
With minimal maintenance, stainless steel will retain its good looks for many years.
How do I choose a stainless steel sink? Stainless steel sinks are rated in thickness of material from 16 gauge to 22 gauge. The lower the gauge the better. Avoid the 22 gauge sink, which will dent easily. Go for 16 or 18-gauge. It will give you much better looks and longevity for not too much extra in price.
How do I protect my stainless steel sink? A few tips: rinse the sink and towel it dry after each use; install a stainless steel bottom grid to protect the basin from scratches; occasionally scour the sink with a soft scouring pad. And remember to scour with the grain of the steel, not across it.
Fireclay kitchen sinks
This material gives a similar look to porcelain enamel. And while it may chip it will not rust. For some reason, it is prone to cracking under vibration and should not be used with a garbage disposal.
Copper kitchen sinks
These are beautiful and have antimicrobial benefits but are very expensive. Also, if you keep your copper sink polished and pristine, you will lose the antimicrobial effect.
Cast iron porcelain enamel kitchen sinks
This type of sink is durable and comes in a variety of colors. It is, however, vulnerable to chipping and, therefore rusting. It requires more maintenance than stainless steel.
Acrylic kitchen sinks
These sinks come in a great variety of colors. They are pretty durable in regular use but are susceptible to heat damage. They are light and easy to install.
Granite/marble/stone composite kitchen sinks
These are beautiful but heavy, requiring beefed-up cabinetry. Farmhouse or apron-type sinks are made this way.
Solid surface resin kitchen sinks
Made of minerals mixed with resins, these are light and durable. Easy to clean but prone to scratching if you are not careful.
Our recommendation
In our opinion, stainless steel is the most practical and best all-around choice because:
It has excellent under-mount capability, which makes it great for cleanup.
It is exceptionally tough. In this regard, the lower the gauge of steel, the better the quality.
Enameled sinks can scratch and chip. And the solid surface composite sink is prone to chipping too and not as easy to clean. Plus it is vulnerable to heat damage.
What is the best type of sink for a kitchen?
The kitchen Sink Style really boils down to the single or double bowl. While the original equal size double bowl was made with dishwashing in mind, this function now largely belongs to the dishwasher. However, we still hand wash larger items such as big pots and pans and baking sheets.
So an oversized bowl for washing large items plus a smaller offset bowl for food prep is an excellent practical combination.
While the single basin sink does boast the iconic Farmhouse style, which we love for its looks, in our opinion it just does not beat the versatility of the double offset 1.5 or 60/40 sink for being the all-around best choice in style of sink.
Is a single or double kitchen sink better?
If you are tempted to conclude that the dishwasher has made the double sink redundant, not so fast.
If you have space for it, go for a double kitchen sink. Here's why.
Even if you have a dishwasher, you will still wash things by hand.
If you have a double kitchen sink the garbage disposal is always available. Not so if you are restricted to a single bowl.
The secondary bowl can be used for food prep
So enter the double offset kitchen sink (aka1.5 bowl sink)
In our opinion, the best all-around practical kitchen sink is the stainless steel double basin offset sink.
What is a 1.5 bowl sink?
This is a twin sink where one basin is smaller than the other and set off to one side. The smaller bowl is used for food prep, and rinsing, and will have the garbage disposal attached to it. It should be around 6.5" deep to allow someone who is seated to work in it without too much stretching and reaching.
The other larger basin can be around 8" deep and will work fine for washing large items.
A popular variation on this type of sink is the 60/40 sink, where the secondary bowl is somewhat larger in proportion.
The debate about a double sink brings up a related question. If a double sink is good, why not more than just one sink? But first …
Some double bowl stainless steel sinks you can find on Amazon
Why would a kitchen have two sinks?
Instead of just the double sink, and if you have the space and the budget, you might consider having a separate food prep sink located, say in the kitchen island.
Do you need a prep sink?
Here are some reasons why a prep sink is a good idea, budget permitting::
Your food prep can be kept away from dirty dishes, which is obviously more hygienic..
You can also more easily segregate food prep utensils and bowls to be stored near the prep sink and away from the washing-up sink area and its associated detergents and cleaning equipment.
A separate food prep sink in a food prep area makes it easier for two people to work in the kitchen without getting in each other's way.
If you go for the two-sink option, then consider the farmhouse sink for style, looks and large capacity combined with a separate stainless steel prep sink.
By the way, we love the farmhouse-style stainless steel sinks you can find further below on this page.
Below is an example of a kitchen prep sink. They are often used as wet bar sinks.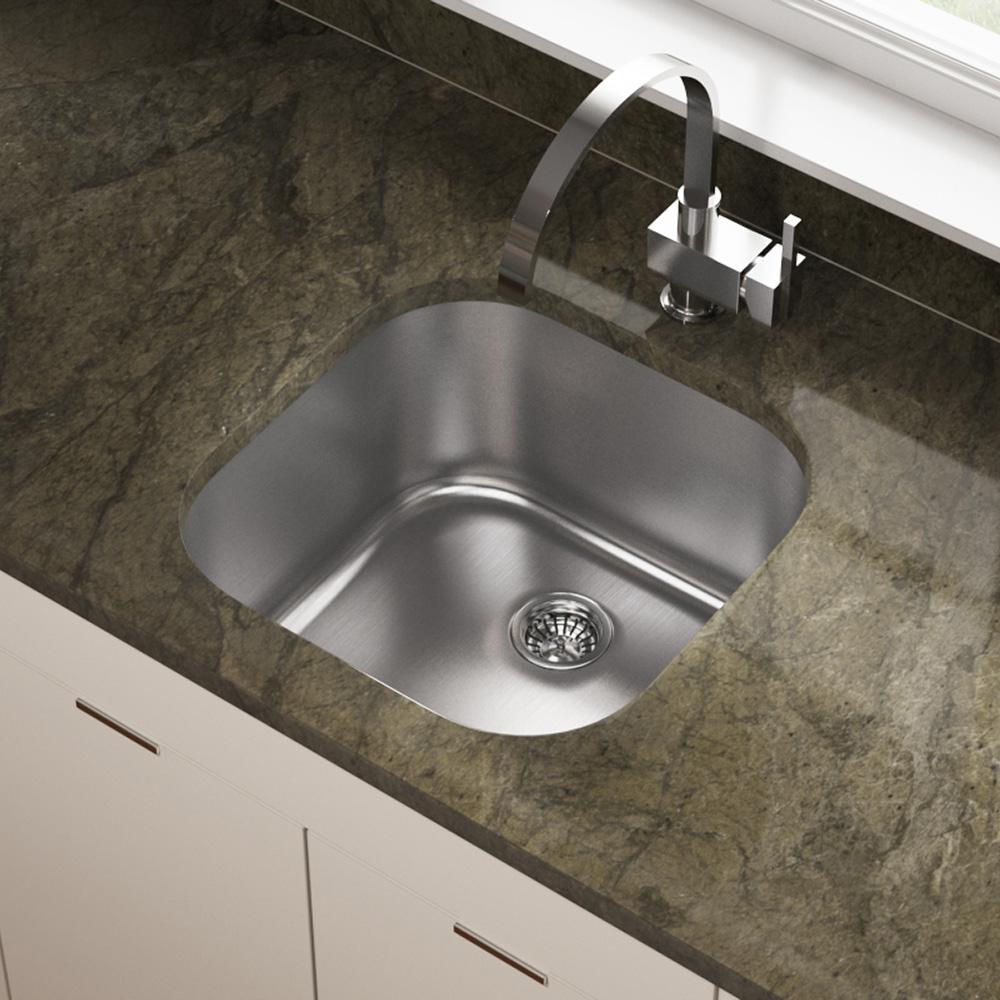 Here are some food prep and bar sinks you can find on Amazon
Where should the sink be placed in the kitchen?
In placing your kitchen sink, you will no doubt be constrained by the availability of plumbing and electrical and the need to have a dishwasher nearby. And you will also be considering the possibility of multiple sinks and work zones.
But here are some other things to consider when placing your kitchen sink:
What do you want to look at? Standing at the sink is pretty boring. Can you take advantage of a window view? Are you able to place a TV nearby? If you are entertaining, will you be able to see and interact with your guests?
Does a dishwasher have to be beside the sink?
The only logical and economical place is to have the dishwasher adjacent to the sink. It allows you to scrape dishes into the garbage disposal, rinse them, and put them in the dishwasher without taking a step.
In addition, it allows for an easy (and therefore inexpensive) plumbing and electrical hookup.
What side of the sink should the dishwasher be on?
Sometimes, the layout of the kitchen may not give you a choice and will force you to put the dishwasher on one side or the other.  However, if you have a choice and you are right-handed put it on the right of the sink. If you are left-handed, put it on the left.
Kitchen Sink Installation
What is the difference between top-mount and drop-in kitchen sinks?
They are actually the same thing. A top mount (aka drop-in or self-rimming) sink has a lip around the top of the sink. This lip sits on top of the kitchen counter, which helps support the weight of the sink. The sink installer will run a bead of silicone under the lip to seal it against water spills on the counter.
What is the difference between under-mount and drop-in sinks?
While the drop-in sink has a lip that sits on top of the kitchen counter, the under-mount kitchen sink has a rim that is glued or caulked to the undersurface of the countertop. The sink itself is held in place by heavy clips attached to the cabinetry.
The edges of the countertop around the cutout made for the sink are exposed and polished, which generally requires that the countertop is made of a solid material like granite or quartz.
The under-mount sink is typically installed by the countertop fabricator.
Which is better, the undermount or the drop-in sink?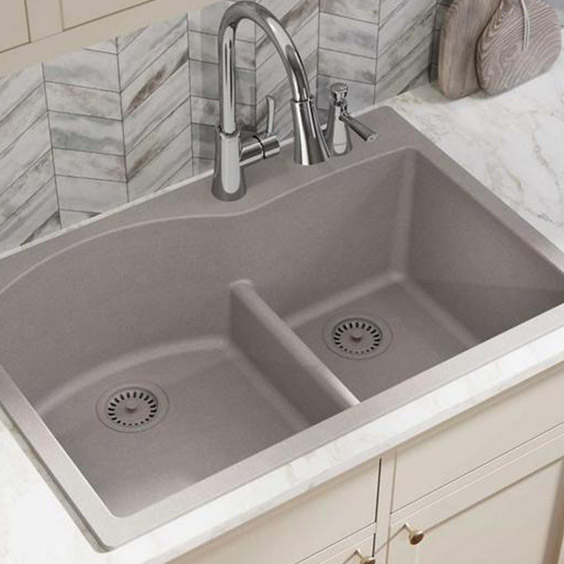 Above, side by side, is a composite overmount sink and a stainless steel under-mount sink
While the under-mount sink is more expensive to install, it has great long-term benefits because it makes kitchen cleanup so much easier. And there is no lip on the countertop to trap and conceal the food debris that can harbor bacteria. In addition, the under-mount sink gives your kitchen a much more stylish look.
And, talking of style, here are some great farmhouse sinks you can find on Amazon.
The kitchen sink and Aging in Place
A sub-theme of this site is aging-in-place, so here are some tips for accommodating the elderly at the kitchen sink.
There should be plenty of clearance around the sink to allow walkers and wheelchairs to maneuver. And there should be space beneath the sink to accommodate a chair or wheelchair. This can be achieved by having twin cabinet doors below the sink that can be opened to give knee space. An extra high toe kick in this area can take a wheelchair footrest.
Ideally, the sink should be motorized or the countertop adjustable to allow the sink to be raised and lowered.
And don't forget:
a hands-free faucet with a pull-out sprayer. If hands-free is not possible, then a lever faucet mounted to the side of the sink is a good alternative.
a soap dispenser set into or close to the sink
an anti-scald device on the water heater to prevent burns to fragile skin from any hot water outlet in the home
Related post: How to Approach a Kitchen Remodel and Not Go Crazy
Related post: How to Layout a Kitchen Remodel Project