Designing kitchens for the elderly
Remodeling kitchens for the elderly requires a detailed look at the entire kitchen. First, we need to look at every kitchen component and consider how it impacts an elderly person. Then we provide functional solutions but in such a way as not to sacrifice style. We then need to offer the senior some tips on being safe in the kitchen along with some tools to help.
Providing safe kitchens for the elderly is a major issue
According to the U.S. Department of Health and Human Services (Administration on Aging), the population aged 65 plus will increase from 49.2 million in 2016 to 98 million in 2060. And the 85 and older population will increase by 6.4 million in 2016 to 14.6 million in 2040.
These are big numbers. And according to AARP, 77% of seniors would rather "age in place," or stay put at home than move into some institutional environment.
Kitchens are a danger zone for the elderly
According to Medical Care Alert, the kitchen is the most dangerous room in the house for the elderly, who will experience injury from burns, falling objects, slips, and falls.
According to FEMA, seniors are 2.5 times more likely to die in a fire than the rest of the population. A fire requires quick action and the senior may well be in too much of a reduced capacity to deal with a fire effectively.
According to the Red Cross, more home fires start in the kitchen than in any other room
The main cause of serious injury for seniors is falling. At worst a fall can be fatal. And not much better is a fall that puts a senior in the hospital with a serious injury like a broken hip. So guarding against falls is one of our main objectives.
The senior experience
As a person ages mental faculties, agility, flexibility, balance, stamina, vision, smell, hearing, touch, strength, reaction time, and reach all decline. The effect of medications can make all this worse.
As we age we get forgetful, we fumble, and we stumble. We get careless and forgetful and this gets us into trouble. "Senior moments" are a real thing.
All of this affects a senior's experience in the kitchen environment and the ability to cope with it. So, with these actual or potential infirmities in mind, our task is to maximize the accessibility, convenience, and safety of the kitchen. This includes making provisions for the current or future use of a wheelchair.
Let's break it all down.
Kitchen location & layout
First, the kitchen should be on the main floor of the house. And the ideal home for a senior is a single-story house.
Next, widen kitchen entryways and remove thresholds. Doorways should be 36 inches wide. Use lever handles on doors.
Then make sure that the approaches to the kitchen are unobstructed.
Kitchen clearances
The ADA (Americans with Disabilities Act) standards are a useful guide to the basic layout for an aging-in-place kitchen and the clearances required.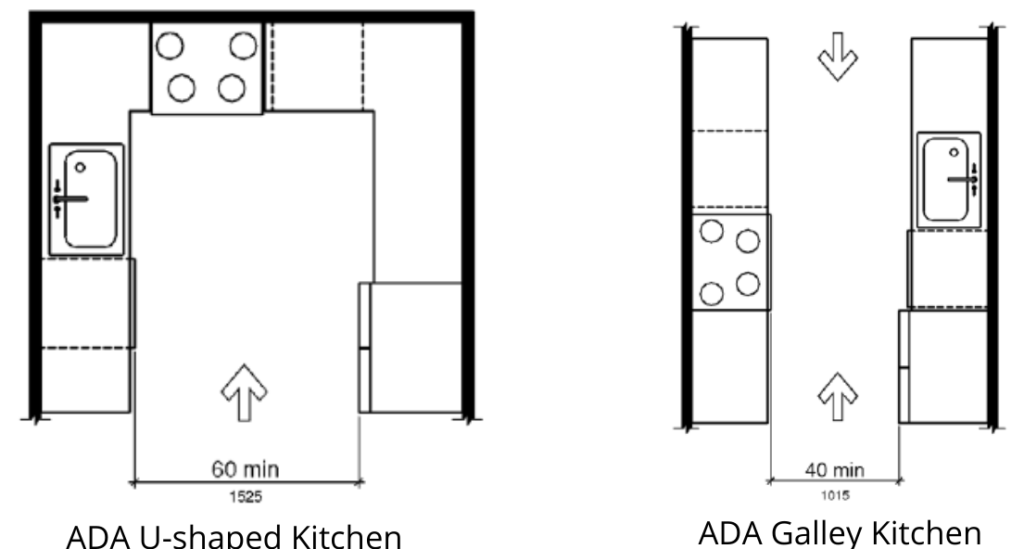 Pass through or galley kitchen
In this type of kitchen counters, appliances, or cabinets are on two opposing sides. Alternatively, appliances or cabinets are opposite a parallel wall. In this case, clearance between all opposing base cabinets, countertops, appliances, or walls within kitchen work areas are to be 40 inches minimum. In addition, pass-through kitchens are to have two entries.
U-Shaped kitchen
A U-shaped kitchen is enclosed on three contiguous sides. In this case clearance between all opposing base cabinets, countertops, appliances, or walls within kitchen work areas are to be 60 inches.
Kitchen appliance clearances
There should be a clear space of 30 inches wide by 48 inches deep in front of the appliances.
The work triangle
The work triangle is a time-tested concept and is especially suited for an aging-in-place application. This concept is based on the simple idea that the most frequently used items in the kitchen (cooktop/oven, sink, and refrigerator) should be within easy reach. It makes food preparation, cooking, and cleanup more efficient.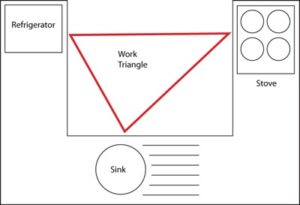 However, don't put the sink immediately next to the stove. Make sure there are at least 18 inches of working countertop surface between them.
With larger kitchens designed for multiple users and socializing, the "work triangle" concept has been expanded into the "work zone." This is where fixtures and appliances are grouped based on discrete functions, such as meal prep, eating, storage, and cleanup.
If you are indeed working on a larger kitchen, it is fine to adopt work zones. But don't forget that your senior may frequently be alone. So always include the basic work triangle of sink, refrigerator and range/cooktop as its own work zone.
The senior's family and more
Building on the work zone concept, and assuming we are working with a larger kitchen, lay it out such that it will accommodate and entertain visiting children and grandchildren.
A kitchen island and or kitchen table is ideal for this purpose. Consider a multi-level island. And an island on wheels provides great flexibility.
In addition, if space allows, incorporate a home office workstation with file drawers. This provides convenient functionality by keeping another household operation in the same location.
Design note: visual impairment and color contrast in the kitchen
Before we get into the various components of the aging-in-place kitchen, we need to consider the current or future visual impairment of our seniors. This has an impact on the overall design of the kitchen.
We need to achieve a kitchen with high color contrast. A visually impaired person finds it much easier to distinguish one object from another if they are in contrasting colors. And this should be reflected in the materials you select for the kitchen. Here are some examples:
The countertop color should contrast with the color of the cabinetry.
The edges of the countertops should contrast with the main countertop surface.
Cabinet pulls should contrast with the cabinets themselves.
Appliances should contrast with the cabinets.
The kitchen sink and faucet should contrast with the countertop.
The flooring should contrast with the cabinetry.
We understand that this presents a design challenge when it comes to achieving a pleasing result. However, the priority is to provide visual clues that can help the visually impaired navigate the kitchen space safely.
Kitchen cabinets & storage
Minimizing the need to reach
The prime objective in designing kitchen cabinetry for an aging-in-place application is to eliminate or at least minimize having to reach for what you need. This has several implications.
Upper wall cabinets should be 3 to 4 inches lower than the standard height of 18 inches above the countertop.
The cabinetry should be arranged such that anything heavy can be stored between waist and shoulder height.
In addition, items in daily use, such as cookware, should be in cabinetry between waist and shoulder height.
Use rotating trays in upper cabinets. This helps keep reaching to a minimum. It also helps cabinet organization.
Minimizing effort and maximizing visibility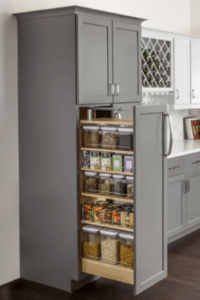 An additional goal of cabinetry layout and design is to allow the senior to find what he needs easily and make it easy to pull out and put back. There are many ways to achieve this.
Install pull-out cabinets at floor level. A pullout pantry puts everything in front of you for easy visibility and access to what you need.
Place glass fronts on upper cabinet doors.
Incorporate open shelving for access to frequently used items.
Use full extension drawers rather than doors in lower cabinets. A full extension drawer slide allows the drawer to open all the way out and makes for complete access to the drawer interior. Drawers make much better use of the available storage volume and are much easier to organize. You can see what is in a drawer much more easily than if you have to bend over and peer into an open cabinet space.
Install pull-down shelves in the upper cabinets.
Install pull-out racks and shelves in lower cabinets. Pull-out drawers by Rev-A-Shelf.
Use appliance garages to keep small appliances from cluttering the countertops. Clutter is hazardous.
Consider pullout blind corner racks instead of Lazy Susans.
Use spring-assisted shelving for heavy items.
Use pull-out racks and shelves in lower cabinets for better access and visibility.
 Add dowels or inserts such that items can be stored on their sides rather than stacked.
Pull out work surfaces
If you are working in a small kitchen, consider a pull-out work table or surface to enhance functionality. Plan it so that a seated person can use it.
Kitchen cabinet hardware
Install cabinet pulls rather than knobs. Arthritic hands find knobs hard to deal with. Use "D" shaped handles and avoid any kind of pull that can catch on clothing or could cause a bruise.
Kitchen countertops
Have multilevel countertops. Mix a standard 36-inch height with 30 inches, which can be used more easily by a seated person.
Make sure there is knee space below the working and food prep areas to accommodate a wheelchair.
Add visual clues to countertop edges to make them easier to see. Make sure the corners and edges of the countertops are rounded. This applies to open shelves too. Senior skin is thin and prone to injury.
Kitchen appliances
Use counter-depth appliances for safety. This makes for clear pathways and removes obstacles that the senior can bump into.
As for appliances generally, look for those with easy-to-read displays and automatic shut-off features. An auto shut-off for the oven and cooktop is an essential safety device. A senior may leave the kitchen and simply forget that the appliance is running.
Also, look for "simple" smart appliances that will respond to Alexa or Google Home. We say "simple" because we don't want to overwhelm or confuse our seniors with technology.
Cooktops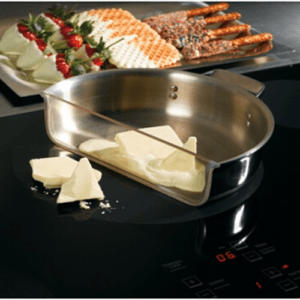 The absolute best cooktop for use by a senior is the induction type. It presents the lowest risk of accidental burns when compared to the standard open-flame gas or radiant electric cooktop. It will also help prevent a kitchen fire.
We totally understand that the senior may be in the long habit of cooking with a gas or radiant electric cooktop and may just refuse the induction option. If this is the case, place stovetop fire suppressors under the range hood.
Regardless of the type of cooktop, controls should be located at the side or on the front of the unit. You should not have to reach over a potentially hot surface to use the controls.
Dishwasher
The dishwasher should be at an accessible height. A standard dishwasher should be placed on a drawer pedestal for easier access and to reduce stooping and back strain.
A better alternative is a drawer dishwasher.
Microwave
Consider a drawer microwave for easy accessibility. Otherwise, combine it with a convection oven and put it in a wall. The microwave should be at or below the height of the countertop.
Do not put the microwave over the range. This is actually hazardous even for young and fit people. You should not be handling anything hot or heavy above shoulder height. And it is obviously not a good idea to do this over a range with lit burners.
Oven
Instead of having an oven in a standard range/cooktop configuration, adopt the separate cooktop and wall oven arrangement. A wall oven with French doors or a swing door is easier and safer to use than an oven with a drop-down door. It can also be made more accessible since you can choose its height above the floor.
A pull-out shelf and/or working countertop space that can be used in conjunction with the oven makes for easier food handling.
Refrigerator
The side-by-side refrigerator with the freezer below is more easily accessible than other types. And the side-by-side configuration means there is a reduced door swing radius. This makes it safer.
In addition, look for:
Long door handles for easy grip at a comfortable height
Storage capabilities within the doors.
Good lighting
See-through drawers and bins.
Illuminated temperature displays on the outside of the refrigerator door
Water and ice dispensers on the outside of the refrigerator door
Consider an under-counter refrigerator/freezer drawer for even greater accessibility.
Range hood
Make sure the range hood delivers plenty of lighting, easy-read displays, and easy-to-use controls.
Sinks & faucets
Kitchen sinks
Ideally, the sink should have knee space below it. A shallower sink is easier for a senior to use than a deep sink. This is because there is less bending over it and it is more easily accessible from a sitting position. So the sink should be no more than 6 to 8 inches deep.
Consider two sinks. Install a standard-height sink. Then add a lower ADA-compliant, roll-under sink with knee space below. This can double as a prep sink. You can use a fabric sink skirt or cabinetry to conceal the plumbing under the lower sink.
Consider a motorized sink that the user can adjust for height.
Kitchen faucets
Some tips on faucets.
Install a hands-free pull-down spray faucet. These are easy to operate and will turn themselves off automatically.
Install the faucet to the side of the sink for easy reach.
At the very least, install lever-operated faucets.
Add a hands-free soap dispenser.
Consider a wall-mounted pot filler.
For safety, install an anti-scald device at the water heater. This will protect the senior in the bathroom as well.
Kitchen flooring
Flooring should be no-glare, non-slip, and easy on the feet. Use linoleum, hardwood, cork, rubber, or vinyl flooring rather than tile. Have in mind that the floor should be easy to navigate by a wheelchair.
Many flooring options are textured for extra safety. Avoid stone or ceramic tile flooring. This is hard on the feet and tiring to stand on for any length of time. And it makes for a hard landing in case of a fall.
The floor should be easy to clean. Do not use rugs. They are unhygienic in the kitchen. And rugs are a trip hazard.
Kitchen electrical
Install illuminated outlets in backsplashes or sides of cabinets with regard to the small appliances that will be used and where they will be stored. Prevent a situation where the senior might pull power cords over a sink or across a passageway.
Ensure that there are dedicated smoke and carbon monoxide detectors in the kitchen
Kitchen lighting
Good lighting reduces eye strain and helps prevent accidents, including falls.
So add as much light as possible. Maximize natural lighting with easy-open window shades.
Lighting tips for a kitchen for the elderly
Use occupancy sensor switches for the overhead recessed ambient lighting.
Use illuminated rocker switches for the task lighting. They are much easier to operate than the regular switch.
Install task lighting underneath upper cabinets and above workstations like the sink, cooktop, and food prep areas.
The under-cabinet lighting should eliminate shadows and dark corners.
Install stick-on motion-sensing lights in cabinets.
Put strip LED lighting under cabinet toe kicks, so there is plenty of light on the floor. This can make it easy to spot and clean accidental spills.
Kitchen accessories & equipment
Grab bars: consider grab bars strategically incorporated into the front of the countertop. They will double as towel racks. Consider strategically placed. vertical grab bars.
Telephone: place a cordless phone within easy reach of working areas. Post emergency, physician,l and reliable neighbor numbers nearby in large print
Technology: We mentioned smart appliances earlier. But they can be confusing. So, if using Alexa or Google Home, post command reminders in case of forgetfulness.
Alert system: Deploy a medical alert device in the kitchen in case of accidents.
Fire extinguishers: keep Class B fire extinguishers handy. These are effective on flammable liquid fires. One should be full-sized. The other should be smaller, lighter and easily handled by an elderly person. Make sure they know how to use it.
Step stool: A step stool with support handles is handy to have. Make sure that the senior is able to use it safely.
Kitchen tools and gadgets for the elderly
When designing and laying out a kitchen for the elderly, we should think through how it is to be used. This includes providing for and installing or locating the types of tools and gadgets that will make our senior's life in the kitchen easier.
Electric jar opener
Electric can opener
Reachers and grabbers
Easy pour electric kettle
Safety cutting board
Adjustable gripping tool
Finger protector
ADA-compliant floor mat to prevent fatigue
Non-slip mixing bowls
Kitchen safety tips
We have already covered a lot of safety-related topics. However, it would be a good idea to post some of these safety tips as reminders:
Turn cookware handles inward to avoid bumping into them and causing a spill..
Use pots and pans with two handles.
Make sure there are separate cutting boards for meat and vegetables to prevent cross-contamination. Label them.
Wear short sleeves when cooking to prevent a long sleeve from coming into contact with an open flame. You can ignore this if you took our earlier advice on induction cooktops.
Don't cook when sleepy.
Keep knives and other sharp utensils securely in their designated storage area.
Consider replacing glass items with hard plastic. This can in fact look quite attractive.
Remember to clean up spills promptly. At the onset of dementia, the senior may simply forget to do this. Prompt clean-up will prevent slips and infestation.
Remember to check the temperature in the fridge. This is why we recommend a temperature display on the front of the refrigerator.
Consider labeling the fronts of drawers to indicate their contents.
Check food for expiration dates before using it.
Post a reminder "how to use" instruction near the fire extinguisher.
Keep towels away from the stove.
Ensure that cleaning supplies are stored in the proper place and labeled properly and prominently. We don't want our seniors to suffer accidental poisoning by confusing a cleaning product with a food item.
Keep small electrical appliances on a short leash, meaning that power cord length should be kept to a minimum by the strategic location of power outlets and appliance garages. Power cords are potentially hazardous. We mentioned this earlier but it is worth repeating.
Oven mitts are safer to use than potholders.
Use closed-toed shoes to reduce the risk of injury from things that get dropped.
Have a pest control company spray the kitchen once per month.
Make sure there is a first aid kit in an easy-to-reach drawer.
Have a working flashlight on hand.
Conclusion
Designing and equipping a kitchen for elderly people is no small task. It requires exhaustive attention to detail. But the effort has a big payoff in the safety and convenience enjoyed by our seniors and their families peace of mind