OVERVIEW OF THE NAPOLEON CLEARION SEE THROUGH ELECTRIC FIREPLACE
This is a unique and first-of-its-kind electric fireplace. From a remodeling or interior design point of view, it is something one must consider. It makes a striking design feature and has a special function.
Napoleon CLEARion Two-Sided Electric Fireplace – My Headlines
Very nice: Beautiful and practical. It is also well-priced, given its looks and capabilities. A great value-add contribution to a  remodel project that can accommodate it. Napoleon is a well-respected brand.
Not so nice: It is unfortunately limited to the single 50-inch model. Let's hope they expand this product line. Buyer reviews are very hard to find. There are none on Amazon.
My main takeaway: This would be a great addition to a project where you have two adjoining rooms with the right wall configuration. It would also be worth creating a semi-partition wall just to feature it. Please see the images below.
Illustrations of the Clearion Two-Sided Electric Fireplace in Use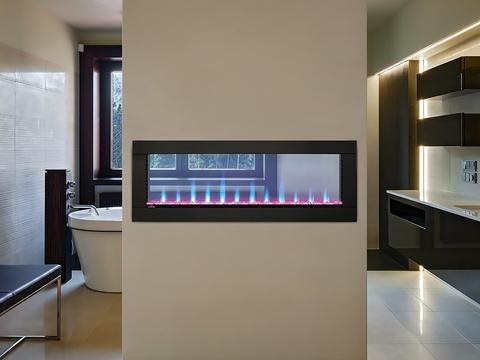 OK. SO WHY A SEE-THROUGH, TWO-SIDED ELECTRIC FIREPLACE?
Well, Why Have a Fireplace At All?
First, if you haven't got one, why consider a fireplace in the first place? There are two reasons.
1: The value a fireplace adds to a home.
2: A fireplace brings personal enjoyment and satisfaction. 
Of course, this is why a fireplace adds value.
Everyone loves to have a fire burning in the grate, or at least the look of one. This is simply part of the ancestral psyche of the human being.
Aside from giving warmth when we need it, a fire in the fireplace brings feelings of coziness, romance, and charm. There is even research that  indicates that looking into a fire can even lower blood pressure.
As to the value, a fireplace can add to a home, the National Association of Realtors came out with a 2003 study. It stated "fireplaces have a strong, positive effect on selling price with each fireplace adding about 12 percent."
In 2016 an Angie's List survey found that a large majority of real estate agents (more than 83 percent) said fireplaces add $1,000 to $4,999 to the value of a home.
There is another often overlooked additional real estate factor. This is marketability. A fireplace simply makes a home more marketable. In simple terms this means that a home with a fireplace will sell faster than a home without one.
If a home sells faster, there is less holding cost in loan and other payments. I have had a real estate broker's licence for 30+ years and can tell you there is good reason that a fireplace features prominently in a real estate listing.
So, if you already have a fireplace, hang on to it. And, if you haven't got one, there are good reasons for putting one in.
Plus, if you are including an electric fireplace in a remodel project, you will barely notice the incremental cost, since related trades (electrical, carpentry, drywall and paint) are already on the site.
Why an Electric Fireplace?
Two reasons: They are relatively inexpensive to install and they are efficient to operate.
This is why they are comparatively inexpensive.
A wood or coal burning fireplace requires a flue or chimney. These are expensive to retrofit into a house.
A vented gas fireplace requires a flue or chimney. It also requires a gas line. Gas may or may not be available in the house. And, if it is, a gas line is expensive to run where you need it to be.
Ah electric fireplace only needs wiring. And it is likely that a circuit is close to where you want it.
This is why an electric fireplace is more efficient to operate.
Handling wood and coal to light and keep a fire supplied is a pain and you can run out. Plus you have to deal with soot and debris. With an electric fireplace you just click a remote. And power outages are rare.
There are no emissions and no gas leaks to worry about with an electric fireplace.
You do not need to be concerned that there is an adequate supply of fresh air, since there is no combustion.
Why a See Through Electric Fireplace?
Elsewhere on this site we discuss recessed and peninsula fireplaces but here we are reviewing the see-through or two-sided fireplace.
The two-sided feature of this type of fireplace allows a single fireplace to heat and be enjoyed from two rooms. Or you can install it in a semi-divider partition in one room, as shown in the illustrations above.
A two-sided fireplace can be installed within a partition wall between complementary adjoining spaces. For example, it can heat and be enjoyed from bedroom and bathroom, kitchen and dining room, or dining room and living room.
Napoleon CLEARion See Through Electric Fireplace Installation Video 
See Through Electric Fireplace Specs that Deliver What You Need    
Great Bones
Dimensions 18 3/8″high x 50″wide x 8 1/6″deep
Simple Framing Specifications (8″ wall thickness)
Up to 9,000 BTUs and 3,000 Watts
Can be hard wired to 120V or 240V
Viewing Area: 12″h x 43 5/8″w per side
Two thin black powder coated surrounds included, one per side
Optional black and stainless thick depth steel surrounds available for installations into a double 2×4 wall
Full feature remote control included (controls flame speed, color, brightness, blower, heat output, and timer)
Hand Painted South Beach Logs and Topaz Glass Embers included
Crystal Media Included
Great Looks
Unique, one of a kind, see-through electric fireplace
Enjoy it from two rooms or two directions
Variety of Ember Bed and Flame Colors
Ten different ember bed color options; Orange, Red, Blue, Yellow, Green, Purple, SkyBlue, Magenta, White & Pink
Optional wider Stainless Steel Surround and Black Surround
Great Performance
Warms up to 800 sq. ft.
The heaters work independently from each side. Great economy because you only heat the room you need to heat. You can set each room to its own temperature. And you can control the heat from either side.
Three flame color options; blue, orange and multi-color
Five flame animation options
Driven by high-intensity LED lights
The full-feature remote control governs flame speed, color, brightness, blower, heat output and timer
What Other Buyers Have Said About The Clearion Electric Fireplace
Napoleon only introduced the Clearion in 2018. So there are not many reviews out there.  As of this writing (early 2020) there is one very positive review on Amazon. There is also (apparently) a negative review but it does not show up when you click on it. Must be a system error.
We found another very positive review that was not on Amazon. The two reviews are summarized here.
Impressed. Put it in a living room dividing wall separating the living room itself from a breakfast area. The fireplace adds style points and coziness.
Very handsome. Heats with no gas and no vents.
We would also rely on Napoleon's great brand reputation supporting this product. It is certainly unique.
FAQS ABOUT THE NAPOLEON CLEARION SEE THROUGH ELECTRIC FIREPLACE
We have summarized the questions asked and answers received. These are taken from a number of sites.
Q:  What are BTUs?
A: British Thermal Unit. The amount of heat required to raise the temperature of one pound of water by one degree Fahrenheit. It is a standard of measurement used to rate the power of an appliance
Q: How many BTUs do I need?
A:  Depending on things such as ceiling height and the location of the heater, it takes roughly 5,000 BTUs to heat a 450 sq ft room.
Q: Is it better to plug it in or hardwire it?
A:  You can just plug it in but you will only get top performance when you hardwire it. You also get a much more finished look.
Q:  Do you recommend getting the optional stainless steel or black trim kits.
A:  Yes. The black trim supplied with the unit is pretty minimal. To help this fireplace maximize the design statement it makes, order one of the trim kits to suit your decor.
Q:  Can I put this fireplace in an exterior wall?
A:  No. It is not rated for an outdoor application.
Q:  Can I install this in a 2 x 4 wall room between two rooms?
A:  Yes. But you need to have your carpenter trim the opening itself out to 8 inches.
Q: Does this unit require any venting?
A: No. This is because there is no combustion and therefore no emissions.
Q: Do you need permits to put in an electric fireplace?
A: No. But a licensed electrician is recommended if you are hardwiring the unit.
Q: How large a room will an electric fireplace heat.
A: Most electric fireplaces will heat approximately 400 sq ft. This Clearion two-sided heater will heat 400 sq ft each side
Q: Do electric fireplaces need venting?
A: No
FINAL TAKE: PROVIDING WHAT YOU NEED IN A RECESSED SEE-THROUGH ELECTRIC FIREPLACE
Provided you have a wall that accommodates its 50 inches on both sides, this Napoleon Clearion two sided see through fireplace is a perfect choice. 
1: An economical choice: This is a relatively inexpensive purchase and installation and it is backed by a reliable brand. Plus electricity is a relatively inexpensive energy source. There is no wasted heat energy vented up a chimney.
2: Unique custom look: This is a one of a kind fireplace making a big impact design statement. This is especially so if you order one of the optional trim pieces.
3: Realistic flame effect. However, here is a Pro Tip: For getting the best effect from the faux flames, choose a wall location that is away from direct sunlight and does not have artificial lighting directly over it. This prevents the look of the flames being washed out by competing light.
4: Safe for kids: They are a very safe choice (over gas or wood), if you have kids around. They do not get hot to the touch and there are no naked flames..
5: All the aesthetics you could want for any room: A wall recessed electric fireplace actually doubles as living artwork on a wall. This see through unit is even better.
6: A remodeling win:  A recessed electric fireplace provides an excellent return on investment in the context of a remodeling project. This is both for immediate personal enjoyment and eventual value-add realized upon sale of the property. You will barely notice the cost within your overall budget.
So there you have it. But don't just take my word for it. Click on the image or link below and check it out on Amazon yourself. 
The Napoleon Clearion comes with a stainless steel surround option.
Just a quick note about product and price in the context of a home remodel or renovation project. Take a moment to think about how long you will be living with your selection!
Within reason, it's not the price of a product that matters so much as its suitability and durability. These add up to real value, provided the price is not excessive. I can safely say that the Napoleon Clearion see through wall recessed electric fireplace stands this test.