Hello! And welcome to my electric fireplace reviews. This one features the peninsula electric fireplace by ProCom.
Just so you know, we approach all our reviews from a home renovation, remodeling, and value-add perspective.
The ProCom Peninsula Electric Fireplace comes in two elegant flavors. Caramel and Oak.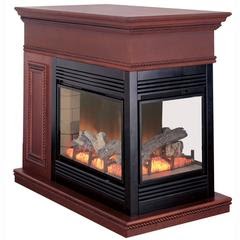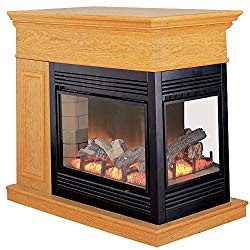 This is a unique electric fireplace. We have not found a similar full-size peninsula electric fireplace anywhere else. From a remodeling or interior design point of view, it is something one must consider. It makes a striking design feature and has a special function.
ProCom Peninsula Electric Fireplace – My Headlines
Very nice: A very solid fireplace. Would make a striking contribution to a remodel project , especially if showcased in its own framing.
Not so nice: It is limited to only two finishes, although paint and staining could change this.
My main takeaway: This would be a great addition to a project, where you have a large room you want to divide up a little and at the same time make a design statement.
Please see the images below.
This fireplace is quite large at  41.5″ high x 48″ long x 27.5″ wide. It is conceived as a standalone plug-in-the-wall item.
But we really like them for their potential as a striking interior design statement. This happens when you frame them into a living room partition and turn them into a permanent fixture along these lines: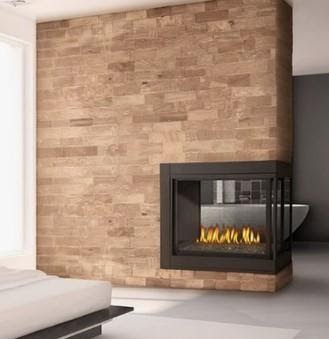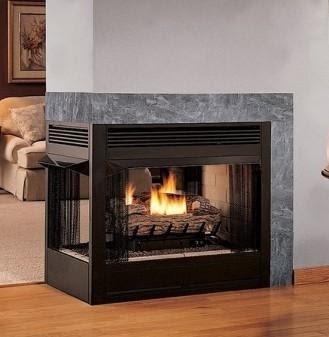 OK. SO WHY A PENINSULA ELECTRIC FIREPLACE?
Well, Why Have a Fireplace At All?
First, if you haven't got one, why consider a fireplace in the first place? There are two reasons.
1: The value a fireplace adds to a home.
The National Association of Realtors came out with a 2003 study. It stated, "fireplaces have a strong, positive effect on selling price with each fireplace adding about 12 percent."
In 2016 an Angie's List survey found that a large majority of real estate agents (more than 83 percent) said fireplaces add $1,000 to $4,999 to the value of a home.
There is another often overlooked additional real estate factor. This is marketability. A fireplace simply makes a home more marketable. In simple terms this means that a home with a fireplace will sell faster than a home without one.
If a home sells faster, there is less holding cost in loan and other payments. I have had a real estate broker's licence for 30+ years and can tell you there is good reason that a fireplace features prominently in a real estate listing.
2: A fireplace brings personal enjoyment and satisfaction. 
As to personal enjoyment and satisfaction, this of course, is why a fireplace adds value in the first place..
Everyone loves to have a fire burning in the grate, or at least the look of one. This is simply part of the ancestral psyche of the human being.
Aside from giving warmth when we need it, a fire in the fireplace brings feelings of coziness, romance, and charm. There is even research that  indicates that looking into a fire can even lower blood pressure.
So, if you already have a fireplace, hang on to it. And, if you haven't got one, there are good reasons for putting one in.
Plus, if you are including an electric fireplace in a remodel project, you will barely notice the incremental cost, since related trades (electrical, carpentry, drywall and paint) are already on the site.
Why an Electric Fireplace?
Two reasons: They are relatively inexpensive to install and they are efficient to operate.
This is why they are comparatively inexpensive.
A wood or coal burning fireplace requires a flue or chimney. These are expensive to retrofit into a house.
A vented gas fireplace requires a flue or chimney. It also requires a gas line. Gas may or may not be available in the house. And, if it is, a gas line is expensive to run where you need it to be.
Ah electric fireplace only needs wiring. And it is likely that a circuit is close to where you want it.
This is why an electric fireplace is more efficient to operate.
Handling wood and coal to light and keep a fire supplied is a pain and you can run out. Plus you have to deal with soot and debris. With an electric fireplace you just click a remote. And power outages are rare.
There are no emissions and no gas leaks to worry about with an electric fireplace.
You do not need to be concerned that there is an adequate supply of fresh air, since there is no combustion.
Why a Peninsula Electric Fireplace?
Elsewhere on this site we discuss recessed and see through fireplaces but here we are reviewing the peninsula fireplace.
This kind of fireplace with its multiple sides is such that it can be enjoyed from multiple directions.
Using a peninsula fireplace in the way illustrated above is an excellent means to define separate spaces within a larger space, such as a great room.
Great Bones
Solid construction, weighing in at 235 lbs product weight
Imposing, with product dimensions at 41 1/2″ H x 48″ W x 27 1/2″ D. This is according to the product manual but we note that the dimensions given on Amazon are 48 x 48 x 40 inches
Beautiful coffee glaze or oak mantel finish
Brick-lined firebox, hand-painted log
3-D flame-effect technology with enhanced flame effect and glowing ember bed
Great Looks
This electric peninsula fireplace includes a brick-lined firebox, hand-painted log and a beautiful finish mantel.
180 degree viewing
Year-round enjoyment – run your fireplace with or without heat
3-D enhanced flame effect and advanced log and ember design provides optimal viewing from all angles.
Stunning look of a stylish oak or coffee glaze mantel finish
Great Performance
Easy to Operate
Handheld remote control (two AAA Batteries)
Two Modes: Manual or Thermostat
Four Heat Settings: HI, MID, LOW, OFF
Timer Feature -enables setting an automatic on or off time
Child Lock Feature
Automatic Safety Shut-off
Cool-touch Surfaces
Produces zero emissions or pollutants, requiring no venting
CSA (Canadian Standards Association) Approved
Heats Up To 400 Sq. Ft.
Voltage: 120 VAC, 60 Hz
Total Amps: 11.5 Amps
Total Watts: 1380 Watts
Heater Rating: 1200 Watts
WHAT OTHER BUYERS HAVE SAID ABOUT THE PROCOM PENINSULA ELECTRIC FIREPLACE
We were only able to find three buyer reviews of the ProCom Peninsula Electric Fireplace. They were not on Amazon but they were all positive.
Pros and Cons of the ProCom Peninsula Electric Fireplace
Very pleased. Put it in a basement because it did not need venting.
No Data
Flame more realistic than I could have imagined.
I will use it as a divider between the sitting room and sleeping area in my large master bedroom suite.
ELECTRIC FIREPLACE FAQS 
Q: How far do I need to mount my flat-screen TV above my recessed electric fireplace?
A: If the heat blows out of the top of the fireplace, 24 inches. If it blows out of the front, as with the Touchstone units, 12 inches.
Q: Are electric fireplaces cost-efficient?
A: The heating elements of electric fireplaces are 100% efficient. They cost less than less than gas fireplaces to operate. The power consumption of the flame effect is roughly equivalent to a table lamp. Since there is no venting required, as with gas or wood, there is no heat loss to venting. So 100% of the heat is contained and utilized.
Q: Do I need a permit to put an electric fireplace in my home?
A: No. Many electric fireplaces simply need to be plugged into the wall. But if it is a hard wired fireplace, we recommend a licensed electrician for the job.
Q: Are electric fireplaces hot to the touch?
A: The only part that can get hot to the touch is the area immediately surrounding the blower outlet. But it will not burn you.
Q: Does an electric fireplace need venting?
A: No. They emit no toxic fumes.
Q: Are electric fireplaces safe for children and pets?
A: Yes. They are safe to the touch. The area immediately around the blower aperture can feel hot but it is not dangerous.  Nothing like a gas range, for example. The faux flames are not hot and the glass in front is cool to the touch.
Q: What kind of area will an electric fireplace warm?
A:  A typical unit will warm about 400 sq ft.
Q: What are the main advantages of an electric fireplace?
A: Installation is much cheaper than with a wood or gas fireplace. Maintenance: There is virtually no maintenance with an electric fireplace. No ashes or soot to clean up. Health: Zero emissions with an electric fireplace. Safety: They are cool to the touch. No risk of burns.
FINAL TAKE: PROVIDING WHAT YOU NEED IN A PENINSULA ELECTRIC FIREPLACE
Provided you have a room that will accommodate its size, this ProCom Peninsula electric fireplace is a perfect choice. 
1: An economical choice: This is a relatively inexpensive purchase and installation and it is backed by a reliable brand. Plus electricity is a relatively inexpensive energy source. There is no wasted heat energy vented up a chimney.
2: Unique custom look: This is a one-of-a-kind fireplace making a big impact design statement. This is especially so if you frame it into a partition wall as illustrated earlier.
3: Realistic flame effect. However, here is a Pro Tip: For getting the best effect from the faux flames, choose a wall location that is away from direct sunlight and does not have artificial lighting directly over it. This prevents the look of the flames from being washed out by competing for light.
4: Safe for kids: They are a very safe choice (over gas or wood), if you have kids around. They do not get hot to the touch and there are no naked flames.
5: All the aesthetics you could want for any room: A wall recessed electric fireplace actually doubles as living artwork on a wall. This see-through unit is even better.
6: A remodeling win:  A peninsula electric fireplace provides an excellent return on investment in the context of a remodeling project. This is both for immediate personal enjoyment and eventual value-add realized upon the sale of the property. You will barely notice the cost within your overall budget.
So there you have it. But don't just take my word for it. Click on the Coffee Glaze or Oak finish image links below and check them out on Amazon yourself.  
Just a quick note about the product and price in the context of a home remodel or renovation project. Take a moment to think about how long you will be living with your selection!
Within reason, it's not the price of a product that matters so much as its suitability and durability. These add up to real value, provided the price is not excessive. I can safely say that these Procom Peninsula fireplaces stand this test.
Thank you so much for taking the time to read this review. I hope it helped and I look forward to your next visit to my site.