Hello! And welcome to my ethanol fireplace reviews. This one features the Regal Flame Warren Range of wall recessed ethanol fireplaces.
Just so you know, we approach all our reviews from a home renovation, remodeling, and value-add perspective.
OVERVIEW OF THE REGAL WARREN RECESSED ETHANOL FIREPLACES
All these fireplaces have very similar features. There are some minor differences between them but the major difference is in size. The four Warren models range from 42 to 72 inches in width. And we have included the Regal Flame Venice 32-inch model. This ensures that every house is going to have a wall that will accommodate one of these units.
The Regal Flame Warren Series of Ethanol Fireplaces – My Headlines
Very nice: Beautiful, practical, moderately priced. A great value-add contribution to any remodel project with a size to fit every wall. Excellent customer service. Excellent ratings overall.
Not so nice: A report that the flame is not bright enough in a lighted room.
My main takeaway: These fireplaces are versatile for a remodeling application and entirely fit for purpose. Just figure out the one with the right length for your wall.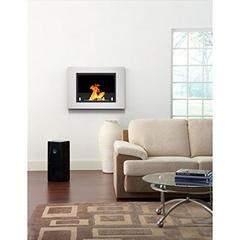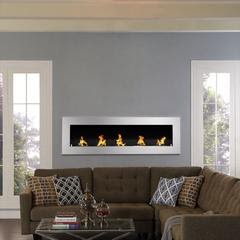 Scroll down to see the full Regal Flame recessed fireplace lineup.
OK. SO WHY A RECESSED ETHANOL FIREPLACE?
Well, Why a Fireplace in the First Place?
First, if you haven't got one, why consider a fireplace at all? Two reasons: personal enjoyment and added value.
Everyone likes the look of fire burning in the grate. It's built into the evolution of the human psyche. We love the warmth, coziness, charm and romance of a fire in the fireplace. Gazing into a fire can be therapeutic too, even to the extent of lowering one's blood pressure.
And then there is the value a fireplace can add to a home. The National Association of Realtors issued a study in 2003 stating that "fireplaces have a strong, positive effect on selling price with each fireplace adding about 12 percent."
An Angie's List survey in 2016 found that more than 83 percent of real estate agents saw fireplaces adding between $1,000 and $4,999 to a home's value.
More to the point, and I can speak with authority having had a real estate broker's licence for 30 years, a house with a fireplace is more marketable than one without. This means it will sell faster and you will be saving in loan payments and other holding costs.
So, if you already have a fireplace, don't get rid of it. And, if you haven't got one, there are good reasons for putting one in.
Plus, if you are including an ethanol fireplace in a remodel project, you will barely notice the incremental cost, since related trades (carpentry, drywall and paint) are already on the site.
Why an Ethanol Fireplace?
Three reasons: They are relatively inexpensive to install. They are efficient to operate. And they have the great aesthetics of a real flame.
This is why they are comparatively inexpensive.
Wood or coal burning fireplaces require a flue or chimney. These are expensive to retrofit into a house.
Vented gas fireplaces require a flue or chimney. It also requires a gas line. Gas may or may not be available in the house. And, if it is, a gas line is expensive to run where you need it to be.
An ethanol fireplace, unlike an electric fireplace, does not even need wiring.
This is why an ethanol fireplace is efficient to operate.
Handling wood and coal to light and keep a fire supplied is a pain and you can run out. Plus you have to deal with soot and debris. With an ethanol fireplace you just need a supply of easily handled and stored bio-fuel.
There are no emissions and no gas leaks to worry about with an ethanol fireplace. The bio-fuel burns with virtually zero emissions.
Better aesthetics with an ethanol fireplace
It is true that an ethanol fireplace is not as efficient as an electric fireplace, which you can operate at the click of a remote control. However, the look of an ethanol fireplace with its real flames beats the faux flames of an electric fireplace every time.
Why a Recessed Ethanol Fireplace?
The ethanol fireplace models shown on this site have a wall mounted option. This means you can hang it on the wall, much like a picture. A wall mounted unit actually looks pretty good but it is obviously not permanently installed. This means it is not adding any permanent value to the home. We do not recommend it.
In fact, it is really no big deal at all to put a permanent recessed ethanol fireplace within an existing wall. Or you can frame out a false wall to accommodate it.  From the remodeling point of view, this permanence is highly desirable because it looks finished and adds real value to your property.
Ethanol Fireplace Specs that Deliver What You Need   
There are minor differences among these units. However, the specs below are common to all of them.
The main difference among them is their width. The multiple choice of width is one of the things that makes this brand such an excellent choice from the point of view of remodeling.
Great Bones
Wall mounted or recessed into the wall
Each 1.5 liter adjustable burner is made from a high quality 430 Stainless Steel
Completely vent free and zero toxic emissions
Great Looks
Striking polished frame
Enchanting, dancing flames 12 to 14 inches high
Great Performance
100% satisfaction guarantee
Burner lasts 4 – 6 hours on one filling (depending on room temperature and climate)
Easy to light and extinguish
70 Inch unit: 30,000 BTUs to warm a room of 1700 sq. ft.; 5 burners; dimensions 70.9W x 21.3H x 5.7D Inches
60 Inch unit: 24,000 BTUs to warm a room of 1450 sq. ft.; 4 burners; dimensions 59.8W x 21.3H x 5.7D Inches
50 Inch unit: 18,000 BTUs to warm a room of 1200 sq. ft.; 3 burners; dimensions 50.4W x 21.3H x 5.7D Inches
42 Inch Unit: 12,000 BTUs to warm a room of 850 sq. ft. 2 burners; dimensions 43.3W x 21.3H x 5.7D Inches
32 Inch Unit:  6,000 BTUs to warm a room of 450 sq. ft; 1 burner; dimensions 31.5W x 21.3H x 5.5D Inches
What Other Buyers Have Said About These Ethanol  Fireplaces
We found no reviews on Amazon. But we have summarized buyer reactions on other sites in thumbs up and thumbs down columns.
Pros and Cons of the Regal Flame Recessed  Ethanol Fireplace
Focal point on the wall. Always getting compliments.
flame not bright enough in a lighted room.
Great fireplace for the price
Recommended for anyone without a gas line or wanting to keep the electric bill down.
Overall a stylish addition.
ETHANOL FIREPLACE FAQS
Q: What kind of fuel should be used in an ethanol fireplace?
A: You should ONLY use liquid bio-ethanol fuel that is specially formulated for fireplaces. You can get it here: Bio Ethanol Fireplace Fuel. It is very highly rated.
Q: Are ethanol fire emissions harmful?
A: No. Bio ethanol fuel burns in a fireplace without emitting anything harmful into the air. The only significant byproducts of combustion are water vapor and a small amount of carbon dioxide. But be sure to use only the type of bio ethanol fuel that is formulated for ethanol fireplaces. And of course remember that these fireplaces do produce real flame. So common sense precautions apply especially when it comes to children and pets.
Q: How much heat will an ethanol fire produce?
A: The ethanol fire is ventless. There is no heat lost up a chimney or vent, as is the case with a wood or gas burning fireplace. So the ethanol fire is very efficient. Depending on the size of the fireplace and the opening of the fuel tray, an ethanol fireplace can produce from around 1,500 to 70,000 BTUs per hour of heat. To put this in perspective, it takes about 5,000 BTUs to heat an average 450 sq ft room.
Q: How do I maintain an ethanol fireplace?
A: After some use you may notice slight discoloration or tarnishing of the stainless steel fuel tray. This is easily cleaned off. Use any cleaner that is specified for use on stainless steel. Just be sure to use a soft cloth
Q: Are ethanol fireplaces safe for indoor use?
A: Yes. Just be sure to follow the manufacturer's directions regarding installation and use. Be sure that  the room is well ventilated (these fires need oxygen) and that there are no flammable materials within 3 feet of the fire.
Q: What is the maximum size of ethanol fireplace I should get?
A: There is a formula to apply. An ethanol fireplace needs to have 200 cubic feet of room space for each 1,000 BTUs it produces. So, take the total cubic feet of the room, divide that by 200 and multiply the result by 1,000. That gives you the maximum BTUs you should get. Then check that against the BTU rating of the fireplaces you are looking at.
Q: What makes bioethanol fuel eco-friendly?
A: Bioethanol is green energy. It is derived from common agricultural products such as sugarcane, hemp and corn. It is a non toxic fuel because when burned it only emits water vapor and small amounts of carbon dioxide.
Final Take: Providing What You Need in a Recessed Ethanol Fireplace
These Regal Flame recessed ethanol fireplaces are a great choice for incorporation in a remodel project. 
1: An economical choice: There are no gas or electric lines to install, nor flue or other venting. All you have to do is frame it into your project. This makes this fireplace a relatively inexpensive purchase. Plus it is backed by a reliable brand.  And there is no wasted heat energy vented up a chimney.
2: Unique custom look: This is a one of a kind fireplace making a big impact design statement, when framed into any wall .
3: Real flames. When compared to the faux flames of an electric fireplace, the ethanol fireplace wins hands down for aesthetic effect.
4: A remodeling win:  A recessed ethanol fireplace provides an excellent return on investment in the context of a remodeling project. This is both for immediate personal enjoyment and eventual value-add realized upon sale of the property. You will barely notice the cost within your overall budget.
So there you have it. But don't just take my word for it. Click on the image or text links below for the unit dimensions that suit your wall  and check them out on Amazon yourself.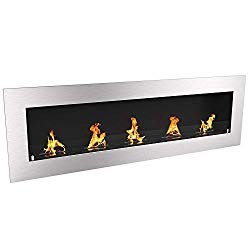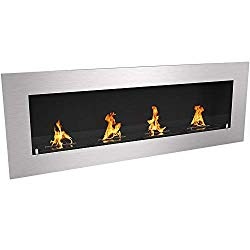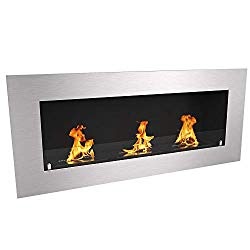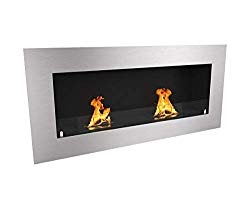 Just a quick note about the product and price in the context of a home remodel or renovation project. Take a moment to think about how long you will be living with your selection!
Within reason, it's not the price of a product that matters so much as its suitability and durability. These add up to real value, provided the price is not excessive. I can safely say that the Regal Flame Warren Range of wall-recessed ethanol fireplaces stands this test.