Hello! And welcome to our review of the Frigidaire 30″ Stainless Steel Gas Cooktop and the Frigidaire 36″ Stainless Steel Gas Cooktop.
Our site has a special emphasis on Universal Design and its subset, Aging in Place.
Our product reviews reflect this, especially when it comes to ergonomics for the elderly.
In addition, we approach all our reviews from a home renovation, remodeling and value-add perspective.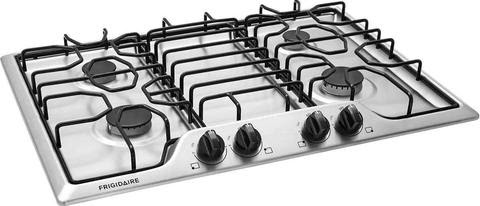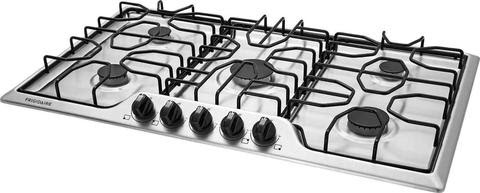 Frigidaire Stainless Steel Gas Cooktops – My Headlines
Very nice: Timeless stainless steel elegance. Practical and moderately priced.
Not so nice: The grates have been found a bit slippery.
My main takeaway: Both the 30-inch and 36-inch models will do well for you. They are entirely fit for purpose, have great value and are backed by an excellent brand.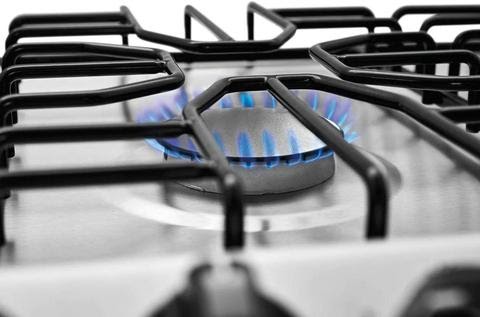 COOKTOP VS RANGE – WHICH IS BETTER?
If you are remodeling your kitchen, whether fully or partially, there is good cause for choosing a separate cooktop and wall oven over the standard all-in-one range. Here are the main reasons:
Flexible design options: For example, you can have the cooktop on an island and the oven at a more manageable height within the cabinetry on a wall.
Convenience: You get a much easier transition from the cooking area to the countertop. The cooktop can even double as extra counter space when not being used for cooking.
Safer than a range: the cooktop cools off faster.
It is true that a separate cooktop and oven is more expensive than the range combination but in our view this is outweighed by the benefits, especially considering you will be enjoying them for a long time.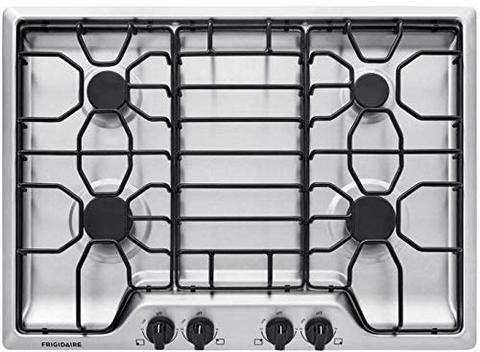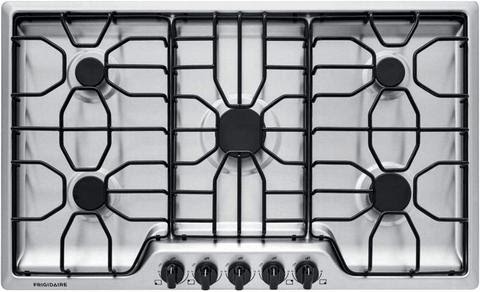 KEY STAINLESS STEEL GAS COOKTOP SPECS THAT DELIVER WHAT YOU NEED
| | |
| --- | --- |
| Gas Cooktop Specs (both units) | Delivering |
| Stainless Steel Cooktop | A great aesthetic addition to your kitchen. It is durable and easy to clean. |
| Continuous Grates | This makes for much easier and more stable maneuvering of the cookware with less risk of accidental spills. |
| Easy to Read & Use Controls | As you can see from the images below, these controls are easy to read at a distance from the cooktop because they are set at an angle. |
| Electronic Ignition | Burners light when controls are activated. No need for matches (unless you have an electric power failure). |
| LP conversion kit | Allowing you to install these units in a kitchen with a propane rather than natural gas supply. |
| Wall Oven Compatible | Approved for installation over a Frigidaire Electric Wall Oven |
30 Inch Unit Burner Power
| | |
| --- | --- |
| Right Front Burner | 12000 BTU |
| Left Front Burner | 12000 BTU |
| Right Rear Burner | 5000 BTU |
| Left Rear Burner | 9500 BTU |
36 Inch Unit Burner Power
| | |
| --- | --- |
| Center Burner | 15000 BTU |
| Right Front Burner | 12000 BTU |
| Left Front Burner | 9500 BTU |
| Right Rear Burner | 5000 BTU |
| Left Rear Burner | 5000 BTU |
Frigidaire Stainless Steel Cooktop Installation Specs
| | 30-Inch Frigidaire Gas Cooktop | 36-Inch Frigidaire Gas Cooktop |
| --- | --- | --- |
| Overall Width | 30″ | 36″ |
| Overall Depth | 21.75″ | 21″ |
| Overall Height | 4.25″ | 4.25″ |
| Cutout Width | 28.25″ – 28.625″ | 33.875″ – 24.25″ |
| Cutout Depth | 19.375″ – 19.75″ | 19.375″ – 19.75″ |
| Cutout Height | 8″ | 8″ |
| Electrical Connection | Rear | Rear |
| Voltage Rating | 120V / 60Hz / 15A | 120V / 60Hz / 15A |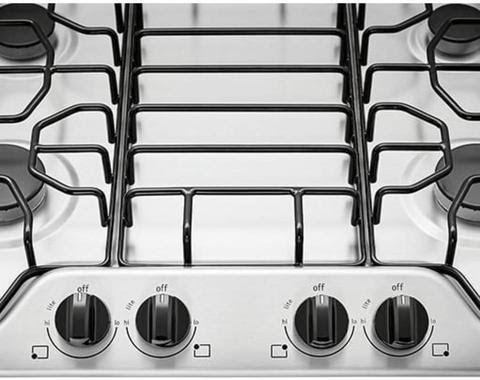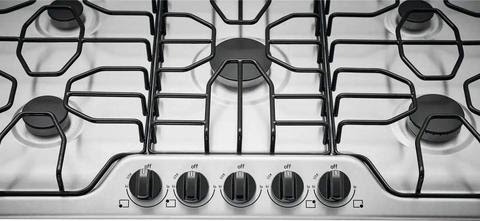 What Other Buyers Have Said About These Frigidaire Cooktops
Both these units are very highly rated on Amazon and on other sites. We have summarized buyer reactions in pros and cons columns.
Pros and Cons of the Frigidaire 30″ and the Frigidaire 36″ Stainless Steel Gas Cooktops
Pros
Cons
Clean, beautiful, stylish
Crowded burner layout
Solid industrial look
Slippery grates
Easy installation, looks great, great buy
Ideal burner arrangement
Very reasonable price
FAQS ABOUT THESE FRIGIDAIRE STAINLESS STEEL GAS COOKTOP UNITS
We have summarized questions and answers from buyers and prospective buyers as follows:
Q:  How does it connect to an electrical power source?
A: The cord supplied plugs into a standard 110V outlet.
Q: What size hose connection do you need?
A: Standard Universal Gas Installation Kit works fine.
Q: What does "sealed gas burner" mean?
A: There are no open gaps in the cooktop for spills to seep into.
FAQS ABOUT STAINLESS STEEL COOKTOPS GENERALLY
1: How do you clean a stainless steel cooktop?
a: Go with the grain:
It may come as a surprise but stainless steel actually has a grain. However, it is not as obvious as the grain in wood. So here's how to find it.
If you look closely you should be able to see faint lines running along the surface of the steel. That is the grain. If the lines are too faint to see, take a soft cloth and rub it hard over the surface of the stainless steel in a horizontal and then vertical direction.
You will find that it is easier to rub in one direction than the other. When you have found the easier direction, you have found the direction of the grain.
Nothing bad will happen if you clean against or across the grain. But tiny amounts of cleaning residue will be left behind in the little crevices and this will reduce the shine of the stainless steel.
b: Cleaning products to use:
You can try the purpose-made Magic Stainless Steel Cleaner Aerosol.
And here are other cleaning methods that are safe to use on your stainless steel cooktop and are usually on hand:
Baking soda and vinegar – These will remove crud and grease.
Olive oil and vinegar – Spray the vinegar directly onto the stainless steel. Follow up with a cloth dipped in olive oil.
WD-40 – Does a great job cleaning the stainless steel but don't let it get onto any food prep surface.
Warm distilled water and a microfiber cloth.
Dish soap and distilled water.
Lemon oil furniture polish applied with a microfiber cloth.
Windex – It works well on stainless steel as well as glass.
c: Avoid these cleaning methods:
Steel wool – This will scratch and dull the surface.
Hard tap water – The minerals in the water will cause streaks on the stainless steel surface.
Abrasive bathroom or kitchen cleaning products – These will scratch the stainless steel surface.
Bleach-based cleaners – Chlorine can discolor stainless steel.
Oven cleaners – These can damage the stainless steel finish.
All these cleaning methods can harm your stainless steel cooktop.
2: How do you compare stainless steel and porcelain enamel gas cooktops?
So far as aesthetic appearance goes, this is simply a matter of personal preference. In our opinion, while we are used to seeing stainless steel on the vertical surfaces of, say, a refrigerator, it looks great on a horizontal surface too.
As to ease of cleaning, it is probably a toss up between the two but with a slight edge in favor of the enamel cooktop.
As to durability, porcelain enamel can chip if something sharp or heavy gets dropped on it. While this can be repaired with something like Black Porc-a-Fix Porcelain High Heat Touch-up Kit, the enamel finish will never be quite the same. So in this respect, the edge goes to the stainless steel.
So the ultimate decider between the two is your own preference for aesthetic appearance.
3: Gas cooktop vs electric cooktop – Which is better?
In our opinion, it all comes down to cooking style preferences but there are differences to consider:
A gas cooktop applies heat to the cookware instantly. Equally, you can reduce the heat instantly. Electric cooktops take a little while to reach the temperature you want and they take time to cool. So gas gives you much better control.
The size of the gas flame gives you a visual idea of where the temperature is. You don't get this with an electric element.
Due to the nature of the heat transfer, a gas cooktop generally heats more evenly. This is because the gas flame heats both the bottom and the sides of the cookware.
Gas cooktops can be more expensive to buy and install but they are less expensive to operate.
A glass electric cooktop is easier to keep clean than a gas cooktop.
Electric cooktops are safer than gas cooktops simply because electricity is inherently safer than gas.
4: Gas cooktop vs induction cooktop – Which is better?
First, what's the difference? The gas cooktop heats the material of the cookware directly via flame and heat applied by the burners to its bottom and sides. The induction cooktop causes the ferrous cookware itself to get hot via high-frequency electromagnets instead of gas burners. The electromagnetic effect causes the cookware to heat but not the cooktop on which it sits.
As to which is better, in general, the induction cooktop is more expensive but more efficient. It is also considered safer since the only thing that gets hot is the cookware itself. However, for induction cooking, you do need flat-bottomed ferrous cookware for it to work. If a magnet sticks to it, it is ferrous and you are good to go. But you can't use a regular round-bottomed wok.
Talking of woks, there is also the preference of cooking style. Some people just prefer to cook with gas and that is the end of the discussion. It's great that we have options!
5: 36-inch cooktop vs 30-inch cooktop – Which should I go for?
If you don't have space for a 36-inch unit, then the 30-inch unit is your only choice.
However, if you have space, go for the 36-inch unit. Here are three reasons:
If you have a ton of counter space, a 30-inch unit would not be in proportion and would look awkward in the space.
The 36-inch unit has the greater cooking capacity and you will certainly welcome this for entertaining.
The 36-inch unit would add greater resale value, not least because of the added "wow" effect.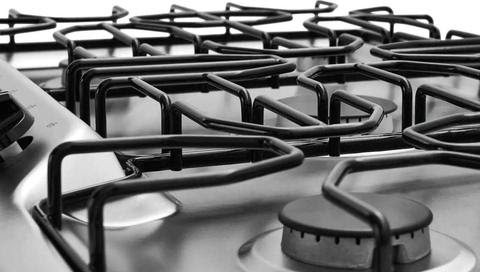 MY FINAL TAKE: PROVIDING WHAT YOU NEED IN A GAS COOKTOP
Both the 30-inch and 36-inch stainless steel gas cooktop units deliver the goods:
1: Easy surface cleanup: Stainless steel gas cooktops are easy to clean but you must stay on top of it and do it the right way. We have already suggested the Magic Stainless Steel Cleaner Aerosol for this job.
2: A good variety of burners: Both of our featured cooktops do well here.
3: Sealed gas burners: These make for easy cleanup and they will always look good.
4: Legible and well-located controls: The controls of both cooktops are easily read and set centrally on a tilted bevel or angle in front of the unit.
5: All the aesthetics you could want for your kitchen: the stainless steel look is timeless.
6: Very reasonably priced when you compare alternatives.
So there you have it. But don't just take my word on it. Click on the image links below and check them out on Amazon yourself.
Just a quick note about product and price in the context of a home remodel or renovation project. Take a moment to think about how long you will be living with your selection!

Within reason, it's not the price of a product that matters so much as its suitability and durability. These add up to real value, provided the price is not excessive. I can safely say that the Frigidaire 30″ Stainless Steel Gas Cooktop and the Frigidaire 36″ Stainless Steel Gas Cooktop stand the test.