In selecting our top-rated countertop microwaves, we have come at this from the point of view of a kitchen renovation or remodel project and with reference to Universal Design and aging in place. So we:
Identify the various types of countertop microwaves.
Review the general criteria you should use in selecting a countertop microwave
Offer some top-rated countertop microwaves for you to check out.
Related posts:
That said, let's take a quick look at the best of our top-rated countertop microwaves.
Great for larger families
Very easy to clean
Very easy to use
Great value for money

Click for Price




 4/5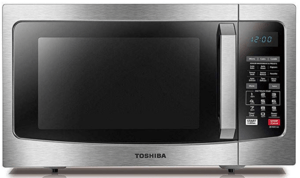 Easy to use display
Auto roast and bake functions
Grill rack for convection function

Click for Price




 4.2/5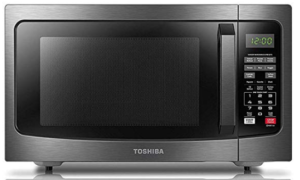 Our choice for seniors
Easy to read display and controls
Lighted cavity
Easy use handle
Microwaves and Remodeling
For a remodel or renovation project, there are basically four main types of microwave ovens to pull from.
Deciding on which type you should go with depends on where you want to place or install it. This can be on the countertop, over-the-range, built-in, or in a drawer. With the exception of the microwave drawer, these microwaves can also incorporate a convection cooking function. In fact, some microwaves come with toaster or rotisserie features.
From the remodeling point of view, all of these modes of installation (except the countertop type) add value to your property because they are built in.
So what are the reasons for choosing a countertop microwave over the other types?
This pretty much comes down to cost. The countertop model is simply less expensive than the others and does not require professional installation.
However, even for a remodeling or renovation project, there can be perfectly good reasons for choosing a countertop model. These could be:
A microwave is just not that important to you. You don't need a big one anyway and you don't mind having it on the countertop.
Countertop microwaves often come with a trim kit that will allow you to save money and still install it inside your cabinetry for a built-in look.
What does a microwave trim kit do?
A microwave trim kit gives the unit a built-in look and also provides for necessary airflow. A thin frame around the front of the unit makes it look built-in. And then upper, lower and rear ductwork attaches to the unit inside the cabinetry. You should only use the trim kit that is designed specifically for the individual model in question.
This video gives a good idea of how this works:
Although our remodeling focus favors the built-in microwave, we are discussing countertop models here. Some countertop models do come with trim kits included making them easy to build in. But for our money, if you intend to build in, you should focus on units that are designed for that purpose. We have written separately on this.
Countertop Microwave Criteria
OK. Now you have decided that a countertop microwave is what you want, what selection criteria should you use to find the best microwave for you?
We'll take this in two steps. Step 1 is to look at general countertop microwave considerations. Step 2 is to look at the subtypes of countertop microwaves that are available..
General countertop microwave considerations
The microwave is probably the most frequently used appliance in any kitchen. It has pretty much become indispensable. And it has a fascinating history.
But how do you go about choosing one?
Microwave size matters
Obviously, you must have available counter space in mind. But the bigger the microwave, the  more people you can cook for. Microwave size is measured in cubic feet.
Small microwaves are around 0.8 cu ft. Large, family-sized microwaves are in the 1.2 to 2.2 cu ft range. A small microwave, like the Amazon Basics unit at 0.7 cu ft, has a footprint of only 17.3" x 14.1". A large microwave, like the 2.2 cu ft GE Profile, has a footprint of 24" x 19.5". This is more than 3 sq ft.
Aside from size, you have to make sure there is an electrical outlet nearby. This should preferably be behind the unit since power cords draped over the countertop are not only unsightly. They are potentially hazardous too.
What power or wattage do I need in a microwave?
The higher the power the more and the faster it will cook. The baseline or benchmark is 1,000W. This amount of power will cook efficiently and quickly. Microwave wattage typically ranges from 700W at the low end to 1,200W at the high end. Some microwaves incorporate inverter technology for even cooking when you change power settings. We cover that in our How to Buy a Microwave Oven guide.
What other microwave specs should I be aware of?
Easy-to-read control panels and displays that are intuitive to use. Look for large buttons and easily seen icons. You don't want to push a nearby button by mistake.
Look for quick keys and pre-programmed settings like "auto cook," "keep warm," "popcorn," "defrost,"etc.
Look for moisture sensors that determine the amount of humidity within the unit, match it to the food type, and control the cooking process.
If you have children, look for a child lock-out feature.
Look for smooth control panels. They are easier to keep clean.
Be aware that some microwave ovens do not have turntables and use flatbed technology for power. Turntables can be a pain. We cover flatbed microwaves in our How to Buy a Microwave guide.
Look at door options. Consider the drop-down door over the hinged door for its versatility. It is also much easier for left-handed people to use. And you may have a preference for a door with a handle over a push-button operated door.
Our top-rated countertop microwaves
We start with the best standard countertop microwave, the best convection-type microwave, and our best for seniors pick.
We end with solid second placers in the standard and convection microwave categories.
1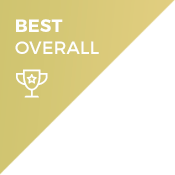 GE Profile 2.2 Cu Ft Countertop Microwave
This is our top-rated standard countertop microwave.
One of the larger microwaves on the market. It has been given a good review by Good Housekeeping and Consumer Reports among others.
Features inverter technology for even cooking.
Excellent reviews on Amazon, especially when it comes to easy to clean, easy to use, and value for money.
What We Like
Great for family and entertaining
Easy to use
Sensor cooking
Easy to clean
Child lockout
Great value for money
What We Don't Like
It occupies a lot of countertop space
Key Specs
Power output: 1,200W
Capacity: 2.2 cu ft
Dimensions: 248″ W x 14.0″ H x 20″ D
120 Volts, 15 Amps, 60 Hz
10 power levels
Sensor cooking
Our Assessment
While it is true that this microwave is designed for the larger family, it will serve any family well. And it wili rise to the occasion when it comes to entertaining.
It is our top pick for standard countertop microwaves.
How  Much We Like It
 4.5/5
2

Toshiba EC042A5C-SS Countertop Convection Microwave
This Toshiba EC042A5C-SS Countertop Convection Microwave is our top rated countertop convection microwave.
Why would I get a convection microwave?
Because it's a "dual" appliance. The quick and basic answer is that with a convection microwave you get a twofer. These ovens combine the fast "inside out" cooking capability of the microwave oven with the "outside-in" cooking action of the traditional oven.
The regular microwave oven can only heat food from the inside via the agitation of water molecules in the food. So, because it can only heat within the temperature range of boiling water, it has limited cooking value.
By contrast, the application of heat from outside the food via the very hot forced air of convection circulation allows you to bake and roast food at much higher temperatures than the microwave can deliver alone.
The convection microwave has 3 settings:
Microwave only
Convection only
Combination or "mix."
What are the pros and cons of convection microwaves
Pros of convection microwaves:
You get the same brown and crisp results of a regular oven right there in your microwave.
You can preheat the oven using the convection function. The microwave itself can't do this.
Because of its dual-use technology, it is a space saver.
You get the two technologies for not much more than the price of one.
Cons of convection microwaves:
Convection microwaves are pricey because you are effectively combining two appliance technologies in a single unit.
You have to pay close attention to what is going on in the oven because such fast cooking can cause the food to burn quickly.
What We Like
4 auto functions for bake & roast
Sensor cooking and reheating
Grill rack for use in convection mode
Interior LED light
Buzzer/beeper alert
Easy-to-read display
What We Don't Like
Customer reports that parts are hard to come by
Key Specs
Power output: 1,000W
Capacity: 1.5 cu ft
Dimensions:21.8″ W x 13″ H x 21.5″ D
120 Volts / 60 Hz
Turntable diameter: 13.6″
Our Assessment
This is a full-featured combined microwave and convection oven.
It is highly rated on Amazon for easy to clean, value for money, easy to use, and noise level.
How Much We Like It
 4.2/5
3

Toshiba EM245A5C-SS Microwave Oven
Aging in Place & Universal Design
When considering a microwave for seniors or to satisfy principles of Universal Design, our preferred solution is the microwave drawer.
However, our purpose here is to recommend a countertop microwave that incorporates features that are easy to use by older people with diminished dexterity or vision.
This basically requires a unit that has a door with an easy-to-grip handle rather than a push button release that is hard to see and difficult to push. It must also have controls and settings that are easy to see and understand.
Preferably, it should include interior lighting and an audible announcement that cooking is complete.
The only unit we could find to satisfy all these requirements and more is this Toshiba EM245A5C-SS Microwave Oven.
It has very good reviews and high marks for being easy to clean, for small spaces, easy to use,  and noise level.
What We Like
Satisfies our easy grip door handle requirement
Easy-read display and keypad
Preprogrammed sensor menu
Incorporates inverter technology
LED cavity light
Beeping buzzer
What We Don't Like
10% negative reviews but the manufacturer has been very responsive
Key Specs
Power output: 1,100W
Capacity: 1.2 cu ft
Dimensions: 20. 5″ W x 12.8″ H x 17″ D
120V, 60Hz
10 power settings
Our Assessment
This is an excellent microwave for its price and, as of this writing, it is Amazon's Choice.
It meets all our criteria for senior friendliness.
How Much We Like It
 4.2/5
4
Toshiba EM131A5C-BS Microwave Oven
By now you will have seen how well Toshiba does in the world of microwaves.
This unit has more than 2,500 mostly favorable reviews on Amazon.  It is highly rated on easy to clean, easy to use, noise level, and value for money.
What We Like
Pre-programmed sensor menu
Easy-read display and keypad
Beeping buzzer
Small countertop footprint
Easy open door
Interior LED light
What We Don't Like
Some customers complained that the manual lacks clarity
Key Specs
Power output: 1,100W
Capacity: 1.2 cu ft
Dimensions: 20.5 W x 12.8 H x 17″ D
120V,/ 60Hz
110 power settings
Our Assessment
Although the GE Profile got our top rating. This is a strong second place. And we really like that it does not take up too much counter space.
As of this writing, it rates as Amazon's Choice.
How Much We Like It
 4/5
5
Sharp SMC1585BS Microwave & Convection Oven
Sharp makes great microwaves. Please see their drawer microwaves here.  And with their Sharp SMC1585BS Microwave & Convection Oven they have done a fine job in combining microwave and convection oven technology.
The microwave function has several sensor cooking, heating, and reheating options. The basic beverage and popcorn settings let you load and then cook with a one-touch button.
The convection mode will allow you to bake and roast alike. The auto bake, auto broil, and auto roast functions let you select your food, push a button, and voila!
What We Like
Sensor cooking functions
Convection cooking option
Convenient popcorn and beverage settings
Stainless steel interior
One touch buttons
Optional trim kit
What We Don't Like
The microwave component is a little underpowered at 900W
Key Specs
Power output: 900W
Capacity: 1.5 cu ft
Dimensions: 14.9" H x 24.7" W x 19" D
120 V / 60H
10 power levels
15.4″ ceramic turntable
Our Assessment
We put the Toshiba EC042A5C-SS ahead of this Sharp unit but it's a close contender.
How Much We Like It
 3.8/5
Countertop Microwave FAQs
Is it OK to open the microwave oven door while it is running?
Yes, it is perfectly safe. There is a mechanism built into the door latch that will instantly turn the microwave off when the door is opened. It will stay off until you close the door and hit the Start pad.
I have noticed moisture in my microwave after cooking. Is that normal?
Yes. It is perfectly normal, especially after cooking high moisture-content foods. You may also see steam escaping from around the door. That is normal too. And the reason it is normal is that microwave energy is heating the water within the food.
The turntable in my microwave won't turn. What should I do?
Make sure the turntable is seated and centered correctly on the shaft coming up from the floor of the unit.
On models where the turntable turns on a ring, make sure it is properly seated on the ring.
Make sure the turntable is the right side up.
Make sure there is no debris on the wheels of the ring.
How do I clean my microwave?
The interior: use a damp/soapy paper towel to clean up spills as soon as they appear. If food has cooked onto the interior, heat a cup full of water at full power for 3 – 4 minutes. The steam will soften the food. Let it stand a few more minutes and then clean it as usual.
Do not use abrasive or commercial cleaners in microwaves. But it is safe to use baking soda and water or a purpose-made cleaner like Cerama Bryte Appliance Cleaner.
Why can't I use metal in my microwave?
The microwaves won't penetrate a metal utensil and the food behind it will not cook. Plus the metal could cause arcing in the oven.
You can use metal foil in a microwave convection oven but only in the convection mode.
And you can use metal foil in a microwave oven but only in a limited and careful way. For example, you can use small pieces of foil to prevent overcooking of parts of a food item (such as the wings of a chicken) BUT the foil must be carefully pressed tightly to the food so as to avoid bits of foil sticking up and causing an arc.
How do I know if a dish is microwave-safe?
Put a cup of water in the oven next to the dish. Run the microwave on high for one minute. If the water is hot but the dish stays cool, the dish is microwave safe.