Hello! And welcome to our Touchstone electric fireplace reviews. This one focuses on the Touchstone Sideline Electric Fireplace range of wall recessed fireplaces.
Just so you know, we approach all our reviews from a home renovation, remodeling, and value-add perspective.
OVERVIEW OF THE TOUCHSTONE SIDELINE RECESSED FIREPLACES
All these fireplaces have very similar features. There are some minor differences between them but the major difference is in size. The seven Sideline models range from 36 to 100 inches in width. This means that every house is going to have a wall that will accommodate one of these units.
Touchstone Sideline Series Overview Video
The Touchstone Sideline Series of Fireplaces – My Headlines
Very nice: Beautiful, practical, moderately priced. A great value-add contribution to any remodel project with a size to fit every wall. Excellent customer service. Excellent ratings overall.
Not so nice: Reports of occasional warranty issues. A report that the flame is not bright enough in a lighted room.
My main takeaway: These fireplaces are versatile for a remodeling application and entirely fit for purpose. Just figure out the one with the right length for your wall.
THE TOUCHSTONE SIDELINE SERIES ILLUSTRATED 
You can view these on Amazon by clicking on the links below the images.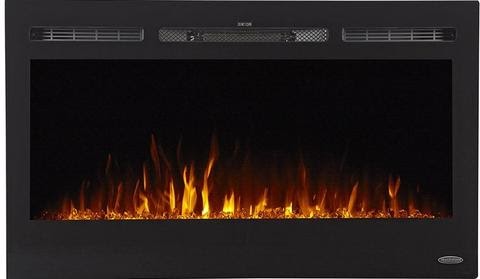 Touchstone Sideline Electric Fireplace – 36 Inches Wide
Touchstone Sideline Electric Fireplace – 40 Inches Wide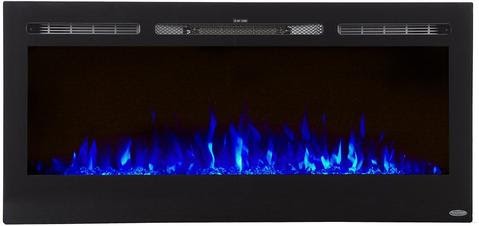 Touchstone Sideline Electric Fireplace – 45 Inches Wide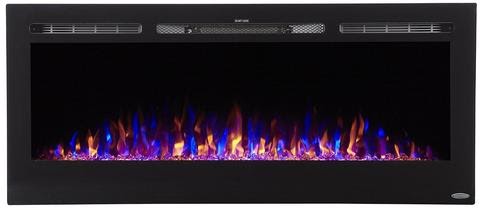 Touchstone Sideline Electric Fireplace – 50 Inches Wide


Touchstone Sideline Electric Fireplace – 60 Inches Wide

Touchstone Sideline Electric Fireplace – 72 Inches Wide
Touchstone Sideline Electric Fireplace – 100 Inches Wide
OK. SO WHY A RECESSED ELECTRIC FIREPLACE?
Well, Why a Fireplace in the First Place?
First, if you haven't got one, why consider a fireplace at all? Two reasons: personal enjoyment and added value.
Everyone likes the look of fire burning in the grate. It's built into the evolution of the human psyche. We love the warmth, coziness, charm and romance of fire in the fireplace. Gazing into a fire can be therapeutic too, even to the extent of lowering one's blood pressure.
And then there is the value a fireplace can add to a home. The National Association of Realtors issued a study in 2003 stating that "fireplaces have a strong, positive effect on selling price with each fireplace adding about 12 percent."
An Angie's List survey in 2016 found that more than 83 percent of real estate agents saw fireplaces adding between $1,000 and $4,999 to a home's value.
More to the point, and I can speak with authority having had a real estate broker's licence for 30 years, a house with a fireplace is more marketable than one without. This means it will sell faster and you will be paying less than you need in loan and other holding costs.
So, if you already have a fireplace, don't get rid of it. And, if you haven't got one, there are good reasons for putting one in.
Plus, if you are including an electric fireplace in a remodel project, you will barely notice the incremental cost, since related trades (electrical, carpentry, drywall and paint) are already on the site.
Why an Electric Fireplace?
Two reasons: They are relatively inexpensive to install and they are efficient to operate.
This is why they are comparatively inexpensive.
A wood or coal burning fireplace requires a flue or chimney. These are expensive to retrofit into a house.
A vented gas fireplace requires a flue or chimney. It also requires a gas line. Gas may or may not be available in the house. And, if it is, a gas line is expensive to run where you need it to be.
Ah electric fireplace only needs wiring. And it is likely that a circuit is close to where you want it.
This is why an electric fireplace is more efficient to operate.
Handling wood and coal to light and keep a fire supplied is a pain and you can run out. Plus you have to deal with soot and debris. With an electric fireplace you just click a remote. And power outages are rare.
There are no emissions and no gas leaks to worry about with an electric fireplace.
You do not need to be concerned that there is an adequate supply of fresh air, since there is no combustion.
Why a Recessed Electric Fireplace?
Some of the electric fireplace models shown on this site have a wall mounted option. This means you can hang it on the wall, much like a picture. A wall mounted unit actually looks pretty good but it is obviously not permanently installed. This means it is not adding any permanent value to the home.
However, it is really no big deal at all to put a permanent recessed electric fireplace within an existing wall. Or you can frame out a false wall to accommodate it. You can see how this is done from the installation video below.
Of all the options we have discussed, the recessed electric fireplace is by far the most economical value-add option. And these Touchstone Fireplaces are very highly rated.
Touchstone Sideline Series Installation Video
Electric Fireplace Specs that Deliver What You Need   
There are minor differences among these units. However, the specs below are common to all of them.
The main difference between them is their width. The multiple choice of width is one of the things that makes this brand such an excellent choice from the point of view of remodeling.
| Electric Fireplace Spec | Delivering |
| --- | --- |
| In-wall Design | Installation is easy. and well within the capability of a DIY homeowner. Follow the directions for simple framing. Wiring is either hard-wired or plugged. |
| Two Heat Settings | These units can be used year round. When it is warm, you can enjoy the flames with the heat turned off. |
| Stylish Frames | The sleek dark frame and clear glass add striking elegance to any room and will complement both traditional and contemporary interiors. |
| Realistic LED Generated Flames | Multiple settings allow you to select the look of quiet embers or a roaring blaze. |
| Faux Fire Logs and Crystal Sets | The fire log and crystal sets create the authentic feel and look of a traditional fireplace or an outdoor fire pit. Your choice. |
| Remote Operation | You can change the heat and flame settings with a remote control. |
| Power Required | 120 Volts. Nothing special. It is easy to run power to these units. |
What Other Buyers Have Said About These Electric Fireplaces
All these units are very highly rated on Amazon and on other sites. We have summarized typical buyer reactions in Pros and Cons down columns.
Pros and Cons of the Touchstone Series Recessed Fireplaces
Pros
Cons
Simple to install after running a dedicated line
Very loud
Excellent customer service
Not bright enough when the lights are on
Flame effect is realistic and bright
Unit arrived damaged
Highly recommended
Flame not very realistic
Heater is very quiet
Perfect for a 1940's home remodel
FAQS ABOUT THESE TOUCHSTONE RECESSED ELECTRIC FIREPLACES
We have summarized questions from buyers and the answers received as follows:
Q:  What is the minimum distance between the top of the fireplace and a TV above it?
A:  At least 12″ between the fireplace and the base of the TV.
Q: Can you use a fire log and the crystals in combination?
A:  Yes. Sprinkling crystals on top of the log gives you a great effect.
Q:  Does the hot air blow straight out or can you adjust the vent down towards the floor.
A:  The air blows straight out into the room.
Q:  Can you control this fireplace with Alexa?
A:  No. But there is a remote control.
Q:  Can this be installed in a custom entertainment center?
A:  Yes
Q:  Does this unit mount completely flush with the wall?
A:  No. The unit  itself is recessed into the wall. But the glass panel in front sits on the surface of the wall, once the unit is installed.
Q: When the heater is on, does the glass get hot?
A: No. The blower blows hot air out of the top of the unit.
FAQS ABOUT RECESSED ELECTRIC FIREPLACES GENERALLY
Q: Do you need permits to put in an electric fireplace?
A: No. But a licensed electrician is recommended if you are hard wiring the unit.
Q: How large a room will an electric fireplace heat.
A: Most electric fireplaces will heat approximately 400 sq ft.
Q: Do electric fireplaces need venting?
A: No. This is because there is no combustion and therefore no emissions.
FINAL TAKE: PROVIDING WHAT YOU NEED IN A RECESSED ELECTRIC FIREPLACE
Depending on the size of your wall, any of these Touchstone recessed fireplaces is a perfect choice. 
1: They are a very economical choice: This is an inexpensive but nonetheless highly rated product line. Plus electricity is a relatively inexpensive energy source. There is no wasted heat energy vented up a chimney.
2: Custom look: When recessed into a wall, they provide a truly finished, custom look.
3: Realistic flame effect. However, here is a Pro Tip: For getting the best effect from the faux flames, choose a wall location that is away from direct sunlight and does not have artificial lighting directly over it. This prevents the look of the flames from being washed out by competing for light.
4: Safe for kids: They are a very safe choice (over gas or wood), if you have kids around because they do not get hot to the touch and there are no naked flames.
5: All the aesthetics you could want for any room: A wall recessed electric fireplace actually doubles as living artwork on a wall.
6: A remodeling win:  A recessed electric fireplace provides an excellent return on investment in the context of a remodeling project. both for immediate personal enjoyment and eventual value-add realized upon sale of the property. You will barely notice the cost within your overall budget.
So there you have it. But don't just take my word for it. Click on the links or images below.  Choose the linear dimension that suits your wall  and check them out on Amazon yourself.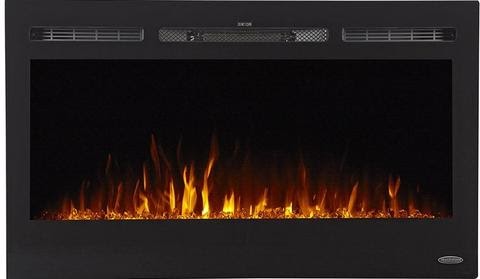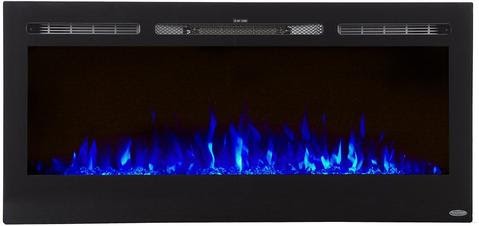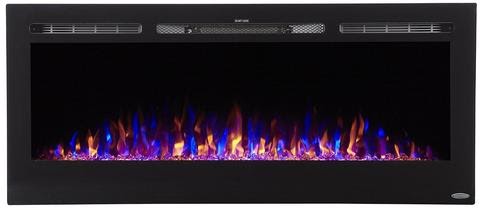 Just a quick note about the product and price in the context of a home remodel or renovation project. Take a moment to think about how long you will be living with your selection!
Within reason, it's not the price of a product that matters so much as its suitability and durability. These add up to real value, provided the price is not excessive. I can safely say that the Touchstone Sideline series of wall-recessed electric fireplaces stand this test.
Thank you so much for taking the time to read this review. I hope it helped and I look forward to your next visit to my site.